Publisher:

Nintendo

Release Date:

Nov 15, 2019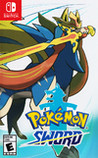 Summary:

Pokémon Sword and Pokémon Shield are set in Galar, an expansive region with many environments—idyllic countryside, contemporary cities, thick forests, and craggy, snow-covered mountains. The people and Pokémon live together in this region, and they've worked together to develop the

Pokémon Sword and Pokémon Shield are set in Galar, an expansive region with many environments—idyllic countryside, contemporary cities, thick forests, and craggy, snow-covered mountains. The people and Pokémon live together in this region, and they've worked together to develop the industries here. You'll visit the various Gyms in the Galar region, aiming for the enviable and admirable title of Champion. [Nintendo]


…

Expand
Developer:

Game Freak

Genre(s):

Role-Playing

,

Trainer

# of players:

Up to 4

Cheats:

On GameFAQs

Rating:

E
Please enter your birth date to watch this video:
You are not allowed to view this material at this time.
Pokémon Sword and Pokémon Shield - "Prepare For Battle" Gameplay Trailer
I can't remember the last time I felt this much joy when playing a video game.

Pokémon Sword and Shield are not without their problems. But beyond the rubbish online play and uninspired late-game routes, and beyond the controversy surrounding them, they're simply the most fun I've ever had with Pokémon. The story is wonderful, the creatures themselves are all fantastic and adorable, and Max Raids will absolutely never not be great fun. And if you can overlook the fact that these games aren't the generational leap that some expected, you're sure to find something special in them.

Pokémon Sword & Shield are strong first attempts for the series' full transition to consoles. While some frustrations hold it back from true legendary status, this new generation proves the Pokémon franchise is still great more than two decades after its debut.

Sword and Shield are a lot of fun and, at the same time, it's also a disappointing evolution of the series. The core gameplay still works great, but Game Freak needs to listen to the constructive feedback and live up to the expectations of the franchise.

Sword & Shield is a really tricky Pokémon entry to pigeonhole. It retains the old Pokémon charm, but it's not without flaws.

Some aspects of Pokemon Sword do stand out as only being possible on a home console, but the general look and feel still seems stuck in the 3DS era of the series.

Pokémon Sword and Shield are not bad games. But fun character arcs and inventive, creative designs of new 'mon are often offset by poor pacing and restrictive world design. The world of Galar is charming, and is a Pokémon interpretation of Britain I've dreamed of since I was a kid, but between gating what Pokémon you can catch behind Gym Badges, some half-baked route/City designs and a modest amount of post-game content, Sword and Shield can only be called 'good' Pokémon games… not 'great' ones.
BEST. POKEMON. GAME. EVER!!!!!!!!!!

Very few things in life can make me as happy as a great Pokemon RPG, and Sword and Shield repeatedlyBEST. POKEMON. GAME. EVER!!!!!!!!!!

Very few things in life can make me as happy as a great Pokemon RPG, and Sword and Shield repeatedly left me in a state of pure, child-like joy. The elated surprise of not knowing what's coming is something this series does extremely well if you can manage to play it relatively unspoiled (fear not, this review won't deprive you of that), and I'm glad that sense of wonder is still alive and kicking in Sword and Shield. With every new game in this 23-year-old series, changes big and small are always made, but I've never been willing to declare the latest entry the new gold standard for Pokemon because they've consistently been a balance of better and worse. But the first mainline game on the Switch has changed that: though there is still no "perfect Pokemon game," the 40-plus hours I've spent with Sword and Shield have left me comfortable with calling them the best Pokemon games I have ever played – and I've played 'em all.

WHEN I SAW CHARIZARD I CLAPPED!!!!!!!!!!!

…

Expand

It is more Pokemon. They added enough new things to make it sufficiently better to me.

Juego bastante disfrutable para los fans de pokémon presenta los fallos que tiene la saga hace bastante tiempo, como una historia bastante

Juego bastante disfrutable para los fans de pokémon presenta los fallos que tiene la saga hace bastante tiempo, como una historia bastante infantil y sin sentido, no incorpora todos los pokémon con la excusa de realizar mejores animaciones, pero se puede observar que por ejemplo los movimientos y animaciones del rival son las mismas del juego anterior. Lo positivo es que mejora el sistema de crianza para jugar competitivo haciendo que sea más fácil y rápido que en generaciones anteriores, los combates finales son interesantes y con un buen nivel y el diseño de los pokémon es muy bueno, junto a que a pesar de sus defectos el juego se siente liviana y no se hace aburrido jugarlo.

…

Expand

Not buying the game until I get my hands on a used copy. But from watching walkthroughs and following updates about the game contents. This

Not buying the game until I get my hands on a used copy. But from watching walkthroughs and following updates about the game contents. This deserves a 4. The positive side of this game is the new Pokemon including regional forms/evolutions. Not going to lie they look amazing.

However not including all the Pokemon and eliminating Mega Evolutions and Z moves is almost a deal breaker for me. What's worse is that large Pokemon are not set to their proper scale which is really annoying because of data entry in the Pokedex and considering when Pokemon teamed up with Genius Sonority they were scaled correctly and that was way over a decade ago. I don't like the Dynamaxing gimmick because it's unrealistic in the Pokemon anime and there was still some development left open for Mega Evolutions and Z moves. The game feels rushed and Gamefreak was caught in a lie regarding how they claimed to not use old models when they actually did. On top of that hackers are now importing cut Pokemon now and it fuels the argument Game Freak was lazy. As a long time Pokemon fan I am extremely disappointed in the effort put into this game to appeal to their loyal fans. I'm only going to buy a used copy just because I like the new Pokemon.

…

Expand

Unfortunately, instead of a jump in quality when coming to the switch (like many other franchises) what the most profitable media franchise

Unfortunately, instead of a jump in quality when coming to the switch (like many other franchises) what the most profitable media franchise has on offer here is only mediocre and more of the same. Nothing really feels like it couldn't have been done on the 3ds. The amount of content has been cut and the price has increased. The cut Pokemon seems to be a dubious action that may lead to future dlc or paid subscriptions on behalf of the Pokemon company. Do not support this.

…

Expand

Complete laziness from the developer, technically not sufficient for a games of late 2019 on the most powerful nintendo console, the game is

Complete laziness from the developer, technically not sufficient for a games of late 2019 on the most powerful nintendo console, the game is worth playing with friends, but it's a masterpiece of laziness by gamefream, which is not able to beat even games came out in 2006 on the wii

…

Expand

This review contains spoilers

, click expand to view

. I personally enjoyed sword and shield. But that does not mean I can't say that these games are objectively bad. Because they are. The problem is that I and a lot of others have become addicted to this franchise and can not escape it. Leading into every fan buying every new game over and over, despite the game decreasing in quality. First, Sword and Shield are very rushed games and there are a lot of examples to illustrate this. For example, despite how gorgeous all the towns look, they are lacking content wise. There is not really anything else to do in the towns besides battling the gym leader, earning your badge and move on to the next town. Part of the reasons why I like pokemon so much, immersing myself in each different region and learning how a pokemon world would look like with human elements, is gone with this. Another example is how lacking the story is, if you even can call it a story at all. In previous games, besides becoming the champion, you had the quest of saving the world from a evil team that is up to no good. In sword and shield this part of the story is completely disregarded. Team Yell does not play a part in how the story progresses. Every time you encounter team yell all you do is battle the same two grunts, with the same two pokemon in the same empty background as always.
The worst thing of all they mushed the evil team hideout/evil team leader in a gym challenge. So instead of getting a proper story with an evil team hideout that you have to clear all the way up to the boss, we just get a gym challenge. How the game serves its story becomes even more insulting to the player when they literally don't let you experience events that happen, but simply tell you it happend, by showing pictures or dialogue. So what happens in the end? They mash all the story in the last section of the game. The only bit of real storytelling begins at the moment you battle the champion. Chairman Rose reveals himself as the 'bad guy' by spouting some gibberish about how the world is going to end in 1000 years if we don't gather dynamax energy or something. Then you progress in what is maybe the worst couple of minutes of pokemon 'gameplay' that the franchise has ever seen.
You have to battle the same grunt and his TWO POKEMON 4 times in order to get access to the hideout of chairman Rose, because every time you beat him he runs away to another spot on the square. After reaching rose tower you step into an elevator. there you battle the same two grunts, with two pokemon, over and over and over, and during all this, in what is suppose to be a moment of tension , as youre breaking in the chairmans hideout, the most upbeat silly tune plays during all the battles. you can't make this sh*t up: (its called "storming rose tower" look it up on youtube). So after this 'exciting' elevator ride you finally reach the top of the tower where Rose is hiding. You battle her crazy assistant and then all the plot of the game is explained to you with, yes you guessed it: PICTURES! 10/10 well done game freak. I went to all that mindless padding just for the story to be explained through some pictures! Youre immediately teleported back to the city after this btw. The thing is guys, i have legit a hundred more bad things to say about this game, but i realized this site won't let me type more than 5000 characters, so ill have to end it on this note. I also think other people have already talked about other flaws of the game.

…

Expand