Publisher:

Nintendo

Release Date:

Nov 6, 2020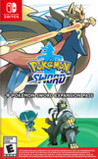 Summary:

Begin your adventure in the Galar region AND discover newly-added areas, The Isle of Armor and The Crown Tundra, with the Pokémon Sword + Pokémon Sword Expansion Pass. If you purchase the Pokémon Sword + Pokémon Sword Expansion Pass bundle, you'll be able to receive a Pikachu Uniform and an

Begin your adventure in the Galar region AND discover newly-added areas, The Isle of Armor and The Crown Tundra, with the Pokémon Sword + Pokémon Sword Expansion Pass. If you purchase the Pokémon Sword + Pokémon Sword Expansion Pass bundle, you'll be able to receive a Pikachu Uniform and an Eevee Uniform, plus 100 Poké Balls as a special purchase bonus. Galarian Slowpoke appears! You can encounter it in Wedgehurst Station, and you can use an item found on The Isle of Armor to evolve it into Galarian Slowbro and an item found on The Crown Tundra to evolve it into Galarian Slowking. This bundle includes both the base Pokémon Sword game and the Pokémon Sword Expansion Pass, which gives you access to two new areas, newly discovered Pokémon, and stories of growth and exploration. Begin your adventure as a Pokémon Trainer by choosing one of three partner Pokémon: Grookey, Scorbunny, or Sobble. Then embark on a journey in the Galar region, where you'll challenge the troublemakers of Team Yell, while unraveling the mystery behind the Legendary Pokémon Zacian and Zamazenta! Explore the Wild Area, a vast expanse of land where the player can freely control the camera. Team up with three other players locally or online in the multiplayer co-op Max Raid Battles* in which players will face off against gigantic and super-strong Pokémon known as Dynamax Pokémon. Continue your Pokémon Sword adventure in The Isle of Armor and The Crown Tundra, two new areas to explore that will be added to the Galar region as part of the Pokémon Sword Expansion Pass! Each area offers a different adventure, where you'll be able to visit the far reaches of the Galar region and meet the people and Pokémon that live there. You'll also see some familiar Pokémon that didn't appear in the Galar region beforeKeep the adventure going with your existing Pokémon Sword save data and jump into this expansion to Pokémon Sword!

…

Expand
Developer:

Game Freak

Genre(s):

Role-Playing

,

Trainer

# of players:

Up to 4

Cheats:

On GameFAQs

Rating:

E
Please enter your birth date to watch this video:
You are not allowed to view this material at this time.
Pokemon - Official 25 Years Of Memories Trailer
This DLC allows Sword and Shield players to explore the Isle of Armor and the Crown Tundra. There are more Pokémon to capture, new rivals to meet, and more challenges to complete. Plus, you can capture Legendary Pokémon from past games.
This game has been amazing for 1 year despite my original concerns with the national dex. Which turned out not to be a big deal in hindsight.

Ooooooooooooooooooooooooooooooooooooooooooooooooooooooooooooooooooooooooooooo

In the main game, the graphic aren't good and especially the wild area is ugly. I really can't complain about the gameplay. It features the

In the main game, the graphic aren't good and especially the wild area is ugly. I really can't complain about the gameplay. It features the well known Pokémon battle system, and I appreciate that many Pokémon have a well animated signature move, even though most other attacks didn't get much love when the animations were made. It's the first main series game where the Pokémon aren't just random encounters in certain areas, but visibly on the overworld. For some reason, the Pokémon just spawn a few meters in front of you, so you need the reflexes of a falcon, if you don't want to hit a Pokémon every few meters when driving fast with the bike. Like in Alola, the region before, the gym challenge got a fresh touch. But unlike Alola, Galar kept the gyms themselves .All in all, the main game is solid. I am amazed by the DLC-Pass. It fixed many of the main games issues. The isle of armor and crown tundra look beautiful, especially, when you compare them to the wild area. A fans wish was made true, by having your first party member walk behind you. The DLC also added lots of older Pokémon, that weren't featured in the main game. While the isle of armor focused on battles, the crown tundra is a vast wilderness to explore. The Galar region followed the idea of Alola to add regional variants of already existing Pokémon to franchise besides just new Pokémon. The new Pokémon are cool and some of them became new fan favourites. Pokémon Sword and Shield are games worth playing, and the DLC-Pass is even better.

…

Expand

This review contains spoilers

, click expand to view

. I ended up buying the dlc because I wanted to give it one last try.The new pokemon and themes are great. Loved the galar star cup and being able to pair with basically every character we met along the way. There was clear work put into the interactions considering every character has a unique dialouge for each other.That about wraps it up for the positives. If you dont care about the story at all, just get someone to trade you the new pokemon.
For the whopping 90 dollars (100+ if you had paid for home premium as well) the game is honestly a mess. A lot of the prevalent issues from the main game,ex: lagging when pokemon or people load in ESCPECIALLY DURING ONLINE PLAY, has gotten considerably worse since the areas are even more congested with pokemon. The animation quality is even lazier a lot of the time cutting out to a black screen instead of even animating things. The story for both felt more grindy and annoying then anything with actual substance. As much as i love kubfu and the journey he took and whole choice of towers thing,being told to grind a pokemon to lvl 70 doesnt really add to the experience. It only lengthens the playtime doing tedious work,which honestly is a phrase i could use to describe every "mission" in both dlc. The lack of a full dex is absolutely frustrating as well for the price point being paid. We all know these models are ripped 3ds models that were recycled.. if the issue was balancing the pokemon then limit or ban pokemon usage just like they do in ranked seasons. It would have been so much fun for everyone to do team building based around specific regions or seasons then being left unhappy and staring at my pokemon in the home premium boxes just waiting to use them again. Moving on to the new max raid adventures. The max raid adventures are fun the first few times,but unless you have nintendo online (another 12 bucks added to play this game!) Itll honestly just feel frustrating. The npc ai are still hilariously bad, but its even worse because the raids are now against legendary pokemon. After the gimick is up, the raids feel tedious and take up so much time because of the need to battle at least 2 other raids before reaching the legendary pokemon. This time increases when you account for online connection. Resetting for things such as shinies or marks is even more time consuming due to all of this. I really wish they would have just made use of the wild areas and let all the legendaries loose. Finding cobalion and virizion (haven't found rock boi yet)was such a treat., and I really wish I got to experience something similar with every legendary because the wild area being a new way to encounter pokemon is literally one of the 3 reasons I ended up giving this game a chance. I am honestly disgusted by the lack of work that was put in for the total price that I have invested into this game specifically. Previous entries have done more for a better price, with more compelling stories and end game content that has delivered more then then both of these dlc.. I basically feel like i had to pay to get end game story sequences, aka get the full game,, because to be honest the whole mini episode with swordwart and shieldbert and your dog should have just been part of the main storyline.If I had to choose, Crown tundra is much better as a whole but it has too many flaws still. For a triple A title competing with dlc prices and content with other games such as breathe of the wild and fire emblem, its just not worth it.BOTW contained fully fleshed out missions new dungeons and actual cutscenes and fire emblem offered new chapters and 4 fully fleshed out characters with healthy amounts of support conversations just like any other student in the base game And unique dialogue for every map just like any other student WITH full voice acting from both. Comparing it to both these games i just can't find myself recommending anyone to get these dlc let alone the main game which is dissapointing since my first video game as a child was pokemon

…

Expand