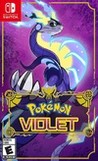 Summary:

The Pokémon Scarlet and Pokémon Violet games, the newest chapters in the Pokémon series, are coming to Nintendo Switch. With these new titles, the Pokémon series takes a new evolutionary step, allowing you to explore freely in a richly expressed open world. Various towns blend seamlessly

The Pokémon Scarlet and Pokémon Violet games, the newest chapters in the Pokémon series, are coming to Nintendo Switch. With these new titles, the Pokémon series takes a new evolutionary step, allowing you to explore freely in a richly expressed open world. Various towns blend seamlessly into the wilderness with no borders. You'll be able to see the Pokémon of this region in the skies, in the seas, in the forests, on the streetsall over! You'll be able to experience the true joy of the Pokémon seriesbattling against wild Pokémon in order to catch themnow in an open-world game that players of any age can enjoy.
Meet the First Partner Pokémon
The three Pokémon from which you'll be able to choose your first partner are Sprigatito, Fuecoco, and Quaxly. How will you meet these three, and what sorts of Pokémon are they?
Sprigatito
Type: Grass
Category: Grass Cat Pokémon
Height: 1'4"
Weight: 9 lbs.
Ability: Overgrow
The capricious, attention-seeking Grass Cat Pokémon.
Fuecoco
Type: Fire
Category: Fire Croc Pokémon
Height: 1'4"
Weight: 21.6 lbs.
Ability: Blaze
The laid-back Fire Croc Pokémon that does things at its own pace.
Quaxly
Type: Water
Category: Duckling Pokémon
Height: 1'8"
Weight: 13.4 lbs.
Ability: Torrent
The earnest and tidy Duckling Pokémon.
Introducing the Main Characters
As one of the main characters, you'll set off on your adventure. Your outfit will vary depending on whether you play Pokémon Scarlet or Pokémon Violet. Who knows what kind of story awaits you?

…

Expand
Developer:

Game Freak

Genre(s):

Role-Playing

,

Trainer

# of players:

Up to 4

Cheats:

On GameFAQs

Rating:

E
Please enter your birth date to watch this video:
You are not allowed to view this material at this time.
Pokemon Scarlet & Pokemon Violet Official Overview Trailer
I have had such a wonderful time with Pokémon Violet and Scarlet. None of the issues that I have with these games are anything but the most mild and forgivable irritations. Meanwhile, the promise of a big but blissfully uncomplicated world, filled with adventure and monsters to collect, brought me right back to what drew me into the whole Pokémon franchise in the first place. Is Scarlet and Violet a technical mess? Sure. Do I care? Not in the slightest. I'm here for the pokémon. Not to count frames.

Despite technical shortcomings and some filler content, Pokémon Scarlet and Violet are chock-full of meaningful additions to one of gaming's most popular franchises. At worst, these games are steps towards the Pokémon games for which players have clamored, but more often, they serve as effective thesis statements for where the series goes from here. Either way, I can't wait to see where Game Freak evolves the experience from this point.

Pokemon Scarlet is that product that many fans requested, with a vast open world to explore, an adventure without ties, and an exploration full of surprises. The game achieves everything I just mentioned, and there is no doubt about that. The main issue is that the game makes a lot of technical sacrifices to achieve everything the fans asked for. The result is a title that performs poorly at times that may not matter but happens many times. The gameplay is entertaining, solid, and deep, but it's all wrapped up in a broken package.

Ugly visuals and an all around lack of polish detract from what is an incredibly strong, compelling, and well designed core adventure, one that represents the series' strongest outing in a very long time otherwise.

There are some mechanics that ultimately feel gimmicky, but Scarlet and Violet's storytelling and exploration feel like the breath of fresh air the franchise desperately needed. More than anything, I have hope for how eventual DLC might be able to improve the overall experience or how Game Freak can learn from its mistakes to create an even more memorable experience in the future.

Despite the score, I'm going to spend a stupid amount of time in the world of Paldea. The technical issues with the game will eventually be fixed, and what will be left is a great Pokemon experience. If you're still on the fence at this point, it's certainly fair to wait for patches to smooth things out, but at some point I hope everyone can come along for the ride. And based on the opening weekend sales, I might've gotten my wish already.

Ultimately, Pokemon Scarlet & Violet finally lets you experience a story in this world that doesn't feel out of place, marked with a tone of childlike innocence that, for once, doesn't diminish the seriousness of the subjects that it presents. Unfortunately, the performance is so abruptly bad that it completely ruins, to an infuriating extent, what otherwise could have been the best Pokemon game to date.
Pokémon scarlet and violet are masterpieces, also I'm first review which is nice but go play this game

Story: 8
Graphics: 6
Sound: 8
Gameplay: 8
Game Time: 50 Hours (Main Story + Extra)

The game seems to be funny and entertaining but the overall performance and graphics makes it difficult to play and appreciate the game,

The game seems to be funny and entertaining but the overall performance and graphics makes it difficult to play and appreciate the game, making the player have to restart the game in order to continue playing sometimes due to the numerous glitches.

…

Expand

Laggy piece of trash, it is unforgivable they released this game in this state. Shame on you GameFreak, please nintendo give this franchise to

Laggy piece of trash, it is unforgivable they released this game in this state. Shame on you GameFreak, please nintendo give this franchise to another publisher this is a disgrace.

…

Expand

It's unbelievable the state this game was released. It has so many bugs and looks so outdated that it doesn't look like a first party game,

It's unbelievable the state this game was released. It has so many bugs and looks so outdated that it doesn't look like a first party game, people defending this game forget that pokemon is one of the highest grossing media so they have the resources and the people to make a good game however the pokemon company doesn't care about quality and apparently they don't care about the fans. This is the worst pokemon game in terms of quality and it's very disappointing

…

Expand

Pokemon has to stop releasing every year. Otherwise poorly made games will keep coming. Full of bugs, horrible performance and I hope they fix

Pokemon has to stop releasing every year. Otherwise poorly made games will keep coming. Full of bugs, horrible performance and I hope they fix it. If this continues, I will be forced to sue Nintendo for delivering a poorly made product.

…

Expand