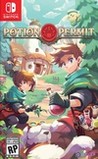 Summary:

The town of Moonbury has always been wary of the advances of the outside world, preferring to rely on their traditional methods of healing. Until one day, when the mayor's daughter falls ill, and the local witch doctor can do nothing to help her, they are forced to look outside their small

The town of Moonbury has always been wary of the advances of the outside world, preferring to rely on their traditional methods of healing. Until one day, when the mayor's daughter falls ill, and the local witch doctor can do nothing to help her, they are forced to look outside their small community for help.

The Medical Association decides to send their most accomplished chemist - you - to help cure the mayor's daughter and convince the residents of Moonbury of the wonders of modern alchemy. Gain their trust and tend to each person when they fall ill in this open-ended sim RPG.

…

Expand
Developer:

MassHive Media

Genre(s):

Role-Playing

,

General

,

Japanese-Style

# of players:

No Online Multiplayer

Cheats:

On GameFAQs

Rating:

E
Potion Permit is a cosy, magical experience that blends the best features of the RPG, adventure, and life sim genres into one soothing, medicinal brew. With plenty of puzzles to solve, potions to distil, and patients to heal, your time in Moonbury is as eventful and exciting as it is stunning.

Potion Permit has you go from unwelcomed guest to belle of the ball. This doesn't feel like other life-sim game in a couple of ways. The handful of mini-games, the romancing, and the gifting feel different, in some good - and sometimes only decent - ways. The pixel art looks great, and load times on the Switch were a breeze. I would have liked more of an overall challenge; the game never feels hard or very difficult. Potion Permit works best when throwing on some headphones and listening to a podcast.

Potion Permit is twee. It's sweet and charming, and made with love. The developers were also successful in finding a new take on the Moon-like rural life sim, and Atelier fans in particular are going to enjoy this crossover. The combat is the only real misfire, and thankfully it's never present enough to make the rest of the experience taste sour.

Potion Permit is fine. Occasionally quite good. It certainly makes an effort to do some different things, to varying degrees of success. Apart from some performance problems in this Switch version, the biggest thing dulling Potion Permit's shine is just how familiar its structure is. When you take into account the somewhat grindy nature of this sort of affair, the lack of any particularly inspiring derivations makes it one best consigned to fans of the genre looking for another hit.

Potion Permit makes an effort to implement engaging minigame mechanics through potion brewing and patient diagnosis, but outside of that, a lack of challenge and a feeling of repetition means it struggles to stand out in the vast field of life sims. Still, it presents a fun and enchanting experience which gets a massive shot in the arm from excellent presentation in both the audio and visual departments. Potion Permit fits the bill for something to pick up now and then and pass a few hours, and there are certainly enough quests for you to sink your teeth into and keep you entertained for a while, even if it's not as catching as the best in the genre.

Despite all these issues, however, Potion Permit is one of my favorite games I've played this year as well as one of the best life sims in recent history, which is a massive testament to just how high its highs are. Coming to the game's end was bittersweet because of how much I adored my time in Moonbury--how much I was enamored of the art, gameplay, characters, world, and writing as a whole. More than anything, I long for a Potion Permit series. I believe it has the potential to proudly stand next to games like Stardew Valley, Harvest Moon, and Story of Seasons and, if it addresses some of its most glaring issues, could push the genre forward in meaningful ways.

Despite these frustrations players will likely still find themselves returning to Potion Permit for hours at a time - it's incredibly easy to get in a "just one more day" loop despite some of the game's duller moments, because the puzzling and progression elements like improving as a chemist, forging friendships, and upgrading the clinic are so satisfying. At its core, Potion Permit is a unique and cozy indie game that clearly has a large amount of effort and ambition behind it, which helps it overcome some - but not all - of its flaws. For players looking to sink dozens of hours into a different style of simulation title, brewing up a life in Potion Permit may be just what the doctor ordered.
A nice easy cozy game that never asks too much of the player. Characters and cutscenes are adorable and the artwork is gorgeous