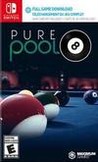 Summary:

Cue sports have never looked so good on Nintendo Switch, whether you're playing docked or on the go!

ULTIMATE IMMERSION Immerse yourself in the stunningly realistic and endlessly enjoyable world of Pure Pool and rack up your favourite games of pool and snooker anywhere, with absolutelyCue sports have never looked so good on Nintendo Switch, whether you're playing docked or on the go!

ULTIMATE IMMERSION
Immerse yourself in the stunningly realistic and endlessly enjoyable world of Pure Pool and rack up your favourite games of pool and snooker anywhere, with absolutely no load times getting in your way.

MORE WAYS TO PLAY
Play hundreds of pool and snooker events across a wide range of competitive modes including American 8-Ball, 9-Ball, Blackball and Killer. Then challenge yourself in fast-paced modes like Speed Pot, Checkpoint and Royal Rumble to rise up the global leaderboards and unlock new rewards!

PLAY TOGETHER
Have fun with friends in multiplayer games locally, or join the online Pure Pool community and match up against players around the world in cross-network multiplayer matches. And even after your friends have left, you can play against a copy of their DNA offline!

…

Expand
Developer:

VooFoo Studios

Genre(s):

Sports

,

Individual

,

Billiards

# of players:

No Online Multiplayer

Cheats:

On GameFAQs

Rating:

E
Pure Pool for Nintendo Switch has a surprising amount of gameplay content, along with beautiful visuals. It's an excellent pool package.

Filled to the brim with content, this game has enough to keep you playing for hours on end and coming back for more. A sports sim done right. Pure Pool is pure brilliance!

It looks nice, it plays well, and it doesn't try to be anything more than it is. What more could you want in a game of pool?

If you enjoy a game of pool every now and then, then you're going to love Pure Pool. It's just pool, nothing more and nothing less. Well okay, there's snooker too, if you absolutely have to have more. There's plenty to be getting on with here, with unlockable cues, table designs, and more to keep you coming back, and while it's not exactly the kind of game you'll want to marathon, it's definitely one to keep stored in the library for a rainy day.

In the absence of the real thing, Pure Pool is the closest you'll get on your Switch. Career may be a bit lacking, and multiplayer a bit vacant, but when it looks this good you won't care. There's enough to keep you racking and chalking up to experience.

While newer players could be frustrated by camera limits, some gameplay quirks, and overall lack of personality, simulation fans can see minutes turn to hours when playing Pure Pool. It's a highly entertaining game that I've sunk more time into than expected.

Ultimately, Pure Pool is exactly what its name suggests, for better and for worse. Players that buy into its fascinating shot presentation may find it enough to overlook the otherwise-flat experience. For everybody else, it will likely be an all-too-quick scratch off the eight ball.
Great looking game! A pleasure to play. The only thing that would have been great would be a top view to align some of the more difficult

Great looking game! A pleasure to play. The only thing that would have been great would be a top view to align some of the more difficult shots where the OB falls a bit outside of the camera view. Can't really understand why they left that out.

…

Expand

I mean for me it's a 5/10, for an American it might be OK. The 8 Ball feels like clunky old 8 ball pool but the British red and yellow pool

I mean for me it's a 5/10, for an American it might be OK. The 8 Ball feels like clunky old 8 ball pool but the British red and yellow pool feels like the clunky 8 ball too. The mechanics feel nothing like how the actual real thing does. It is possible to recreate things like this in video games. They manage to make pinball feel good. To me they designed one game and reskinned it. In reality British and American pool are bugger all like each other in over all feel.

It is nice to kill 5 minutes. It's not an awful game. It cost about 6 quid though and there are better eshop games at 89p.

…

Expand

This review contains spoilers

, click expand to view

. I made it through the amateur career 8 Ball tournament without too much trouble. Then, the pro tour? Wow! It's almost like I'm playing the greatest pool player who ever lived! Crazy cut shots? No problem! Insane bank shots? Yup! Completely running the table without letting you get even a remote chance of winning? You got it!

Golly. If you love playing a single AI player 20 times just to finally beat them and progress a little bit, then gee whiz, this might be the best game for you!

I can't wait to get to the pro level where I can play the guy who, literally, invented the game and is so hard to beat that it isn't even fun anymore.

Cool game, guys! Excellent job making the difficulty super reasonable! It's so good! I Love It! Very good job not making me want to throw my controller across the room! Yippee for this game!

…

Expand