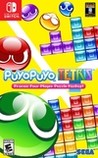 Summary:

Two puzzle game juggernauts collide as Tetris, one of the largest-selling and recognized brands in gaming history, and Puyo Puyo from SEGA have combined to create a fun-to-play, fast-paced, competitive party game like no other! The game has tons of different styles of gameplay from the

Two puzzle game juggernauts collide as Tetris, one of the largest-selling and recognized brands in gaming history, and Puyo Puyo from SEGA have combined to create a fun-to-play, fast-paced, competitive party game like no other! The game has tons of different styles of gameplay from the single-player Adventure and Challenge modes to the ferocious competition of the up-to-four player Arcade modes. There's plenty of Tetris/Puyo variety, even an in-game Shop where players can unlock new characters, new skins for Puyos and Tetriminos, new backgrounds and more.

Features:

* Adventure Single-player mode offers ten unique acts, each with ten stages featuring different characters from the Puyo Puyo and Tetris universes. Each stage contains unique challenges players will need to overcome in order to win and move on!
* Multiplayer Arcade For up to four local players, Multiplayer Arcade offers a wealth of variety that will bring out players' competitive nature!
* Online Players can try their puzzle skills on a global scale by playing any of the multiplayer modes with up to four players online, in Puzzle League or Free Play modes.
* Solo Arcade Play any of the Multiplayer Arcade modes against the CPU in Battle or Endurance matches, or try the single-player Challenges!

…

Expand
Developer:

Sonic Team

Genre(s):

Puzzle

,

Matching

,

Stacking

# of players:

Up to 4

Cheats:

On GameFAQs

Rating:

E10+
It had been a long time since I last thought about a good game of Tetris, and I had never even seen a Puyo Puyo before, but having these two games come together in such a way has been a true delight. This is also a perfect game to have on the switch. Great on the go when you just need to pass the time, but equally as good on the big screen with some mates to challenge.

The wait was worth it for this puzzle mashup, as Puyo Puyo Tetris embodies everything great about its namesakes, and compliments the host hardware perfectly. Concerns arise about the lack of Japanese voice work as an option, but as an overall package of content and pure replayability there are few better crossovers than this one.

The beautifully presented Puyo Puyo Tetris has a ton of content, a really fun multiplayer with a lot of variations, and is very easy to pick up and play with just about anyone despite the slight balance issues. The Nintendo Switch is a great platform for it too, with its portability and non-threatening Joy-Con controllers. This is the type of game that offers an adequate challenge for even the most hardcore puzzle players with its Challenge modes, but is inviting for even the smallest of children and gaming newbies.

Puyo Puyo Tetris is a fantastic puzzle game, a crossover between two of the best franchises of the genre, Tetris and Puyo Puyo. The Nintendo Switch version is the way to go, offering great versatility and allowing you to play on the go or in docked mode. Multiplayer is supported up to 4 players both local with one or more consoles linked via wireless or on the TV screen, and online. Single player mode is too weak though, but if you have some friends and two couple of Joy-Cons, you will have loads of fun.

Two puzzle game juggernauts collide in a solid, fun and complete experience. Good as a single player game, great with its multiplayer options.

Overflowing with colorful personality, Puyo Puyo Tetris revels in its weirdness. It provides solid versions of both puzzle games and merges the two in bizarre, frantic ways that adds a fresh dash of style to these long-running series. With an array of game variations spanning single-player, along with on- and offline multiplayer, it's an incredibly meaty package that should satisfy gamers for a long time to come.

The biggest single-player draw card is Adventure, the game's story mode, and one we've specifically been told not to spoil.
I was negative against the game because I don't like puyo puyo at all but I tried the demo and the game was so fun that I perordered the full

I was negative against the game because I don't like puyo puyo at all but I tried the demo and the game was so fun that I perordered the full version. The multiplayer is amazing , it has a single player story mode but it is not the main dish

…

Expand

If you like Tetris AND Robotnik's Mean Bean Machine, or Kirby's Avalanche, this is the game for you! It has the original Tetris mode (with

If you like Tetris AND Robotnik's Mean Bean Machine, or Kirby's Avalanche, this is the game for you! It has the original Tetris mode (with Terminos) and the Puyos! (Little Orb-Shaped creatures) Honestly, this is the best thing since mobile Tetris!

…

Expand

Es adictivo este juego, su modo portatil lo vuelve la mejor opcion, sus modos de juego son muy entretenidos.

Puyo Puyo Tetris is the perfect combination of the two biggest puzzle juggernauts in the world, and for once doesn't involve Electronic Arts.

Puyo Puyo Tetris is the perfect combination of the two biggest puzzle juggernauts in the world, and for once doesn't involve Electronic Arts. The characters, worlds, scenarios, sights and sounds presented in the game are completely obnoxious, but I never found it becoming too much to bear, instead it added to the charm of the story and the game by extension. In addition, the campaign is extensive, recognisable Tetris challenges like Sprint and Ultra make a return, and online multiplayer is exactly what you expect it to be. If you can ignore the unnecessary grinding required to get all the store items, Puyo Puyo Tetris is the best arcade puzzler to presently exist.

…

Expand

This game is a lot of fun.

Pros: The two best puzzlers ever in one game. Lot of cool settings which give you a lot of control of whatThis game is a lot of fun.

Pros:
The two best puzzlers ever in one game.
Lot of cool settings which give you a lot of control of what kind of game you want to play.
Cool that they have a story mode with full voice acting, even if the story is really bad and all over the place, I still appreciate the effort which makes the game feel more alive. It lets you skip it too, so it doesn't get in your way.
Solid but not great unlockables, you can get new skins for the puzzle "blocks"
Lots of music and stages to choose from.

Cons:
Tricky to play with the Joy Con sideways as you really need a directional pad
There could be more unlockables
The party mode is surprisingly bad. It used to be Tetris Wii, DS and 3DS biggest strengths. Here it is very limited. Fortunately the standard modes are really good.

…

Expand

(revised) Don't get me wrong Puyo is great but for 29.99 it's not worth the price. It really feels more like a 10 dollar eshop title. But it

(revised) Don't get me wrong Puyo is great but for 29.99 it's not worth the price. It really feels more like a 10 dollar eshop title. But it is kind of fun but I would rate till when the price goes down. But with the great online and story it is not a bad title just a little over priced.

…

Expand