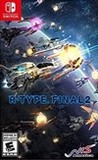 Summary:

Wave Cannon attacks by trans-dimensional fighters equipped with firepower equivalent of that of a battleship. This game is thoroughly focused on expressions of how enemies are destroyed. The feeling of exhilaration in the destructions is thoroughly pursued.
Developer:

Granzella Inc.

Genre(s):

Action

,

Shooter

,

Shoot-'Em-Up

,

Horizontal

# of players:

No Online Multiplayer

Cheats:

On GameFAQs

Rating:

E10+
R-Type Final 2 is a satisfying shmup with many challenging, carefully crafted stages. Having so many different ships gives it a ton of replay value, and also gives you many strategic options for how you tackle a given area. I wish it had a more striking, clear visual style so I could appreciate the designs and stages more (and die less to dopey things). Still, it's solid in every other regard (and you should try the demo to see that for yourself), so I can't stay mad at it for long.

R-Type Final 2 adds modernized graphics and gameplay to the action of the original games in the series, which together with its great challenge, amount of content and replayability makes it an essential title for all players.

Nintendo Force Magazine

Oct 6, 2021

I had high expectations for R-Type Final 2; its direct predecessor is one of my favorite games in the genre. To this day, I still rant to strangers about its massive collection of bizarre ships, its daringly cryptic branching paths and its boldly avant-garde final stage. The sequel doesn't quite soar to the same heights, but after you start unlocking its better content, it "finally" becomes a solid, compelling, long overdue return to the beloved, iconic series. [Issue #53 – July/August 2021, p. 74]

The game is an easy recommendation for anyone that has been pining for the shoot-'em-up glory days or any fan of arcade-style games. There is a lot of trial and error that is inherent with games of this nature and if rote memorization coupled with some light strategy in weapon choices doesn't sound like your idea of fun, you might not find it here. There are multiple difficulty modes, however, that add continues and alter some boss patterns. I found the easiest setting offers a fair challenge while still teaching lessons to take into the more demanding difficulties. R-Type Final 2 is a prime example of a competent product that fills a niche perfectly. Even though R-Type Final was meant to be the last game in the franchise, this new sequel proves there's still some fight left for shmups.

All of this leads to a game experience that doesn't quite feel as polished as it could have been, but with enough of that core R-Type DNA to keep me engaged enough to keep on unlocking ships. Although, once again I come back to that silly title, because even R-Type Final 2 isn't the final R-Type. There's DLC to come, and a premium edition just of this game if you're particularly keen.

R-Type Final 2 is sadly the classic example of form over substance. On paper, it provides fans of the beloved R-Type series what they would want in a modern sequel. In reality, it is simply an unenjoyable, below average title with little allure to wade through it.

If the first impressions are not bad, the title however ends up showing its faults in broad daylight and especially its terrible lack of inspiration. Both generic and unresponsive, it accumulates too many flaws for a shoot inherited from such a franchise.
After the updates things changed a lot and now it's a great game all the way around. If you liked the first Final game you will enjoy this

After the updates things changed a lot and now it's a great game all the way around. If you liked the first Final game you will enjoy this too. Recommended!!!

…

Expand

Machacamarcianos de la vieja escuela, donde también hay algo de estrategia.

It has good graphics, original R-Type Flair and especially the bosses are pure dope.
The Soundtrack is also great and perfect fitting. Btw.It has good graphics, original R-Type Flair and especially the bosses are pure dope.
The Soundtrack is also great and perfect fitting. Btw. nice to have an OST in the Box. Anything else is average. Leveldesign could be better, and especially checkpoints are not placed well. If you die by mistake, the game becomes much harder, because your main weapon does not even scratches. I don't understand why there is no option to restart a whole level. You can only start from the checkpoint or restart the game.

In that point R-Type Dimensions is by far the more friendy game for beginners.

As i said up ahead. Where this game really shines are the Bosses. They are like a symphony to genre fanatics. The Boss patterns are challenging and brilliant. Best feature atm.

Sadly, it's far from running well on the Switch. This is just another UE game having a lot of trouble with Frames. A patch made it better, but it's far from perfect for such a game. And you know... frames are very important for Shmups. Another issue are critical errors. My game crashed sometimes in the final stages, what makes it even worse, because you have to start the game anew.

R-Type Final 2 is an good but unpolished game. if you're not an absolute R-Type Fan, i would think twice about buying it. Better play R-Type Delta or older games if you have an SNES or PS3. That's my personal opinion. It's possible to enjoy this game, and i like it more than Dimensions, but it's not what i've expected. It's price is very high, to spend a good amount of money for an all-in-all not well optimized game.

…

Expand

I'm a big R-Type fan. Love most versions, I enjoyed R-Type Final and was looking forward to this one. I've got to say I don't like the whole

I'm a big R-Type fan. Love most versions, I enjoyed R-Type Final and was looking forward to this one. I've got to say I don't like the whole story narrative bolted to the front of every game. The game itself is ok, it has that R-Type feel but boy does the difficulty curve skyrocket in the second level. Which I have yet to complete. This instantly kills engagement and just infuriates. Hopefully there is some sort of balancing coming in a form of patches or DLC, but probably not. What's the point of a game when it feels nigh on impossible to get beyond the second level because of annoying enemy designs.

…

Expand

It's feels unfinished. Visually the game looks like it needs another layer of polish. Everything looks so poorly lit. The difficulty is there

It's feels unfinished. Visually the game looks like it needs another layer of polish. Everything looks so poorly lit. The difficulty is there in true R-Type fashion and it is adjustable to alleviate frustration. Load times take way too long for a game this simple, especially when it is just loading you back at a checkpoint. The soundtrack is bland and the game offers cut scenes that are nice, but don't elevate the core gameplay. I was hoping for something close to the amazing level Gradius 5 reached (a fantastic tribute to a classic shmup series) what we got is a game that feels like it was put into production too soon due to the budget running out. The game looks and plays like a decent fan-made tribute to R-Type and not a proper entry to the series, if there is a remastered version ever released, I'll happily visit that.

…

Expand

Muddy graphics. Forgettable soundtrack. Insulting load times (not optimised at all). A very cynical release from a major studio and I won't

Muddy graphics. Forgettable soundtrack. Insulting load times (not optimised at all). A very cynical release from a major studio and I won't ever support them again. This was my final straw.

…

Expand

The professional review sites covered the flaws well enough so I won't cover old ground here. I'll just add that the more well known SHMUPS

The professional review sites covered the flaws well enough so I won't cover old ground here. I'll just add that the more well known SHMUPS are going to come with the higher price tag, it's just a fact of life and expecting that I initially had no issue with the cost. But for NIS America to release R-Type Final 2 in this condition on the Switch is unacceptable. To then add insult to injury, before fixing this mess of a game they then have the gall to release 2 level DLC packs, stage passes and a 'Deluxe' edition and make it an even bigger cash grab. This isn't just incompetence, it's insulting price gouging. Any interest I had in this game is now long dead. I won't bother at any discount either, just done supporting publishers that pull this BS.

…

Expand