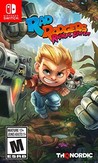 Summary:

2 Player Couch Co-op - Play together with a friend! Enemies can prepare themselves for tough battles. Battle Mode - Tired of team play? Fight against your friends and show them who's boss.
Rad Rodgers: Radical Edition is a small tribute to video games of the 90s, a frenetic action platform with good level design, although due to its small bugs and somewhat repetitive development, it does not show off as much as it should. However, it fulfills its purpose of fun and its charismatic characters and constant winks will make us smile.

If you are looking for an uncensored, no punches pulled platformer with a healthy heap one-liners and fast flying bullets, Rad Rodgers: Radical Edition may just be your on-the-go ticket to the past. Be forewarned: it is a trippy ride with some bumps along the way. However, some experiences from the past are worth revisiting in all of their awkwardness and discomfort. They may just remind us how much we have grown… or how much we still love a good fart joke.

A simple yet interesting classic platformer that will be on the likes of those who want a classic game, but will not be that interesting for those more 'modern' gamers.

Rad Rodgers Radical Edition serves up a hefty slice of side-scrolling shooter action and Metroidvania-esque exploration. While the optimisation for Nintendo Switch has dulled its colourful looks, it's still an attractive looking little adventure that happily dances between a Pixar-esque art style and some classic 8-bit pixelation. The option to play in a kid-friendly mode does make this a little more palatable for younger players, but any game with Duke Nukem's involvement is always going to be aimed at the Conker's Bad Fur Day crowd. Ultimately, it's a fun but forgettable experience that will appeal to fans of the genre but won't leave a lasting impression.

It's not going to set your world alight, but chances are it won't leave you regretting your purchase, either.

Rad Rodgers: Radical Edition has the basic building blocks to be a good throwback platform shooter, but it doesn't put it together very well. The shooting seems fine until you realize that most of the enemies are there only so you have something to shoot. The platforming is fine until Dusty gets temperamental in deciding whether to climb a platform. The Pixelverse sections are frustrating, the presentation feels badly done, and the extras don't add anything significant to the game. On a system with so many other better options in this genre, it's difficult to recommend this one.

If potty-mouth platforming is your jam, then you'll probably have an enjoyable time with Rad Rodgers - if you can overlook the untuned graphics. But for me, the games spends too much time trying to party like Poochie instead of delivering a coherent experience.
It's a terrible game. Poor performance. Some things are truly bad. The sad thing is that Slipgate studios (interceptor entertainment) failed

It's a terrible game. Poor performance. Some things are truly bad. The sad thing is that Slipgate studios (interceptor entertainment) failed on what's supposed to be esencial in a platformer ,and that is the jumping, aiming and shooting mechanics. And for a game released on the 2010's that is unforgivable. A total sin. This game is poorly executed . Instead of the foul language, schoolyard jokes and bunch of useless characters they should have concentrated on what matters more. The last levels are endless and absurdly difficult.They just threw a bunch of mechanisms (laser totems and sawblades) for you to rage. It's a rageathon.It's not that you would not be able to finish it ,but you'll have to be extremely patient to get to the end, and probably you'll quit even before that. I know I did. Uninstalled.

…

Expand