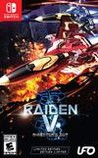 Summary:

Arcade hit Raiden first left its mark on the shooting genre 25 years ago. The easy to learn, hard to master series comes to the Nintendo Switch in its most modern and advanced form yet! Join the war for Earth's future-where the tide of battle holds constant surprises.
Game Modes:
• StoryArcade hit Raiden first left its mark on the shooting genre 25 years ago. The easy to learn, hard to master series comes to the Nintendo Switch in its most modern and advanced form yet! Join the war for Earth's future-where the tide of battle holds constant surprises.
Game Modes:

• Story Mode - All new story full of twists and turns! The story alters depending on your performance.

• Boss Mission - Defeat bosses under special conditions and compete in the leaderboards.

• Gallery - Dozens of character, concept, and game art waiting to be unearthed.

…

Expand
Developer:

Moss

Genre(s):

Action

,

Shooter

,

Shoot-'Em-Up

,

Vertical

# of players:

No Online Multiplayer

Cheats:

On GameFAQs

Rating:

E10+
Raiden V: Director's Cut is an expanded version of the fifth chapter of one of the most famous classic shoot'em-up series. It certainly does a good job at defending its heritage, with its frantic and fast-paced action and co-op options which give a major contribution to make this one of the best shoot'em-ups to be made available in the Nintendo Switch catalogue.

Raiden V: Director's Cut quietly lands on the Switch with little fanfare, and yet feels right at home along with all the numerous other bullet hell shmups currently available on the system. It pays homage to the classic series while also introducing several welcome new features that manage to outweigh its few unfortunate shortcomings. We recommend it for both newcomers to the franchise or the genre itself; those looking for a game to experience all the thrills that a bullet hell blaster can offer. Veteran players need not feel left out either since you can easily customize the difficulty within the game's options and getting to fight the last true boss of the game will require a super-human level of skill. A great package for a great price; can we have the rest of the Raiden series now, please?

A director's cut that for once makes a significant difference, with new levels and the return of co-op – although the underlying game is still slightly flawed.
This is great and works well on the Switch. I like the new style of not insta-dying when getting hit. Autoshoot is a blessing, and being able

This is great and works well on the Switch. I like the new style of not insta-dying when getting hit. Autoshoot is a blessing, and being able to map shoot to the trigger allowing your thumb to be ready to hit bomb is also nice. So far the only part I didn't like is that the background moving so fast is really distracting. Also the little yellow medals — or whatever they are — are distracting amongst the similarly coloured bullets. I suspect it would be easier to play on the big screen, but I have the Lite. Anyway, highly recommended.

…

Expand

Un clasico "bullet hell shmup", entretenido, con gran variedad de enemigos y muy colorido.
Aunque dificil, no como sus antecesores, por loUn clasico "bullet hell shmup", entretenido, con gran variedad de enemigos y muy colorido.
Aunque dificil, no como sus antecesores, por lo que puede ser bueno para iniciarse en este tipo de juegos (no mueres de un balazo).
No es de los mejores shump para switch (en mi opinion) pero recomiendo jugarlo.

…

Expand

The game cannot be won even on easy mode. It's impossible to dodge fire and it gets frustrating soon enough. It held a lot of nostalgic

The game cannot be won even on easy mode. It's impossible to dodge fire and it gets frustrating soon enough. It held a lot of nostalgic promise but ultimately disappointed.

…

Expand