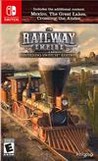 Summary:

United States, 1830: The New World is in its ascendancy. Industry is booming, and the race is on to establish the most dominant and powerful rail empire in all of North America. It's time to outthink and outmaneuver your competitors as you lead your company into the 20th century!

InUnited States, 1830: The New World is in its ascendancy. Industry is booming, and the race is on to establish the most dominant and powerful rail empire in all of North America. It's time to outthink and outmaneuver your competitors as you lead your company into the 20th century!

In Railway Empire, you will create an elaborate and wide-ranging rail network, purchase over 40 different trains modelled in extraordinary detail, and buy or build railway stations, maintenance buildings, factories and tourist attractions to keep your travel network ahead of the competition. You'll also need to hire and manage your workforce if you want to ensure an efficient train service, whilst also develop over 300 technologies ranging from mechanical improvements to the trains themselves to workplace infrastructures and advanced amenities as you progress through five eras of technological innovations. However, you can't just build and research your way to the top -- the competition never sleeps, and to keep your business on track you'll have to survive against up to three rival tycoons. To get to the top you may have to resort to more cutthroat tactics as you attack and sabotage your opponents through raids and industrial espionage.

…

Expand
Developer:

Kalypso

Genre(s):

Strategy

,

Management

,

Business / Tycoon

# of players:

No Online Multiplayer

Cheats:

On GameFAQs

Rating:

E
There's not much else to say beyond what was in my review of this game on PlayStation 4. The Switch port is a high quality, highly functional version of the base game, and while there are some totally expected visual downgrades, this is offset by the fact that you can now play Railway Empire on the go without having to lug your laptop around. When it comes to the kind of experience a simulator offers, the portable form factor really is is the ideal way to go.

Overall, I very much enjoyed Railway Empire, as can be told by my shoulders being sore from being hunched over my Switch while my wife watched the 10th hour of Millionaire Matchmaker. This definitely scratched an itch for me and will be my go to Railroad Tycoon-ish game from now on. I love that it is now on the Switch since I can now bring it on long flights. I would 100% recommend this to all trains fans and anyone who likes this breed of intense economic sim. A few hiccups minorly hinder it at times, but once you learn your way around the tracks, Railway Empire is a very sound game.

Railway Empire is an excellent real-time strategy simulation game and this Nintendo Switch Edition retains its rewarding and engaging gameplay. Even with its less than stellar graphical performance, I still recommend checking it out, especially if you only own a Switch.

Railway Empire is really a good mix of strategy, building and managing simulation and this version for Nintendo Switch is a good port of it.

Railway Empire does not lose its essence two years after its release on PC, PS4 and Xbox One, but its version on Nintendo Switch does not shine as we expected. Despite adding some additional content, miss the opportunity to launch a definitive edition to the market that counteracts the technical shortcomings of the port. Despite this, fans of the management genre will find in this title a deep and satisfactory enough offer that will provide them with a good number of hours of entertainment.

If you're considering Railway Empire because you love the sound of a train in the distance, you're not likely to enjoy the game. This is a management seem that digs deeply into the technology, the business strategy, and the economic acumen required to tame America's landscape and reach the pinnacle of what this nation's all about: corporate power.

Railway Empire tells a great tale of the Westward Expansion of the US's railway system. You have to wrestle with some poorly explained and non-intuitive controls in order to get the most out of it, though – but once it's up and running, this is one of the best train set video games you can get your hands on.
Game is very nice and scratches any railroad tycoon itch you may have. Graphics are not the best but I did get used to them after playing for

Game is very nice and scratches any railroad tycoon itch you may have. Graphics are not the best but I did get used to them after playing for a while. Like they somehow were getting better and better. It has a sandbox mode where you can go nuts with unlimited money in case you just want to build railroads without worrying about economics. Personally I love to mess around with trying to make the tracks as efficient as possible with signalling.

…

Expand

Hey it's actually not bad even though I prefer playing it on PC. Portable is a big plus for this game!

Just as a heads up to all those buying on the switch, I had a hard time figuring out the controls. This might be a PC game through and

Just as a heads up to all those buying on the switch, I had a hard time figuring out the controls. This might be a PC game through and through. None of the controls seemed consistent in different contexts. I was confused half the time what button to press. Sure the game gives the player prompts to which button to press at the bottom of the screen to do everything, but to lay a parallel piece of track & signals to control the trains took me way too long. I did it, but I couldn't tell you how I did it. I guess I wished hitting "A" would always do roughly the same thing. The game looks really fun once the controls are tamed. Well, I'm going back to play some more. Hopefully things go smoother.

…

Expand

This text does not contain spoilers
And that's just a short review, not all parts of the game, and it's just a summary.
The problem withThis text does not contain spoilers
And that's just a short review, not all parts of the game, and it's just a summary.
The problem with most games of this genre is in its gameplay.
Attractive gameplay In the early hours of a game's experience in this genre, over time, it becomes the most boring gameplay possible, and this title is not out of the question.

…

Expand