Publisher:

Ubisoft

Release Date:

Sep 12, 2017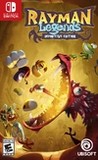 Summary:

Rayman, winner of multiple artistic and musical achievements, is coming to Nintendo Switch with Rayman Legends Definitive Edition.

Rayman, Globox, and the Teensies are off wandering through an enchanted forest when they discover a mysterious tent filled with a series of captivatingRayman, winner of multiple artistic and musical achievements, is coming to Nintendo Switch with Rayman Legends Definitive Edition.

Rayman, Globox, and the Teensies are off wandering through an enchanted forest when they discover a mysterious tent filled with a series of captivating paintings. As they look more closely, they notice each painting seems to tell the story of a mythical world. While focusing on a painting that shows a medieval land, they are suddenly sucked into the painting, entering the world, and the adventure begins. The gang must run, jump, and fight their way through each world to save the day and discover the secrets of every legendary painting.

* Join the team with up to 4 players in local co-op!
* Compete with your friends in tournaments with the Kung Foot experience (local wireless multiplayer)
* Run, jump & smack your way through 100+ maps
* Jump to the rhythm and rock the party to beat the crazy musical levels

…

Expand
Please enter your birth date to watch this video:
You are not allowed to view this material at this time.
Rayman Legends: Definitive Edition - Surf's Up Trailer
Incredibly imaginative, extremely motivating and visually a treat: With Rayman Legends Switch users can look forward to one of the best 2D platformers of the last generation on their system.

The best choice to discover Rayman Legends if you hadn't the opportunity to play this great platformer before.

With stellar gameplay, wonderful art and a superb soundtrack, Rayman Legends is one of the best platformer games ever released, hands down.

The new version of Rayman Legends for Switch, despite not offering significant additions, again proves that the Ancel game is one of the best modern platformers.

This edition of Rayman Legends offers almost everything the previous versions offered. And for fourty bucks this is a lot. The game looks fantastic and feels everything but old or obsolete. This is simply a must have for Switch owners.

In bringing the latest Rayman adventure to Switch, Ubisoft has given the machine easily one of its most visually stunning and enjoyable releases to date. Not quite living up to the moniker of Definitive Edition with increased loading times and performance hiccups, as well as a missing feature, Rayman Legends is still well worth the lower asking price to those yet to jump into Rayman's world, yet outside of the portability aspect it offers little to entice series veterans.

There just isn't enough here to justify warranting a purchase of Definitive Edition. It's slightly worse than its prior counterparts (even forgoing the Wii U's gameplay twist with Murfy and not letting another Switch user connect and play in that particular way), and the only truly new feature is the ability to play a tournament mode in the Kung Foot soccer minigame.
Even if you've played this on other platforms, there is something special about this game which makes it perfect for "on the go" with the

Even if you've played this on other platforms, there is something special about this game which makes it perfect for "on the go" with the Nintendo Switch! Such a great platformer, the music stages are a blast! One of the best 2D platformers for your money that don't start in "Super Mario"!

…

Expand

Seriously, this game is a steal! I've seen it on sale digitally for as low as $10. I found the controls to be sharper and more enjoyable

Seriously, this game is a steal! I've seen it on sale digitally for as low as $10. I found the controls to be sharper and more enjoyable than Mario Bro's U Deluxe or Donkey Kong Tropical Freeze. The overall platforming experience was top notch. It has a portion, maybe 10-15% of levels, designed with touch controls to be used specifically in handheld mode. It has great daily challenges, with leaderboards, where you can race against other players and your ghost. You can match up in 1 on 1 soccer games, as well. The value of this game is hard to beat. 10/10

…

Expand

Literally one of my favorite games of all time. Super creative in so many ways. It's fun with friends, it's fun alone, it's just an overall

Literally one of my favorite games of all time. Super creative in so many ways. It's fun with friends, it's fun alone, it's just an overall blast. One of the greatest 2d platformers of all time and easily the best game in the Rayman Franchise.

…

Expand

Beautiful graphics, great controls and amazing soundtrack combine to create a game with not only a place in my Top 10 list, but also in the

Beautiful graphics, great controls and amazing soundtrack combine to create a game with not only a place in my Top 10 list, but also in the gaming world.

…

Expand

I played this game twice (First on PC and then on Switch), and I still enjoyed completing it at 100%.
The first Rayman I tried was on PS1,I played this game twice (First on PC and then on Switch), and I still enjoyed completing it at 100%.
The first Rayman I tried was on PS1, which was a nice game but difficult and at times frustrating. However Rayman legends delivers in being fun with the right difficulty to relax and play.
There is no complicated story behind it though, but going through the levels with the right soundtracks will make you forget that part.
The music is definitely something to mention. I still replay some levels to enjoy the rock songs.
Having the possibility to play some levels of Origins is a plus.
To sum up, the creativity was well invested in this game to deliver an amazing and fun experience.

…

Expand

I had this game also on Wii U and XBox One. I hated the Wii U version because I hate the gamepad. I loved it on xbox, and this version is just

I had this game also on Wii U and XBox One. I hated the Wii U version because I hate the gamepad. I loved it on xbox, and this version is just as good.

Ubisoft has saved the Switch in my view. Two excellent (best) third party games with a short time. Nintendo alone can't release enough good games. Let's hope this continues!

Finally we starting to get a good library of switch games to play. I am no longer stuck with just Zelda and nothing more to do than look for korok seeds!

…

Expand