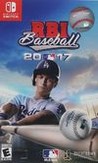 Summary:

R.B.I. Baseball 17 returns in the fourth edition of the classic franchise, developed by MLB.com. Fun, fast paced, high-octane baseball action bring back R.B.I's pick-up-and-play roots. Take control of your game with reactive pitching and batting systems that allow for in-the-moment

R.B.I. Baseball 17 returns in the fourth edition of the classic franchise, developed by MLB.com. Fun, fast paced, high-octane baseball action bring back R.B.I's pick-up-and-play roots. Take control of your game with reactive pitching and batting systems that allow for in-the-moment decisions. R.B.I. 17 is packed with 30 authentic ballparks, advanced stat tracking, season game sims and roster updates throughout the season. R.B.I. Baseball is back, you gotta come ready to play. [Nintendo]

…

Expand
Developer:

MLB AM

Genre(s):

Sports

,

Team

,

Baseball

,

Arcade

Cheats:

On GameFAQs

Rating:

E
R.B.I. Baseball 2017 is the sacrifice bunt of the Switch. It has a purpose in theory and might have been acceptable in its current form several years ago, but more efficient ways are on the way to get a sports fix. And with Baseball Stars 2 hopefully coming from Hamster and the fingers-crossed dream of mine that Super Mega Baseball 2 will touch 'em all including the Switch, we won't be lacking for smart baseball options. In a simulation game, I'd at least like to bring Youppi back to a baseball stadium, but that'll have to wait 'til next year.

R.B.I. Baseball 17 is a decent arcade sports game but doesn't do anything particularly special to sell itself beyond its authentic rosters and MLB license. There is some fun to be had with scoring big plays or home runs, but that should be a given for this type of game. This one is only recommended for the biggest sports fanatics who are craving a baseball experience on Switch and can overlook its glaring drawbacks. While the simplistic gameplay promotes pick-up-and-play matches, the lack of online, faulty fielding, and bland presentation make it feel like a watered-down version of other sports titles. Add in the game-crashing glitches and R.B.I. Baseball 17 strikes out.

R.B.I. Baseball is a game that isn't sure of what it wants to be. It incorporates some elements of both retro and modern titles, but rather than fusing successful elements of both eras, R.B.I. falls flat. Extremely dated visuals, poor presentation, absence of online modes, bad animation and overall lack of polish make for a game that we simply can't recommend, even to hardcore baseball fans. Vote with your wallet and let Major League Baseball know you want a better game before giving them your hard earned cash.

If you're looking for a first sports fix for the Nintendo Switch, sadly RBI Baseball 2017, the first sports title to come out on it (after NBA Playgrounds, at least) isn't the one you should go after. With FIFA, NBA and WWE on the way, chances are you'd get far more bang for your buck from going with them.
R.B.I. Baseball 2017 looks and feels like a mobile game ported to Nintendo Switch. In fact, that's exactly what it is. Close scrutiny of the

R.B.I. Baseball 2017 looks and feels like a mobile game ported to Nintendo Switch. In fact, that's exactly what it is. Close scrutiny of the visuals gives away its Android / iOS design ethos. Most of the players look alike, and can only be told apart by their jersey numbers and names. The gameplay isn't a whole lot better. But, for now, it's the only way to play a Major League Baseball-licensed game on Nintendo Switch. Maybe someday Nintendo will revive the Ken Griffey Jr. series (with a modern player, of course) -- until then, we have R.B.I.

…

Expand

The game plays and feels nothing like the original RBI Baseball. The fielding mechanics are very limited. No diving or jumping for balls in

The game plays and feels nothing like the original RBI Baseball. The fielding mechanics are very limited. No diving or jumping for balls in the field. A.I. does it for the player. Batting is terrible as well. Pitches can come in so quickly that players will sometimes have to guess when to swing, and change ups are usually in the dirt, which the batter won't realize until the last moment, after the ball bounces well before the plate.
The game does have a couple positive aspects. It is officially licensed by MLB, so team rosters consist of actual Major League players, and roster updates are available. Also, stadiums are authentic to each team.
Save your money on this one. Game goes for $30 on the Switch; $10 more than on PS4 and Xbox One.

…

Expand