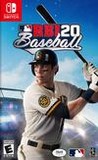 Summary:

Legends. Start. Here. Unleash greatness with your MLB crew in R.B.I. Baseball 20. R.B.I. 20 redefines arcade baseball action with major advancements & improvements.

All-New Controls: Choose pitch types based on real pitcher data, power up to swing for the fences or play it safe forLegends. Start. Here. Unleash greatness with your MLB crew in R.B.I. Baseball 20. R.B.I. 20 redefines arcade baseball action with major advancements & improvements.

All-New Controls: Choose pitch types based on real pitcher data, power up to swing for the fences or play it safe for contact & streamlined base running controls
Pitcher's Perspective: Brand new broadcast-inspired Pitching Camera gives you a new perspective when delivering pitches
Massive Player Model Improvements: Revamped hair & added more details including eye black, pine tar on helmets & dirt & grass stains after dives & slides

…

Expand
Developer:

MLB AM

Genre(s):

Sports

,

Team

,

Baseball

,

Arcade

# of players:

2

Cheats:

On GameFAQs

Rating:

E
RBI Baseball 20 for Nintendo Switch provides realistic gameplay mechanics with pretty decent visuals. It's an engaging experience with a few bumps here and there.

For the most part, R.B.I. Baseball 20 is the best the series has been in a lot of areas–even the soundtrack is better this year! That being said, they are no longer the only game in town. With other baseball games offering more solid gameplay, the R.B.I. Baseball series really needs to up their game. I prefer playing with real MLB teams, but if the gameplay isn't as fun and engaging, more and more people will go to another arcade baseball title. R.B.I. Baseball 20 is a very solid experience, but not all of the new features hit a home run. And, no online multiplayer for the Switch audience makes the Switch version really hard to recommend over its console counterparts.

If we're talking about things like reduced load times as a big plus, I think it's clear that R.B.I. Baseball 20 isn't the (relatively) smashing success that R.B.I. Baseball 19 was. But it still points to the game making an effort to improve, which clearly wasn't the case up until last year's outing. Whether that will help the series next year when MLB The Show stops being a Sony exclusive remains to be seen, but for now, at least it means that anyone who wants a baseball game outside of the PlayStation ecosystem won't have to suffer through a game that's a complete write-off.

If R.B.I. Baseball 20 were the only baseball title on the Switch, then it would be considered serviceable yet underwhelming. The new pitching and batting systems will divide players, but the fact that you can mix and match both styles makes for a good compromise. The AI remains questionable, and the scant number of modes and the bare-bones presentation don't help matters. As it stands, fans of arcade baseball outings who don't mind whether their players and teams are based on real-world ones will be better served with any of the Super Mega Baseball titles. If sim fans don't feel like settling with this game, they'll have to tough it out and wait until MLB The Show 21.

When we didn't have many options for baseball games on Switch, I put way more time into RBI Baseball than would be considered sane. But with the arcade realm owned by the two Super Mega Baseball games and the Arcade Archives, and the best in the business arriving next year, RBI Baseball is probably going to end up as a talking head on a team's postgame show.

RBI Baseball 20 is a frustrating experience for anyone who tries to play it. The game suffers from problematic game mechanics and visuals. This game can't even be recommended as a good time waster, as many players will grow tired of it within a few hours. Unless players absolutely need their baseball fix, their money would be better spent on something other than RBI Baseball 20.
Great game. The cameras are really good. The graphics are good. Overall a solid alternative to Mlb the show

I enjoy that game!!! The different game mode are limited but the most important, the game play is great and feel good. The defense feel right.

I enjoy that game!!! The different game mode are limited but the most important, the game play is great and feel good. The defense feel right. Not perfect but really playable. That game is the best baseball option with MLB team liscence for Nintendo Switch.

…

Expand

Gave it an 8 considering this is a $30 dollar game designed to be an arcade game and not baseball simulation. I also bumped up the score

Gave it an 8 considering this is a $30 dollar game designed to be an arcade game and not baseball simulation. I also bumped up the score because this is the first time RBI made an enjoyable baseball game for a non playstation owner since they brought back this franchise.

Good - Gameplay is fun, really enjoy the new controls. I like the camera angels when you time up a HR. Improved graphics. Legends Player Pools pre 93 and post 93 is cool. HR Derby plays good with new controls.

Bad - Can only play one franchise at a time (wanted to create a legends team and current roster). It's arcade and not baseball simulation so very limited depth and can execute non realistic trades, still a lot of glitches with fielding though doesn't affect overall game play too much, no commentary, no budget in creating crowd (should have just made empty stadiums for year of the corona). No online play.

Overall there is room for improvement but headed in the right direction. If they recycle the same game next year with no major improvements this game would be more of 6/7 but this years game exceeded expectations.

…

Expand

Major improvements over previous RBI games. More complex controls, better player animations, and smoother feel overall. Still has an arcade

Major improvements over previous RBI games. More complex controls, better player animations, and smoother feel overall. Still has an arcade like feel and won't compare to the show, but I'm okay with that. Still a lot of fun to be had. However, the one thing that still persists in this version are the hilarious bugs and glitchy animations. They aren't a dealbreaker, but it's disappointing to see a potentially great game be so unpolished. Just be ready to have your patience tested with that and the long load times. Still worth picking up if you're craving an MLB game.

…

Expand