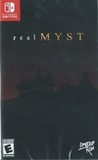 Summary:

Unlike the original Myst, realMyst features real time 3D graphics as opposed to the point and click graphics from the original game.
Developer:

Cyan Worlds

Genre(s):

Adventure

,

3D

,

First-Person

# of players:

No Online Multiplayer

Cheats:

On GameFAQs

Rating:

E
It is hard to call Myst anything other than a masterpiece, and this modernized version is no exception. The worlds of Myst continued to be developed for years after the original's release, and while its sequels developed on the incredibly rich lore and plot, for my money none of them ever quite recaptured the feeling of the original. While the Switch version has some minor performance issues, they're more than made up for by portability and the option to play with touch controls in classic mode. If you've never played Myst, or if you grew up with the original, take this excuse to journey back to the ages of Myst and get lost all over again.

It's not just the history and nostalgia, but the high quality, sense of discovery, and genuine allure that's undeniable with this pioneer. It's proven to be a timeless journey. But this Switch port of realMyst: Masterpiece Edition needs an update, to add some missing features and fix the significant audio glitches, to be genuinely outstanding.

While far from the definitive version of the 25+ year-old classic, realMyst: Masterpiece Edition remains a highly atmospheric, and immersive first-person adventure. It's a shame that it lacks some of the features that the PC instalment has, like for example the ability to go back to the old-school visuals with a flick of a button, but, thankfully, that's not enough to mar the experience. If you consider yourself a fan of adventure games, be sure to check it out.

realMyst: Masterpiece Edition updates a classic PC game, making it more accessible than ever to modern audiences—assuming you master its dodgy controls.
This is where my experience with Myst started, so it's hard for me to say I didn't have a great time. I can't compare it to other versions

This is where my experience with Myst started, so it's hard for me to say I didn't have a great time. I can't compare it to other versions because I've never played them (other than briefly trying the original afterwards). The core game is there and it's accessible to a modern audience. That being said, there are some reasons I didn't give this a 10:

- The menu UI is bleh. You also can't access it at all in the tram sequence.
- Your movement speed is always so damn slow, even after adjusting settings and using sprint.
- Lack of control configurations
- The ending is confusing because nothing happens when you see the lovely picture of Riven.
- The audio mixing in the original ending is horrendous. You need subtitles to know what is being said.
- The puzzles that are illogical/non-intuitive seem to have the problem magnified compared to the original. Things that you can interact with are even less obvious as everything blends together.

Otherwise, this game started my love for the series and plan to finish each game on my PC.

…

Expand

Honestly I'm just disappointed. I should have looked further into this game before purchasing it, because I feel cheated.
I loved the MystHonestly I'm just disappointed. I should have looked further into this game before purchasing it, because I feel cheated.
I loved the Myst games growing up (played up to the third one) and I was excited to find a modern interpretation of the original game. However, while it seems the developers have faithfully and lovingly recreated the original landscapes in a fully traversable first person view, little else was done to bring Myst into the 21st century.
There is hardly any customization options, no audio balancing controls (which is a shame when characters giving clues are being drowned out by the so-called background music) and no subtitles of any kind (so there's no chance of getting that stupid clue).
After less than 20 minutes I've put down the controller and mourned the money I wasted on trying to walk memory lane.

While this truly feels like a passion project from someone who loved Myst deeply, and wanted to recreate it faithfully, it does not feel like a finished game. DO NOT BUY.

…

Expand

The original MYST is my favorite game from childhood. I have not (yet) played the Masterpiece Edition or either version of realMyst on PC, so

The original MYST is my favorite game from childhood. I have not (yet) played the Masterpiece Edition or either version of realMyst on PC, so I was pretty excited when I saw this in the store.

This is *not* the same realMyst: Masterpiece Edition that is available on PC. There is no day/night cycle, and the Stoneship Age (my favorite in the original) is perpetually stuck in a storm at night. Other features are missing as well (link omitted per site policy.)

Additionally, the default non-touchscreen controls are terrible, with extremely limited customization options. You can invert the vertical axis for the right thumbstick, but not the horizontal axis, and it switches back to non-inverted mode whenever you interact with something, which is often. The only button for interaction is the right trigger, which is not very intuitive. To add insult to injury, the game shows a pop-up confirmation box every time you touch the screen when in non-touchscreen mode, but automatically switches back to non-touchscreen mode (with no pop-up) if you move a joystick or press a button. It would be great to be able to navigate and look using the joysticks but interact with the puzzles using the touchscreen; however, the pop-up makes this more frustrating than fun.

I wish I had known any of this before purchasing; but none of it is apparent from the description on the app store. I feel that using the name of the PC version with no indication that major features are missing is deceptive, which is why, despite there being a good core game here, I'm annoyed that I spent any money on it.

…

Expand