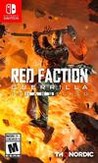 Summary:

Set 50 years after the climactic events of the original Red Faction, Red Faction: Guerrilla allows players to take the role of an insurgent fighter with the newly re-established Red Faction movement as they battle for liberation from the oppressive Earth Defense Force. Red Faction: Guerrilla

Set 50 years after the climactic events of the original Red Faction, Red Faction: Guerrilla allows players to take the role of an insurgent fighter with the newly re-established Red Faction movement as they battle for liberation from the oppressive Earth Defense Force. Red Faction: Guerrilla still defines the limits of destruction-based game-play with a huge open-world, fast-paced guerrilla-style combat, and true physics-based destruction.

Features:

* Open World Guerrilla Warfare - You decide who, when, where and how to battle. Utilize guerrilla tactics, improvised weaponry, and modified vehicles to lead insurgent attacks on EDF targets. Launch attacks based on your own gameplay style, take on missions in any order you choose, or engage in destructive activities to weaken the EDF's grip on Mars.
* Strategic Destruction - Use destruction to your tactical advantage, setting ambushes or chain reaction explosions to attack enemy strongholds and permanently modify the game environment. Leverage fully-dynamic physics-based destruction to improvise on the fly: blow holes in a wall or floor to set an ambush or escape, take out a staircase to stop your pursuers, or drive vehicles through blown out walls.
* Evolving & Emergent Gameplay - Carve your path through an ever-changing landscape as you improvise your combat tactics - mixing gameplay styles, vehicles, weapons and explosives to defeat the EDF.
* Epic Sci-Fi Setting - Explore the huge, unforgiving Martian landscape, from the desolate mining outpost of Parker to the gleaming EDF capital city of Eos; then tear through the fully destructible open-world environments swarming with EDF forces, Red Faction resistance fighters, and the downtrodden settlers caught in the cross-fire.
* Multiplayer Combat - There is no place to hide when you put your guerrilla warfare skills to the test in a variety of highly destructive multiplayer combat modes.

Re-Mars-tered Features:

> Fully reworked graphics Heavily reworked textures and graphic features adding for example specular maps.
> Improved shadow rendering
> Improved Lighting
> Shader & Postprocessing rework
> Native 4k support for the finest up to date mars destruction experience ever

…

Expand
Developer:

Volition Inc., Kaiko

Genre(s):

Action

,

Shooter

,

Third-Person

,

Arcade

# of players:

Up to 16

Cheats:

On GameFAQs

Rating:

M
This was one of the most enjoyable games when it first came out during the PS360 generation, and Red Faction Guerrilla Re-Mars-tered is proof that this is still the case for this generation.

The Switch version of Guerrilla Re-Mars-tered runs (somewhat surprisingly) as well as the console version, and looks almost as good doing it.

Red Faction: Guerrilla Re-Mars-tered makes it just as addictive to cause destruction as it originally did 10 years ago. While few downgrades have been made to get it on Switch, it's a solid addition to the console's library of third-persona action games.

In addition to the framerate issues non-existent in its PS4- or One-siblings and the non-optimized controls, some probably well meant gameplay additions backfire, making this the least desirable entry in the Re-Mars-tered versions.

It's a remastered with a lot of contents but at the same time it has several problems with the controls and the graphic aspect.

It's crazy to think that the original Red Faction Guerrilla came out 10 years ago, especially when you consider no one has matched it for sheer destructive agency. As an open-world third-person shooter, Red Faction Guerrilla: Re-Mars-tered doesn't do much to set itself apart from the pack, but its unscripted destruction physics help elevate even the most boring of missions into a riot as you smash walls to reach an objective or use a rocket launcher to crumble enemy vehicles. With extra DLC bundled in and some decent Switch exclusive motion controls, Red Faction Guerrilla is another forgotten shooter that deserves a second (or third) shot at stardom.

Red Faction Guerrilla's primary hook, its physics-based destruction, has aged remarkably well. It is still to this day incredibly fun to take out the support of a building and watch it tumble to the ground. Regrettably, the game that surrounds this mechanic is a shallow and repetitive misunderstanding of open-world design. Add to this the less than impressive performance levels of the Switch version and you're left with a great idea that just doesn't have the design to support it. Much like the result of its primary game mechanic, Red Faction Guerrilla crumbles without the support of more engaging gameplay to surround that mechanic.
Amazing Game!!! I have loved this since it's initial release!! I wish all open-world games could have destruction physics as this game

Amazing Game!!! I have loved this since it's initial release!! I wish all open-world games could have destruction physics as this game implements it so well. I remember spending hours and hours tearing down buildings support beams just to watch them crumble. Climbing up in a building and watching it crumble from above is so cool. Literally the destruction physics alone sell the game, even in our current gen era, (there are not enough of these games these days), and now we have a pretty solid port on the Switch.

I am giving this a 10 in order to further support good Switch ports and encourage more developers to bring their games to this platform!!

A breakdown of how I would rate components of this game;

Story: 6.5
Graphics: 8.0
Sound: 9.0
Re-Playability: 10
Controls: 8.0

Total Score for the Switch Port: 8.0

…

Expand

Finally, after testing about 20 games, one which I´m proud of! A triple A Game! One worth the AAA rating... ok, its not rating, but you

Finally, after testing about 20 games, one which I´m proud of! A triple A Game! One worth the AAA rating... ok, its not rating, but you understand me. After playing it for 30 minutes, I´m in love with it. The graphics are great, it seems, the story will be deep, you can use cars, destroy almost everything, nice choice of weapons. Upgrades, multiplayer. And again, the game looks absolutely great. The last great looking game was Assassins Creed, but this is far better!! Probably it looks better on a PS4, but I think its pushing the limits of the Switch to the edge! As I sad, only 30 minutes of play till now and I´m going back to the game when I finish this comment. There is so much more to test and do.
So I recommend this game. If you are willing to get a game and dont know which should you buy, this may be the one. And if it costs only 4 bucks more then the gooshysomething fighters... wow... Then this is really cheap (or the other is really expansive).
Anyway... check the video below if you would like to see how the game looks when you start it and play it for 30 minutes. I must end the comment here and I´m going back to play it...
https://youtu.be/9h10GiBCeUk
10/10

…

Expand

Played the original on both PC and PS3. Such a great game to be able to play on the Switch. The story isn't great but the gameplay and

Played the original on both PC and PS3. Such a great game to be able to play on the Switch. The story isn't great but the gameplay and destruction around it is cool.

It's also one of the best ports I have seen.

Fps can drop when there is a lot of stuff going on but that doesn't bother me.

…

Expand

Порт на свитч вышел хороший. После assassins creed 3 и saints row 3 я ожидал кучу проблем, но нет. Эта игра была перенесена на свитч очень

Порт на свитч вышел хороший. После assassins creed 3 и saints row 3 я ожидал кучу проблем, но нет. Эта игра была перенесена на свитч очень аккуратно. fps довольно стабильный, инпутлаг минимальный(какая же это редкость в ААА на свитче), поворот камеры гироскопом прикрутили. В общем в этом порте лишь одна проблема - сама игра. Она довольно пустовата сама по себе и может показаться малость скучной, хотя разрушать все по-прежнему интересно)

…

Expand

If all you're looking for in a game is an excuse to completely destroy loads of buildings and shoot loads of enemies, you'll enjoy Red

If all you're looking for in a game is an excuse to completely destroy loads of buildings and shoot loads of enemies, you'll enjoy Red Faction: Guerilla. It gives you a bunch of cool weapons and vehicles like mech suits and tanks and encourages you to have some cathartic fun.

There's not much more to it than the core gameplay of destruction - there is a story but it's pretty thin and exists only to give you a reason to blow stuff up. There's also a fair bit of driving, but it's far from the most fun the game can offer.

The game works best when you're destroying every building you can see, and thankfully there is a lot of that. Unfortunately, constant destruction does lose its initial 'how cool is this?!' feeling after a while, and the shooting mechanics are decent but nothing exciting. On the plus side, Red Faction is short enough that it ends before you feel fatigued by it all.

The port itself seems solid to me apart from a few frame rate drops when there's a lot going on plus the noticeable pop-in of terrain. It's not the prettiest game either, with bland environments and a very limited colour palette, but given that it's set on a recently terraformed Mars, it's somewhat forgiveable.

Red Faction is good for some mindless fun, but apart from it's interesting physics engine that makes the destruction satisfying, it's a little forgettable on the whole. However, given that you know what you're in for - a fun but unremarkable excuse to destroy, destroy, destroy - I'd recommend it. It doesn't reinvent the wheel, but overall, it's a decent game, if nothing special.

…

Expand