Publisher:

Capcom

Release Date:

Nov 28, 2017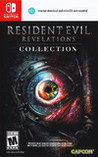 Summary:

Resident Evil Revelations features Jill Valentine and Claire Redfield as they investigate an abandoned cruise ship where terror lurks around every corner. Resident Evil Revelations 2 features 2 separate, but intertwined storylines featuring Claire Redfield and Barry Burton as they find

Resident Evil Revelations features Jill Valentine and Claire Redfield as they investigate an abandoned cruise ship where terror lurks around every corner. Resident Evil Revelations 2 features 2 separate, but intertwined storylines featuring Claire Redfield and Barry Burton as they find themselves on an abandoned prison island.

…

Expand
Developer:

Capcom

Genre(s):

Miscellaneous

,

Compilation

# of players:

2

Cheats:

On GameFAQs

Rating:

M
Resident Evil Revelations Collection bundles two of the better entries in the long-running survival horror series. The first game is hit-or-miss but the sequel is legitimately great, and the added portability and motion controls make the Switch port the definitive versions of these two games.

If you haven't played the Revelations games before, this is a great way to do such. Switch-specific features, solid gameplay, good graphics, and fun online are the highlights of this collection, and being able to play them anywhere is a great convenience.

Besides including all of its previously released content, Resident Evil: Revelations Collections lacks of an interesting cooperative mode or special features for the Nintendo Switch. It's a good addition for the library, just not great.

If you're looking to expand your horizons or simply get your start in the horror genre on your shiny new handheld, you could do way worse than this double shot of high-octane zombified horror game. It's not the classic Resident Evil adventure you may remember from your original PlayStation or GameCube endeavors, but it's certainly a worthy buy, motion control issues and all.

If you're like me and just enjoy having games on the Switch over a different platform, then this is the best version of Resident Evil Revelations part 1 and 2 to have. Revelations 1 is broken up into chapters like a good portable game, and Revelations 2 is similar with its episodic structure that games from 2015 loved to release. Both are a great fit for this device. What I'm really looking forward to is more support from Capcom on the Switch, and hopefully this is a sign of future ports and original games to come.

The Nintendo Switch deserves more ports from esteemed franchise such as this, and while there are a couple hiccups in the execution, Capcom has done a solid job bringing the two games to the console-handheld hybrid.
I played Revelations on the 3DS and a bit of Revelations 2 on the PS3. I replayed them both on the Switch and loved them even more. Most

I played Revelations on the 3DS and a bit of Revelations 2 on the PS3. I replayed them both on the Switch and loved them even more. Most likely because I play in hand held mode. Both games are a ton of fun. The story telling is better in RE2 and I enjoyed the characters a lot more. Moira and Barry are fantastic. RE2 runs perfectly fine on the Switch. Reviews cried and cried about frame rate and grass pop in... Common, stop nit picking. I only noticed grass pop up because I was looking for it because of what reviewers said--I would have never noticed otherwise. A fun set of games. Great price. The final boss had a frame rate drop... No big deal! A single drop, OMG! Load times for RE2 are not super quick, but neither are they 1 min plus like some reviewers stated. 2 mins to load... No, that is not the case at all. I loved them and I hope more Resident Evil will come to the Switch. Enjoy.

…

Expand

Both ports are really good, I love to see Resident Evil in a handheld console. The performance is good in both games, better in Revelations 1.

Both ports are really good, I love to see Resident Evil in a handheld console. The performance is good in both games, better in Revelations 1. The controls are well adapted to the joy cons.
The only issue is the loading time...extremely long sometimes.
I would love to see Resident Evil 4, 5 and 6 on the Switch.

…

Expand

Really good price, very solid ports, fantastic gameplay and even that I had to import it from USA to Poland to get the physical release won't

Really good price, very solid ports, fantastic gameplay and even that I had to import it from USA to Poland to get the physical release won't change it :D

…

Expand

A great game and a less great but still quite good game in one? Definitely worth it if you didn't previously own one these.

This review contains spoilers

, click expand to view

.

I didn't like at all that the main antagonist of Lansdale was not killed or he was not turned into a monster, so it would be more interesting and these new three characters, such as Vester and O'Brian and Luciani did not like at all, they are very ugly and boring and it is a pity that they were not killed in the story.

…

Expand

in Europe we want physical and not digital edition, then they will say that Europeans do not buy games but at no time they have stabbed us,

in Europe we want physical and not digital edition, then they will say that Europeans do not buy games but at no time they have stabbed us, the game is probably very good but I wanted it in physical format

…

Expand