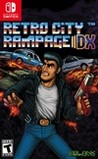 Summary:

Rampage The Open-World! Run Missions, Steal Cars, Evade The Law

Rampage the open-world, steal cars and run missions - all while jumping on civilians for coins and outrunning the law with power-ups! This send-up to '80s and '90s video games and pop-culture includes both a full StoryRampage The Open-World! Run Missions, Steal Cars, Evade The Law

Rampage the open-world, steal cars and run missions - all while jumping on civilians for coins and outrunning the law with power-ups!

This send-up to '80s and '90s video games and pop-culture includes both a full Story Mode of open-world adventure as well as an Arcade Mode for quick pick-up-and-play action. If that's not enough, it also packs an interactive city full of shops, minigames, customizations, collectibles, special guest stars, and more.

FEATURES

-Huge Open-World to Explore
-Over 60 Story Missions
-Over 40 Arcade Challenges
-Over 25 Weapons & Power-Ups
-Over 50 Vehicles to Steal & Equip
-Over 200 Character Customizations
-Includes Prototype Version, "ROM City Rampage"

Includes Guest Star Minigames:

-Virtual Meat Boy
-BIT.TRIP: Retro City
-Epic Meal Time

Includes Free-Roaming Mode. Play as Meat Boy, CommanderVideo, Steve from Minecraft and more!

…

Expand
Developer:

Vblank Entertainment Inc.

Genre(s):

Action Adventure

,

Open-World

# of players:

No Online Multiplayer

Cheats:

On GameFAQs

Rating:

T
While Retro City Rampage DX's story was somewhat short, its time on my Switch will not be. I still have plenty of side missions and collectables to grab, or I might just run down some pedestrians while riding the train. I love this game. And I think it loves me, too.

This is the third time we've reviewed this game, on each occasion a more feature-packed and improved iteration. Despite its 2010 roots - and pop culture references to match that time - it stands up extremely well, as pixels this stylish and action this chaotic don't lose their edge. Retro City Rampage DX is still an anarchic, almost overloaded game that bombards the senses while, at the same time, maintaining impressive polish in its gameplay. Whether you're playing it for the crazy story, excessive retro-styled violence or a mix of both, it still has the goods.

A super awesome send-up of '80s video games and nerdery all in a fun 2D Grand Theft Auto- esque wrapper. [Issue #30 – November/December 2017, p. 23]

On the Switch, in handheld mode, it plays marvelously, though I admit the chaotic action is a bit rough to follow on the smaller screens.

Even if you don't have a penchant for pixel art or consider yourself a popular culture vulture, there's plenty to enjoy in Retro City Rampage DX. Take the 5-6 hour main story stages at your own pace while exploring all the little nooks and crannys of Theftropolis and you'll find a wealth of customization, add-ons, minigames and a variety of vehicles and weapons to try out. A thoroughly enjoyable and satisfying retro themed sandbox which will appeal to both fans of the 8 bit era and open world adventure games.
Nice Xbox 360 game, good storyline, graphics are like old-school, featuring characters like Super Meat Boy, Minecraft Steve and

Nice Xbox 360 game, good storyline, graphics are like old-school, featuring characters like Super Meat Boy, Minecraft Steve and CommanderVideo. (I bought this game in June 2014. Still playing it.)

…

Expand

Un GTA con gráficas antiguas en toda orden.
Muy bien pulido, con muy buena jugabilidad y sobre todo unas grandes referencias a la cultura deUn GTA con gráficas antiguas en toda orden.
Muy bien pulido, con muy buena jugabilidad y sobre todo unas grandes referencias a la cultura de geek en general.

…

Expand

Okay, just listen. This game if the old 2D GTA's got made for an even older generation, WHILE making it feel like a very new game. A must play

Okay, just listen. This game if the old 2D GTA's got made for an even older generation, WHILE making it feel like a very new game. A must play indie game.

…

Expand

Whatever you feel about the deliberately nostalgic pixel graphics is immaterial to me, the real reason to play Retro City Rampage is its

Whatever you feel about the deliberately nostalgic pixel graphics is immaterial to me, the real reason to play Retro City Rampage is its writing. This game is hilarious. Some sequences are so densely packed with jokes and references it can be staggering. And while the majority of these jokes land gloriously, a few of them are more annoying than funny. For example, there's one "joke" that references that godawful, frustrating underwater level in the old Teenage Mutant Ninja Turtles game, in which the "joke" is that you have to play through a godawful, frustrating underwater level where you're arming the bombs that the turtles are tasked with defusing in their game. I chuckled a little bit at first because I thought until I realized I died a fourth time in a row and realized the entire premise of this "joke" to make you play through a level almost as frustrating as that same TMNT level, which is when the joke immediately stopped being funny.

But still, many of the jokes can be gut-busting. And I love just how unpredictable this game can be. I was thinking about listing just a few of the activities you'll get to do on your random, chaotic, nonsensical journey through theftopolis, but I think it's all best experienced blind. You never have an idea about what you'll be doing next.

…

Expand

Nostalgia based humor is without a doubt hit-or-miss, but overall a fun romp for a decent price.

Does the job of filling that gap for the top down classic GTA urge. Story is fun, side quests are fun but the game can feel a little

Does the job of filling that gap for the top down classic GTA urge. Story is fun, side quests are fun but the game can feel a little repetitive and tedious at times.

…

Expand

The "Demake" idea is fun, and it is apparent that a lot of work went into pixel-crafting and baking together all the references used in the

The "Demake" idea is fun, and it is apparent that a lot of work went into pixel-crafting and baking together all the references used in the story.
Unfortunately, while the result should be an immersive game, Retro City Rampage is stuck with overly simple controls, allowing for only the simplest of missions. Thus, the gameplay quickly becomes boring, and starts to feel like actual labor, for which you get some more mildly funny cliches and references.
It's just one of those parodies: fun for five minutes, and utterly pointless beyond that.

…

Expand