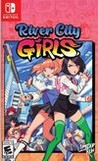 Summary:

Kick butt, take names, and pound punks in this all-new installment of the classic co-op beat-'em-up series!

River City Girls stars Kyoko and Misako, two street-tough high-schoolers who must fight their way through the six regions of River City to rescue their kidnapped boyfriends, seriesKick butt, take names, and pound punks in this all-new installment of the classic co-op beat-'em-up series!

River City Girls stars Kyoko and Misako, two street-tough high-schoolers who must fight their way through the six regions of River City to rescue their kidnapped boyfriends, series mainstays Kunio and Riki. Along the way, they'll utilize an arsenal of combos, counters, throws, and special attacks; battle an assortment of enemies; accept numerous side quests; level up with experience points; interact with NPCs (including guest stars from past River City games); and shop for a variety of items, food, and gear to boost stats and unlock new abilities. The girls can even wield weapons and recruit defeated foes to join them in combat!

The one- or local two-player bare-knuckle brawling is complemented by spectacular 16-bit-style graphics and an epic synth-pop soundtrack (featuring NateWantsToBattle, Chipzel, Christina Vee, and Megan McDuffee!), while the story roars to life via glorious anime cutscenes and manga-style intermissions.

Key Features:
-Furious beat-'em-up action for one or two players!
-Stunning pixel-art graphics plus anime and manga cutscenes!
-Fantastic soundtrack featuring NateWantsToBattle, Chipzel, Christina Vee, and Megan McDuffee!
-Six large city regions to fight through, complete with shops and side quests!
-Loads of weapons, items, and abilities to power-up your heroines!
-Guest appearances by classic River City characters!

…

Expand
Developer:

WayForward

Genre(s):

Action

,

Beat-'Em-Up

,

2D

# of players:

No Online Multiplayer

Cheats:

On GameFAQs

Rating:

E10+
Nintendo Force Magazine

Apr 28, 2020

There's little I would change about the River City Girls. I just hope this isn't their last dance! [Issue #42 – October 2019, p. 22]

Not since Scott Pilgrim vs The World was released nine years ago have we played such an entertaining, satisfying beat 'em up. Whether you're playing alone or teaming up with a friend in co-op mode, River City Girls is a visually superb, aurally fantastic, out-and-out love letter to the genre. Fans of River City Ransom and other Kunio-kun games will adore how it respects the past but makes it relevant today, while those new to the series will simply find a hugely enjoyable and infectiously cheerful scrapper.

River City Girls is one of the most beautiful beat'em up in recent years, and one of the best experiences of the genre, achieves an evolution within the Kunio-kun series, although it can be repetitive, it is an experience that any fan of the genre can not miss.

River City Girls is a great brawler, and though I wouldn't say it rises above its genre, it's still an excellent example of one. Either solo or with a friend, you'll have a good time.

This frantic high school beat'em up is a breath of fresh air for the River City franchise. Thus, despite having small flaws, it becomes a really replayable game with a great artistic section.

River City Girls is a vibrant, colorful, and surprisingly fresh take on the classic beat 'em up series. While small annoyances may hinder its pacing, the overall package from WayForward still packs a few good kicks and punches.

I love pounding bad guys with an array of cool attacks and inventive weapons, even if I feel robbed by cheap tricks. River City Girls' chaotic battles are entertaining, but they're surrounded by an array of decisions that add more inconvenience than challenge.
An absolutely amazing and fun beat em up with really good graphics/style, awesome voicework and sound and super fun gameplay
I was hesitantAn absolutely amazing and fun beat em up with really good graphics/style, awesome voicework and sound and super fun gameplay
I was hesitant on whether to get it or not at first because some initial reviews were mediocre, but it seems that it came from people that had something against this game. Maybe it's the fact that you play as two kick ass chicks that just beat everything around them to a pulp.
Honestly, if you've ever played and enjoyed any beat em up similar to Streets of Rage, you're going to love this. It's such a huge improvement over any title in the genre I've played to date.
I started playing this alone at first and it was really good, but the co op mode is where this game really shines.
In a nutshell, you play as one of two delinquent teenage girls that have to escape school and the somewhat dangerous town they live in to save their boyfriends from whatever mischief they got into. On the way there, you will progress through levels of fun battles, learn new moves, level up and go through tons of very nicely designed stages with very unique style.
All of the bosses are well designed and the fact that everyone has voiced dialogue, makes it very engaging as well.
Honestly, initially I regretted of getting this over Astral Chain, but at 1/2 price, it's an incredible purchase and I don't think anything comes close to this in quality and design in this price range and genre.
It's a must have for Switch owners

…

Expand

Definitely one of my favorite games for the Switch. The gameplay is really fun and the art style and soundtrack are amazing (it's available on

Definitely one of my favorite games for the Switch. The gameplay is really fun and the art style and soundtrack are amazing (it's available on Spotify if you want to listen to it). I have also pre-ordered the physical copy that Limited Run is making available for both the Switch and the PS4.

…

Expand

Played it on the PS4. Absolutely loved every second of it. There's really nothing you could possibly fault with the graphics, gameplay, music,

Played it on the PS4. Absolutely loved every second of it. There's really nothing you could possibly fault with the graphics, gameplay, music, and story. All the bases this game tried to cover were covered perfectly. Multiplayer was perfect. Finished it with my brother, girlfriend, and nephew and all of them loved it almost as much as I did.

And if you're worried that this game might carry with it toxic feminism or progessism, let me put your fears to rest. There is none of that. It's just good, timeless entertainment.

We need more games just like this,

…

Expand

Solid game with fun visuals, story and combat system.
The game eases you into the combat and teaches players, who are new to the beat-em-upSolid game with fun visuals, story and combat system.
The game eases you into the combat and teaches players, who are new to the beat-em-up genre the essentials well. The combat starts out rather mundane but quickly evolves into a strategic brawler with new moves unlocked by leveling and learning them at the dojo.

I'd definitely recommend you play this game with 2 players. If you're playing solo you should try hard mode as your standard option.
The music is very nice and has bouncing tunes all over. The voices are rather hit or miss with some notable downs with characters voiced by "influencers"

Movement feels a bit clunky as does the button layout and screen transition option but these are very minor details you learn to avoid after the first hour or so.

…

Expand

I don't know why people give this game such a bad rating. It is a very good and enjoyable beatemup and if you like that genre, you will be

I don't know why people give this game such a bad rating. It is a very good and enjoyable beatemup and if you like that genre, you will be entertained by this game.

Pros:
- beautiful graphics
- likeable characters
- good difficulty choices
- very good music
- fully voiced characters
- overall style is great and the simple story is very well delivered in manga style
- good amount of different combat moves
- neat rpg elements
- diverse map structure

Cons:
- really annoying if you fight close to the "door"-symbol that leads to the next area because you can accidentally switch areas by pressing A to fight but instead you press A to switch areas
- some moves are just so good that you skip all others

All in all I really liked it. Had a great time. Loved the spergy dialogues and characters. Story is nothing you should judge since its more about fighting. The fighting itself is fun but like in all beatemups can feel repetitive at some point.
I would buy it again and replay it from time to time.

…

Expand

It's insane how much people let this game get away with. I tried playing this game but there's so many bad design elements that ruin the whole

It's insane how much people let this game get away with. I tried playing this game but there's so many bad design elements that ruin the whole experience.

1. Difficulty- this game is way too easy, enemies are extremely passive, taking forever to even initiate attack, essentially just standing there waiting for you to hit them. And if you do hit them, you're left with two options, doing long combos that are only there to make the game flashier, or waiting a million years for enemies to stand back up. Enemies wouldn't be that much of an issue if they either made more them more aggressive, or lowered their health bars so fighting would feel less like a chore, but the latter would never happen since this whole game revolves around the flashiness of their animations. Bosses are the only "difficult" part and it's only because of how unbalanced they made them, the difficulty in fighting them comes from invincibility frames and the fact that they just do more damage. A lot of these issues are exaggerated when you find out a basic combo pattern that essentially serves as an infinite/lock which I discovered way too early.

2. Design oversights- Why is the regular attack button also the button that does every single action in this game? Enemy spawns near door and you prepare to attack, whoops you entered the next room and have to go in again. Doing a simple combo near a bat, whoops you picked up the item which is detrimental to comboing. Small stuff like this hamper the whole experience and make things more annoying to deal with. Why do shops not tell you what stats are affected when you use an item for the first time? The original Kunio game on the NES 30 years ago knew to tell you that stuff, it's kinda ridiculous.

3. Story stuff- This story is awful, not even in a "haha it's so bad way" it's just awful to listen to. WayForward from what I know about them, gets a lot of praise typically for how great their dialogue is and I never really got that from their other games, and it's way worse here than it's ever been. There's so many "haha look at how self aware we are" types of jokes that aren't even handled well, either from how the joke is written or how it's delivered by the voice actors. The story is insulting at times with it's humor falling back on weeb humor, stuff that feels like crap that we made fun of back in 2007 like "i watch naruto, haha I'm such a weeb XD" types of jokes, and a lot of the humor is very based on weeaboo type crap, Kyoko makes a jojo reference by going ORAORAORA during one of her attacks but since they have to make weeb jokes she also does a "WHAT'S A MANGA?!?!?!?!?!?!" joke when some kid talks about comics. It's annoying crap like that which plague every aspect of the humor of this game, there are flash animations on newgrounds from 2005 that do a better job making jokes about this type of stuff.

Presentation- Good sprite animations, but that's really about it. Music isn't bad, but I will say it doesn't fit this type of game at all, it's full of low energy vocal themes and basic beats that aren't bad on their own but when coupled with a beat'em up, it just feels kinda off. UI is fine, but it's kinda stupid since you have high resolution digital art being placed on top of pixel art, kinda jarring. Both elements work on their own but don't when put together, but the UI thing is typical of wayforward games so it's not that big a deal. Voice acting is pretty bad, you have some talented VAs like Cristina Vee, Greg Chun, Patrick Seitz and such, but the delivery of all their lines are just not good. This next part is kind of a personal thing, but I was kinda put off by the fact that so many voice actors in this game are youtubers, people like JackSepticEye, the Game Grumps, Cry, various youtubers voice characters in this game and what kinda bothers me about that is the fact that it comes across as hiring just because they're famous rather than hiring out of merit, I'm sure there are smaller VAs that have had trouble making a name for themselves that would've done a better job here but got pushed to the side because their youtube subscriber count wasn't high enough and that's extremely upsetting to think about.

Final Thoughts- This game has a lot of issues. I mentioned a very basic overview of my issues with the game. The difficulty is non-existent, the design oversights hinder the whole experience, the writing makes the game annoying to sit through, and the presentation while not bad is just kinda off at times. I gave this game a low score because all these things combined with each other make the game unacceptable, but sometimes I feel like I'm the only one who thinks this seeing that reviews are giving this game 9/10s calling it the best beat'em up ever(though I bet most of them only think this because it's easy or because they like the flashiness), I can't convince anyone to not get the game but I hope whoever reads this thinks before they buy before they're left disappointed

…

Expand

So much of me wants to like this game, but it has mechanics that are so unfair, heavy stun lock for one, but I could live with that. You need

So much of me wants to like this game, but it has mechanics that are so unfair, heavy stun lock for one, but I could live with that. You need money in the game to get better items to be stronger, but when you die you lose most your money, and the enemies still get stronger, making a hard game harder and harder as you progress, I don't understand why you couldn't lose less money if none at all. Guiding the player, I don't understand, I have to pull out a walkthrough every 5 minutes as the map tends to not display where to go most times (even funny when the walkthrough also gets confused where to go!) Dialogue for the next task is sometimes spoken while in battle,confusing the whole ordeal further.

Now, the straw that broke the camels back, habari is a boss you fight about halfway into the game, stun lock, and what you would call a bullet sponge, not challenging, frustrating! Like the most unfun part of any game I've played, so unfair and boring I can't see myself playing it again, love the fighting in the game, but the bad aspects over shadow the game so much it just becomes frustrating to play, even in coop

…

Expand