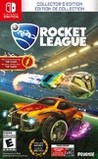 Summary:

Rocket League is a high-powered hybrid of arcade soccer and driving with rewarding physics-based gameplay. Take to the pitch for a fully-featured offline season mode, multiple game types, casual and competitive online matches, and special "Mutators" that let you change the rules entirely.

Rocket League is a high-powered hybrid of arcade soccer and driving with rewarding physics-based gameplay. Take to the pitch for a fully-featured offline season mode, multiple game types, casual and competitive online matches, and special "Mutators" that let you change the rules entirely. Express yourself with one of the deepest customization systems around and battle opponents on other platforms with cross-network play.

…

Expand
Developer:

Psyonix

Genre(s):

Sports

,

Team

,

Soccer

,

Arcade

# of players:

Up to 8

Cheats:

On GameFAQs

Rating:

E
Please enter your birth date to watch this video:
You are not allowed to view this material at this time.
Rocket League - Haunted Hallows 2018 Official Trailer
Overall, there's a lot of fun packed into Rocket League, and this port to the Nintendo Switch manages to keep all of that intact. If you've never played, you absolutely should, and the Switch version of the game makes for a solid addition to Nintendo's ever growing library.

Rocket League is an indie success story, and to have it in the Switch's library year-one is terrific. Look at all the jaggies you like and mock the lower resolution the game runs at if you feel the need, but this is Rocket League, portable and it runs beautifully. Everything is here, nothing has been missed and there are bonuses for Switch owners not only with exclusive Mario cars and hats but also the ability to take it anywhere. A feature that cannot be overlooked. Rocket League is a really deep game. Following the clichéd easy to learn, hard to master approach holds Rocket League in good stead. You're going to want to put in the hours to be the best you can - but the only thing that's really going to stop you is sleep. You're not going to put this one down.

Rocket League for the Nintendo Switch is a successful adaptation of a game that brings a simple yet enveloping gameplay which truly stands out in multiplayer. Thanks to its enormous range of multiplayer possibilities and an exceptional online functionality, Rocket League is set to become one of the finest multiplayer experiences available on Nintendo's newest system.

Don't let the graphical downgrade distance you from a great experience. Rocket League on the go is as fun and addictive in Switch as in any other platform. One of the best multiplayer games on the Nintendo Switch.

One of the best multiplayer games in recent years.

Rocket League is showing no signs of slowing down, and why should it? Psyonix's RC car-footie combo is an esports favourite, and now even more players can see what the fuss is all about on Nintendo Switch. A visual downgrade is acceptable given that this plays exactly the same as the other versions, with cross-play to ensure the pool of opponents remains large online. A strong recommendation for any Switch owner - even for those who have it on another platform! After all, what Rocket League fan wouldn't want to train and match up on the go?

In the end, this is not my favourite version of Rocket League, but it is one that you can enjoy. The gameplay is identical to the other versions in most ways, but the graphics of the Switch version are ugly. The resolution is so low.
Coming from PC I had to lower my expectations for the Switch port of this game, but it has blown me away so far. I'm not upset that the

Coming from PC I had to lower my expectations for the Switch port of this game, but it has blown me away so far. I'm not upset that the resolution isn't super high quality, bc it was announced long before release that it would be 720p. I don't feel any input lag when playing, but I am strictly using a pro controller. Remember to turn your deadzones down to below .1 if you're using a pro controller! The initial deadzone settings are optimized for joycons. Great port from a great developing team! Looking forward to seeing what's next Psyonix!

…

Expand

Rocket League is one of the best competitive online games of all time, it has great mechanics and the overall gameplay is just addictive.
NotRocket League is one of the best competitive online games of all time, it has great mechanics and the overall gameplay is just addictive.
Not to mention they usually add some great piece of songs to the game from MonsterCat.
I guess it's worth giving it a 9.

…

Expand

to be honest, i have absolutely no idea how to get good at this game, but perhaps that's the point. I think it's supposed to be chaotic. it's fun

Great sports/racing game! So you're basically playing soccer with cars. The main objective is to shoot the ball into the goal by driving a

Great sports/racing game! So you're basically playing soccer with cars. The main objective is to shoot the ball into the goal by driving a car. The graphics are great, but the Nintendo Switch version has been a bit resolution-reduced. Good gameplay and fun multiplayer. A must-play.

…

Expand

Really good port, just as fun as other platforms the game is present on, only downside could be the resolution, especially on handheld mode,

Really good port, just as fun as other platforms the game is present on, only downside could be the resolution, especially on handheld mode, but if you can get past that you are getting an amazing online experience for only $20

…

Expand

6 / 10 - Nice
(after playing 15h (Nintendo Switch) and 200h (Steam))
Unfortunately, the Nintendo Switch version looks pretty ugly and6 / 10 - Nice
(after playing 15h (Nintendo Switch) and 200h (Steam))

Unfortunately, the Nintendo Switch version looks pretty ugly and doesn't work very well. Still, it's nice to play with someone on a split screen and drink beer to it, but it will not work if we want to improve our playing skills

…

Expand

Bought the game over two years ago and played almost 1000 hours. Now I need an Epic Games account to play the game I payed for.

BOYCOTTBought the game over two years ago and played almost 1000 hours. Now I need an Epic Games account to play the game I payed for.

BOYCOTT ROCKET LEAGUE AND EPIC GAMES
power to the players! down with anti-consumer strategies

…

Expand