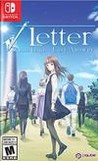 Summary:

The return of the best-selling interactive mystery visual novel! Follow in the footsteps of Aya Fumino, a school penfriend allegedly involved in a tragic murder 15 years ago. Explore the prefecture of Shimane, uncover clues, and use the letters you wrote to each other to track down her

The return of the best-selling interactive mystery visual novel! Follow in the footsteps of Aya Fumino, a school penfriend allegedly involved in a tragic murder 15 years ago. Explore the prefecture of Shimane, uncover clues, and use the letters you wrote to each other to track down her childhood friends for questioning. But perhaps these friends, now adults living a peaceful life, will not be eager to let their painful memories resurface…

…

Expand
Developer:

Kadokawa

Genre(s):

Adventure

,

Visual Novel

# of players:

No Online Multiplayer

Cheats:

On GameFAQs

Rating:

M
Root Letter is still a gorgeous story, told beautifully. I highly recommend players turn the photo-realism mode off and enjoy every second of the vibrant anime vision. Finally, while I might have my issues with this realism art, one thing can't be denied; it is so great to have this to play on the Nintendo Switch.

Root Letter: Last Answer is a touching experience but not without faults.

Where this work turns out to be less impressive is on the variable quality of some of its writing, which doesn't keep a constant level, and some of its endings turn out to be rather puzzling. While this is no obstacle for those who enjoy visual novels, the lack of touchscreen support is difficult to justify on a system like the Nintendo Switch.

If you're new to visual novels, and curious, then go somewhere else first; Root Letter: Last Answer could put you off the genre for life. But if you're a visual novel fan, you've played all the other interesting ones on the Switch and you absolutely cannot wait for another – and if you've considered maybe just going outside or watching TV or lying on the floor and staring at the ceiling and you still can't wait for another – then you could take a look at Root Letter and just hope you find it so bad it's good.
Root Letter était déjà un excellent visual novel avec une histoire passionnante, des personnages bien écrits et 5 fins surprenantes. Avec la

Root Letter était déjà un excellent visual novel avec une histoire passionnante, des personnages bien écrits et 5 fins surprenantes. Avec la version Last Answer, le Visual Novel de Kadokawa passe à la vitesse supérieur et nous propose maintenant la possibilité de refaire l'intégralité du jeu en Live-Action avec acteurs et prises de vue réelles. Quadruple cerise sur le gâteau: 4 nouvelles fins! Bravo et merci. Un cas d'école d'un jeu en version 1.5 et d'un portage justifié.

9/10

…

Expand

This game has gorgeous visuals, and a fairly good story.

I played the whole game with the original visuals, and not the IRL recreationThis game has gorgeous visuals, and a fairly good story.

I played the whole game with the original visuals, and not the IRL recreation that's available. The voice acting is great and the game has several routes to experience. My wish would've been that The Cursed Letter route-style would've consumed all routes, the main route and other routes simply feel too..Mild.

There are better VN's to play on the Switch before this one, regardless - it did keep me entertained throughout all routes.

I can recommend this game, but I'd definitely recommend playing other PQube published VN's such as Raging Loop or Worldend Syndrome before playing this one.

…

Expand