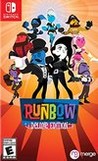 Summary:

Runbow Pocket takes all the fun colorful chaos of Runbow on Wii U and brings it to New Nintendo 3DS. Master Adventure, Bowhemoth, and Satura's Space Adventure on your own, or play head to head with friends over local ad hoc networking. Players can also create StreetPass cards to share fun

Runbow Pocket takes all the fun colorful chaos of Runbow on Wii U and brings it to New Nintendo 3DS. Master Adventure, Bowhemoth, and Satura's Space Adventure on your own, or play head to head with friends over local ad hoc networking. Players can also create StreetPass cards to share fun stats with friends.

Key Gameplay Features:

-The world changes with each swipe of color so players have to think fast to beat hundreds of platforming challenges.
-Tons of unlockable costumes and content, as well as 19 guest characters from other developers.
-Brand new Guest Character, Shantae, from WayForward's Shantae series. Shantae will also be available in the Wii U version of Runbow.
-All the content of Runbow, hundreds of levels, right in the palm of your hand.
-Create a StreetPass card to share stats, titles, and your personal best times with anyone else playing Runbow Pocket.

…

Expand
Developer:

13AM Games

Genre(s):

Action

,

Platformer

,

2D

# of players:

Up to 9

Cheats:

On GameFAQs

Rating:

E
Please enter your birth date to watch this video:
You are not allowed to view this material at this time.
Runbow - Official Party Trailer
An incredible party game and with Nintendo's multitude of controller options, it's possible to get up to eight players together for total madness.

A lot of indie titles have been thriving on Switch and I'm hoping Runbow does as well. If you're a fan of party games or unique platforming, Runbow is a must-have title in your game library.

There's a lovely adventure mode as well and loads of guest characters included here.

The gameplay is great fun, the presentation is to die for, and unlocking Nindie heroes through a really nicely put together adventure mode is the icing on the cake. We felt there was a little left to be desired with some elements of the multiplayer modes, and this might just make some think a little harder before jumping in, but we absolutely recommend giving this one a go if you're interested regardless.

Runbow is a fantastic, colorful, energetic platformer with great style and plenty of content for both solo and group players. At the very least, it is definitely worthy of a spot in your great multiplayer games folder.

That's a small grievance against what is otherwise a very fun, solid game. Runbow manages to stand out by virtue of its unique color-changing hook, fun presentation, and sound gameplay. Throw in lots of characters to choose from, including many familiar Nindie favorites, and the game's lure is undeniable.

Runbow is an excellent local multiplayer experience, packed with plenty of game modes and content. Solo players will miss out on the best Runbow has to offer, and I encountered some crashes along the way, but definitely consider this for your upcoming games night with friends.
Bought this game 2 days ago in the eShop for $15 and it's probably the best purchase ever made. You are 2D characters who run in the stage

Bought this game 2 days ago in the eShop for $15 and it's probably the best purchase ever made. You are 2D characters who run in the stage and hot on platforms that disappear when colors flash and swipe. It's hard to explain but it's very awesome and even youtube videos don't do it justice.

Solo Play: The solo play on the game is fun as hell, it's challenging but not extreme. You can go for just beating levels or getting all 3 rings by beating the best time, which takes an almost perfect run. There is also Bowhemoth mode which is one super long really hard stage. I beat it but it took me 2 hours and 800 deaths.

Local Multiplayer: This is where the game shines. We had 4 people at once but you can do up to 9. Whether you run, or do vs mode, or king of the hill, it's insane fun. Like as fun as Smash Bros, no joke. You can also do a mix of local with online etc, this game has every feature Splatoon 2 should have had.

Online: Have played a few online games. No one really does the battle or king of the hill but I always match with run mode and it's very fun.
__________________

this is possibly the best multiplayer game ever, with tons of replay value, and I do play ARMs, Splatoon 2, Mario Kart, Smash etc. For only $15 the digital purchase is a steal (you can do $12 for all the rest of the DLC).

I very strongly recommend this game, just amazing.

…

Expand

TLDR; Runbow is a very creative and aesthetically pleasing 2D party game with a unique gimmick that allows for tons of fun.
So, let's talkTLDR; Runbow is a very creative and aesthetically pleasing 2D party game with a unique gimmick that allows for tons of fun.
So, let's talk about said gimmick. The whole idea of runbow, at its core, is that if you can't see it it doesn't exist. Colored platforms can disappear when waves of color flash across the screen to make them blend in with the background, which you can guess leads to a whole lot of fun gameplay and multiplayer shenanigans. It has 5 main modes: Run, Arena, King of the hill, Adventure, and Bowhemoth. Run, Arena and king of the hill are primarily PvP based, while adventure and Bowhemoth are Co-Op. ' just going to say, they are all a blast. GET RUNBOW. It's simply amazing.

…

Expand

Runbow is a fun little game is the perfect game for the Nintendo Switch. The great concept of the game design cannot be faulted. It's unique

Runbow is a fun little game is the perfect game for the Nintendo Switch. The great concept of the game design cannot be faulted. It's unique and stands out. The style of gameplay and the idea behind is great also. The soundtracks suit the game down to a tee and amass a good variety of modes with the game. Definitely one for when your mates are around to kill some time when you're waiting on the delivery of your takeaway.

…

Expand

Runbow is a party game with intentionally chaotic game play and should be played with other (local) friends. The flexible design of the levels

Runbow is a party game with intentionally chaotic game play and should be played with other (local) friends. The flexible design of the levels with the "color-away-platform-away" principle is unique. It takes some time to get the mechanics handled, expecially the 3rd jump. But then you get a solid and colorful platformer, that's quick and crazy. You can't go wrong with a purchase at a sale price point.

…

Expand

It's not a bad game not at all. The single player campaign is pretty fun for the first hour but the multiplayer is lacking an actual fanbase

It's not a bad game not at all. The single player campaign is pretty fun for the first hour but the multiplayer is lacking an actual fanbase that still plays. I waited 10 minutes for a match to load and gave up after I wasn't connected. I tried again another time during the day when I assumed it'd be busiest and found myself waiting another 15 minutes only to give up yet again. Really hope to play online against even one other person just for the competitive aspect of it. Haven't tried co-op yet.

…

Expand

The game interested me with the ability to play simultaneously with eight players. However, when I got acquainted with the game, none of my

The game interested me with the ability to play simultaneously with eight players. However, when I got acquainted with the game, none of my friends wanted to play it. the levels are unbearably difficult for all my friends.
The game has no content for the average player. 80% of game zones - will start to annoy you after 2 minutes of playing. The game has very little content, and everything is drawn out so that you will try to go through one map hundreds and thousands of times, dying again and again. Not only that, most of the content is closed and unlocked only when playing online. And the online game is dead. For a year of playing, I have never been able to find partners in the game online. And, accordingly - I will not see unlockable content. At the same time, such a game that is poorly filled with content has a purchasable add-on. This is completely absurd.

…

Expand

A totally rubbish multi-player game! Both me an my wife found this a frustrating game where you never really get very far. AVOID! 1 star for

A totally rubbish multi-player game! Both me an my wife found this a frustrating game where you never really get very far. AVOID! 1 star for supporting 8 players.

…

Expand