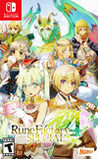 Summary:

Rune Factory 4 marks the return of the popular Harvest Moon spinoff that combines farming with dungeon adventuring. For the first time in the series, the player can select to play as a male or female hero, and potential suitors of either gender are also available in order to pursue love,

Rune Factory 4 marks the return of the popular Harvest Moon spinoff that combines farming with dungeon adventuring. For the first time in the series, the player can select to play as a male or female hero, and potential suitors of either gender are also available in order to pursue love, marriage, and possibly a child. As the newly-appointed prince or princess, you can fulfill your royal duties of protecting the town from invaders, or take a more rural approach to governing by raising your own fruits and vegetables and helping townsfolk. Should some dungeon adventuring be on the days itinerary, you can select from the castles vast armament of swords, spears, and staffs along with magic for battle against dangerous foes, or even bring along a companion or friendly monster to aid you during your travels.

…

Expand
Genre(s):

Role-Playing

,

Strategy

,

General

,

Action RPG

# of players:

No Online Multiplayer

Cheats:

On GameFAQs

Rating:

T
Overall, whether you should pick up Rune Factory 4 Special comes entirely down to whether you played the original 3DS version or not. There's a few new features: some things added to the trophy room to celebrate the series, new cutscenes, and a New Game + mode where you start off married. Plus, it being on the Switch instead of the 3DS allows for a higher resolution and a larger screen whether docked or in handheld mode. That said…there's not a whole lot of actual content added.

While no individual aspect is the best of its kind, the overall package exudes charm and entertainment that is hard to match.

The Rune Factory franchise lands on Nintendo Switch with a new version of its fourth game, this time in high definition and with more content than ever. Although it was launched a few years ago, if you are looking for a title that you fall in love with and with a good length, this is your game.

Rune Factory 4 is absorbing, packed with content and unique features. If you ever thought about combining farm management and JRPG, this is your game.

For its flaws, Rune Factory 4 Special brings an incredible life-sim/Action-RPG to the Switch. There are few games in the Harvest Moon/Story of Seasons series that match the complexity and fun of Rune Factory 4, and this port has me excited to see Rune Factory 5.

Any Harvest Moon, Story of Seasons, or Rune Factory fan should definitely check this one out on Nintendo Switch, as it has one of the most charismatic worlds I've seen in a game in the genre yet.

This comfortable but clunky reboot of the part farming simulator, part dungeon crawler, part life sim is very much a product of its time.
Reliving this experience on the switch after years of being away from the series brings me joy. I enjoy the jack of all trades master of none

Reliving this experience on the switch after years of being away from the series brings me joy. I enjoy the jack of all trades master of none type of game this is. You have dungeon-crawling RPG elements, to farming and town managing. You can tame monsters and hold festivals. Also, the new things that they added were great, like the Newley wed mode and the new episodes. It has a little bit of everything and I would recommend giving it a shot. I know when I started with Rune Factory 3 and was hesitant at first but soon I became a fan of the series.

…

Expand

Genial volver a vivir este juegazo de 3DS en switch, es un excelente port con mejoras visuales. Cientosde horas de adicción, waifus, farming y

Genial volver a vivir este juegazo de 3DS en switch, es un excelente port con mejoras visuales. Cientosde horas de adicción, waifus, farming y combates jrpg O_o! te amo run factory

…

Expand

Rune Factory 4 happens to be one of my favorite games of all time. It is a great blend of life sim, farm sim, and full on RPG. The cast is

Rune Factory 4 happens to be one of my favorite games of all time. It is a great blend of life sim, farm sim, and full on RPG. The cast is great and the have more life than any other game in the genre. It focuses around your character, male or female who loses their memory when confronted by a sinister organization. You find yourself a steward of a the land making decisions, raising monsters, cultivating crops, exploring a great story, and even falling in love and starting a family. Rune Factory 4 gives you countless hours of content to explore. Crafting is rich and rewarding, making different weapons and leveling up your skills with them is a great way to spend your time.

I do want to expand upon the "Special" moniker and what is different between the 3ds version and this port. And honestly, there isn't a ton of change. Some balance changes, some additions to help remedy third act relationship issues, some up-resing of textures and animated character portraits that show up from time to time. There is new dlc, free until sometime in March that adds some stories read by the voice actors that give insight into what comes after the main story. Another DLC is packaged with the special edition of the game, but it is not substantial at all. I would have liked to see some major changes (like the difference between Rune Factory 1 and Frontier), however the game does carry a $39.99 price point, $10 higher than that of the 3ds version. And ultimately I think this Switch version is the best version to experience and a great jump in point for new fans.

With some luck, and support for this title Rune Factory fans may also see Rune Factory 5 come to fruition.

TLDR: If you like farm sims, dating sims, and/or rps with anime aesthetics, Rune Factory 4 will give you a great time at a decent price.

…

Expand

RF4S is a Fantastic Game, it does a lot right and is much fun to play, but it has some minor flaws.

Pros +The Core Gameplay overall isRF4S is a Fantastic Game, it does a lot right and is much fun to play, but it has some minor flaws.

Pros
+The Core Gameplay overall is great, farming is fun and not to stretch, especially later in the Game farming is done fast so u can move on doing more interesting things.

+The Fighting and Leveling are good, but it's not grindy enough for me at least, it's obviously for casual Gamers but I still find it fun for what it is but I would hope that in RF5 to get more depth.

+Interacting with the Characters is so much more interesting than in any other Harvest Moon like Games, when u want to Marry someone u get to know a lot about ur Partner and cause of that u feel like u rly understand and know her, could have more more depth but I was impressed about it

Cons

-I feel like there isn't enough variety between the Characters u can marry, could be more

-The Story could be better

Conclusion

RF4S is a great Game that made me fell in love with the Series again

…

Expand

My one personal gripe about this game is that the town is more city-like and not very natural as the previous entries, and that the farm is

My one personal gripe about this game is that the town is more city-like and not very natural as the previous entries, and that the farm is expanded in to segments instead of just increasing the size of one farm. However this Rune factory game has a lot to offer, a lot more content then previous entries, and as a series staple, it always improves the experience with some Quality of life editions. The combat however mostly remains the same as Rune Factory 3, which could still use a bit more improving.

…

Expand

Great game in the series, and highly recommended if you like the genre.

Giving us the option to choose sex, which entails different loveGreat game in the series, and highly recommended if you like the genre.

Giving us the option to choose sex, which entails different love routes (not lgtbi unfortunately) with very different characters and each with their own story, some deeper than others.
Citizens also have their own charisma, although in all cases they are a bit of a cliche.

Playable is very good. You have a lot to do (Farm, fight against monsters, raise levels of many things, cook and eat to upload stats, hunt monsters that help you ...) and on top of that it has 3 story arcs, with a difficulty that increases significantly.

As for the extras of this version, I must say that I ended up very happy with them. You have more chunks of stories told like a visual novel, and also shorter playable stories as spouses. The latter is something that is missed in the original game, since you get married and practically nothing changes.

In conclusion: A game that can be improved, yes, but that complies very well with everything that is proposed, without being an outstanding one, it will hook you and give you hours and hours of entertainment, which ultimately causes you to love and hate this world.

Highly recommended.

…

Expand

I LOOOVE this game, the mechanics, the events, characters, they're all awesome. The history is kinda bland, so don't expect much in this

I LOOOVE this game, the mechanics, the events, characters, they're all awesome. The history is kinda bland, so don't expect much in this aspect. It's really cool to tame monsters and fighting is great, If I could rate this any higher than 10, I would.

…

Expand