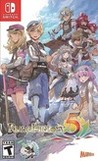 Summary:

A new stage, a new adventure... The curtain rises on the next chapter in the Rune Factory series. Set off on a grand adventure in a fantasy world with the latest entry in the Rune Factory simulation RPG series. After losing their memory, the hero lands in a small town blessed by nature.

A new stage, a new adventure... The curtain rises on the next chapter in the Rune Factory series. Set off on a grand adventure in a fantasy world with the latest entry in the Rune Factory simulation RPG series. After losing their memory, the hero lands in a small town blessed by nature. There, they are recruited into a band of peacekeeping rangers, and their new life begins. In addition to their normal duties, the hero can farm the land, cast a line into the nearby river, and so much more! Team up with townsfolk to battle monsters and unleash powerful combination attacksjust one of the features new to the series. The stage is set, and the curtain rises on an exciting new adventure in Rune Factory 5!

Features:

* Tame monsters or team up with townsfolk to explore a massive world
* Defend the frontier and support your community as a member of a peacekeeping ranger
* Unleash uniquely powerful combo attacks with your teammates
* Cultivate crops in the fields
* Find friendship, love, and family with a colorful cast of characters

…

Expand
Genre(s):

General

,

Role-Playing

,

Action RPG

# of players:

No Online Multiplayer

Cheats:

On GameFAQs

Rating:

T
Please enter your birth date to watch this video:
You are not allowed to view this material at this time.
Rune Factory 5 - Official Gameplay Trailer
A game as jam-packed as Rune Factory 5 runs the risk of being overwhelming, but each facet works in tandem with the others so seamlessly that it blurs the lines between where one element ends and another begins. It spaces out the infinite gameplay loop of farming sims with simple but enjoyable dungeon crawling and tosses in an endearing cast of characters for good measure. Despite how full the game is, it's likely you won't be able to get enough of it, as its enrapturing nature always leads into something else for you to do. Once you've settled into Rune Factory 5, you're in it for the long haul.

There's a lot to love in the gameplay loop, characters and endearing story, and that's what ties it together for anyone who can sit through the choppy framerate. For those who have been waiting for another entry in the series, Rune Factory 5 delivers more of what fans love in the brand new fantastic world of farming, taming and romance.

Rune Factory 5 delivers everything you would expect from a Rune Factory game, though it does so without adding anything new. It moves from a rather rough start into an enjoyable experience which combines quirky characters, a story wrapped in a bit of mystery, farming, fighting and taming monsters, crafting, and consuming unhealthy amounts of Recipe Bread. Fans of the series will enjoy their time in Rigbarth, though the series and its formula are starting to show their age.

For all of its good and bad, Rune Factory 5 still manages to capture bits from the series that keep it enchanting. It's rough around the edges in ways that are hard to ignore, but for those who can push through the occasional chugging, there's a lot to love. Hakama's latest vision for the series bodes well for future iterations, offering some much-needed change while remembering the pieces that make the series so beloved.

Rune Factory 5 delivers a well-known experience that fans will enjoy, although its new 3D graphics sometimes can end up being a bit detrimental.

As a whole, I struggle to say that Rune Factory 5 was worth the 10 year wait. You'd expect such a sought after title would show some development since it's previous title in 2012, but I can't say this game delivers. There are definitely elements which are thoroughly enjoyable. The more time you put into the title, the more fun you'll have. If you're bored of every other farming sim and release from Rising Star, maybe this game could suit what you're looking for. But if you're searching for something a little more groundbreaking then you may want to keep looking.

When designing a farm-sim there is a line between quiet cozy routine and abject tedium. Rune Factory 5 lands squarely in the latter. The occasionally enjoyable combat cannot make up for the unreliable farming controls, repetitive music, poor performance, ugly visuals, and lifeless world. One or two of these shortcomings could have been forgiven if Rigbarth was a world worth soaking in, but it's simply not. The mountain of issues amounts to Rune Factory 5 being lesser than the sum of its faults and one of the year's biggest disappointments so far.
Beauty is in the eye of the beholder. For us who have waited so long, we will not bash the game for what it isnt. We will love it for what it

Beauty is in the eye of the beholder. For us who have waited so long, we will not bash the game for what it isnt. We will love it for what it is. Is it the best game ever made? No. Am i glad games like theese are made? Hell yes!

…

Expand

I think we may find in retrospect that this game became a fan-favorite — the initial performance issues, which can be fixed via patches,

I think we may find in retrospect that this game became a fan-favorite — the initial performance issues, which can be fixed via patches, obscured initial impressions from seeing it is one of the best farming games of the modern era.

…

Expand

A very beautiful successor to 4, I really enjoy the introduction of the larger town and more no-name villagers to give the place more life, I

A very beautiful successor to 4, I really enjoy the introduction of the larger town and more no-name villagers to give the place more life, I also enjoy the introduction of same-sex relationships, my only complaint is less with the game itself and more the switch, the large open world, and graphical intensity can make the battery drain and the game chug when just stepping outside, all that aside though I'm greatly enjoying my time and hopeful for the series future.

…

Expand

it does not feel like a rune factory game. I have only play Rune Factory 3 (my all time favorite), Rune factory 4 on DS and Rune Factory 4 on

it does not feel like a rune factory game. I have only play Rune Factory 3 (my all time favorite), Rune factory 4 on DS and Rune Factory 4 on Switch. The game is clunky, poorly optimized on switch, the fps is horrible, the world is big but feel very empty. There is barely anything, if someone gave me this game blind and tell me it is Rune Factory, I would never believe them. Please return the game to the old formula. I have waited for so long to wasted my $60 on this.

…

Expand

Honestly I'm so upset with the quality of this game. I feel like a fool for avoiding reviews and spoilers considering how bad this game was

Honestly I'm so upset with the quality of this game. I feel like a fool for avoiding reviews and spoilers considering how bad this game was reviewed when it was first released in Japan. This has nothing to do with not loving Rune Factory. This is an issue the devs probably couldn't fix easily or else they would have already. The graphics are nothing special but the main issue is the constant drops in frames. Happens everytime you exit or enter an area, so if you plan on walking around town to talk to everyone expect it to feel really choppy and since it sometimes runs fast at 30fps it feels even worse when the frames do drop. I honestly just go into the series a couple years ago. You can obviously ignore the major issue along with other small problems and this game could be a decent experience, hell even a good one. Yet I doubt I could ever recommend this game over any of the other fune factory titles. I personally can't handle it and since other games of this genre have been so **** good this game deserves a low ass rating. I mean I only gave sakuna a 7 and it had no technical issues and ran amazing on switch. 5 is me being generous.

Summary of review : try other rune factory games if you haven't yet. The 3D 2008 wii game frontier is probably my favorite title next to 4. It has a great story and characters and runs better than 5. If you don't care what the game looks like then it should be fine but it's unplayable if you can't ignore huge frame drops.

…

Expand

If the frame drops weren't near constant when outdoors, this would probably be a great Rune Factory game!

this game not worth it all. really bad gameplay, awful music and terrible story