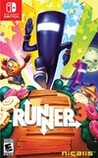 Summary:

The rhythm-music gameplay of BIT.TRIP RUNNER and Runner2 is back. The Timbletot is determined to rid the multiverse of all its love and happiness. CommanderVideo, a lover if ever there were one, refuses to let this happen. He's ready to jump, double-jump, wall-jump, slide-jump, slide, kick,

The rhythm-music gameplay of BIT.TRIP RUNNER and Runner2 is back. The Timbletot is determined to rid the multiverse of all its love and happiness. CommanderVideo, a lover if ever there were one, refuses to let this happen. He's ready to jump, double-jump, wall-jump, slide-jump, slide, kick, float, drive, fly, and dance his way to victory, all across a medley of thrilling, challenging, and joyous levels.

…

Expand
Developer:

Choice Provisions

Genre(s):

General

,

Action

,

Platformer

,

2D

# of players:

No Online Multiplayer

Cheats:

On GameFAQs

Rating:

E10+
Please enter your birth date to watch this video:
You are not allowed to view this material at this time.
Runner3 - Release Date Trailer
The challenge is real without seeming too difficult, never making me feel helpless. The world of Runner3 is beautiful to behold as it bursts forth with color and life. Even though the core game can get monotonous at times, Runner3 is yet another terrific indie game that deserves everyone's attention.

Although it is not adequately reinforced by a stylish design, Runner 3 is an experience that every fan of the arcade spirit must treasure.

One heck of an entertaining experience for those willing to jump into it. [Issue #34 – July/August 2018, p. 71]

The greatest compliment to be paid to a game like Runner 3 is that after feeling the urge to toss a controller, it's hard to think of anything else except trying again. Runner 3's greatest strength is in rewarding that perseverance.

Runner3 is a thoroughly enjoyable return to form for Commander Video and friends, both as an advancement of the long-running indie series and its debut on Switch. Some minor, frustrating setbacks hold it back from greatness, but the rhythmic platforming the series is known for is present and as dynamic as ever.

Runner3 is a fun – if flawed – continuation of the Bit.Trip Runner series. While its stages are beautiful and the whimsical nature of it all is charming, the heavy difficulty spikes make you really work for any sense of enjoyment.

I wanted to love Runner3, but it's too frustrating of an experience to ascend to any higher commendation. I'm confused as to how the response to the eminently accessible Runner2 was to make its sequel bitterly hard with no recourse. My enjoyment was consistently interrupted by too much frustrating repetition, an aspect that soiled my affection for the overall style and excellent character selection (Dave, Shovel Knight, Charles Martinet, and Eddie Riggs!).
At its core it is a auto runner, with seemingly straight forward controls. However, dive a little deeper you will find an amazingly fun

At its core it is a auto runner, with seemingly straight forward controls. However, dive a little deeper you will find an amazingly fun experience. One that will have you cursing one minute and jumping up to do a little jig. Fetch quests to unlock extra characters. This game oozes charm. It is not for the faint of heart though. It is a true challenge, like the old games I grew up on. Give it a play you will not be disappointed. Top notch sound, audio and graphics. Loves it.

…

Expand

You have to pick up Runner3! This game is beyond brilliant and beyond funny. It is also beyond Polished. Slovakiaed you might call it.

A really fun game for patient people who like memorizing levels. If you like Pressing x to climb a cliff while listening to some long story

A really fun game for patient people who like memorizing levels. If you like Pressing x to climb a cliff while listening to some long story then you are probably better off sticking to those kind of games.

…

Expand

I've enjoyed this series ever since I was a kid, such simple concepts executed really well to craft an addicting game franchise. Though I will

I've enjoyed this series ever since I was a kid, such simple concepts executed really well to craft an addicting game franchise. Though I will admit this is probably the weakest entry in the series, it's a shorter game(you'll still get your money's worth, but comparatively it's shorter) than previous entries, the levels, while still challenging weren't as challenging as before, and the music, while being a nice change of pace, is all over the place with some songs being amazing, and some songs just being kind of ehhh(though Harwood is still a good composer). I bought this game at launch and back then it had some technical issues as well, but now after the major update, I find that a lot of those issues are remedied, plus with new additions like adjustable difficulty, I feel this game went up from a 7 to maybe an 8.5 or 9. Pick it up if you want a nice game to waste your time playing on the bus, pick it up if you want a challenge, pick it up if you're a fan of the series, it's a good time regardless.

…

Expand

Me and my friend, we were challenged. Annoyed and desperate sometimes, but challenged and given that it was on a huge sale for Switch, it was

Me and my friend, we were challenged. Annoyed and desperate sometimes, but challenged and given that it was on a huge sale for Switch, it was a worthy investment. It is fun to play in short amount of times, but not longer because it can piss you off. But that's the beauty of it, I guess. It's fun and challenging, with good sounds and simple but cool graphics. Quite a good time killer.

…

Expand

Juego muy entretenido, para echar un buen rato, y el precio muy asequible. Lo recomiendo

A pixel perfect disasterpiece. If you are a fan of the Runner series, be warned, this is a much different experience. The character and polish

A pixel perfect disasterpiece. If you are a fan of the Runner series, be warned, this is a much different experience. The character and polish is here but the actual gameplay is so much worse. It goes out of its own way to ramp up difficulty to the point it gets in the way of what made this series fun. Many levels seem like a cruel punishment that should have been saved for a second run through. I would highly recommend playing Runner 2 which nailed the mix of fun and challenge. It only takes 3-4 levels until you run

…

Expand