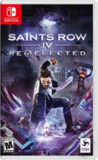 Summary:

Saints Row IV: Re-Elected After saving the world from a terrorist attack the leader of the 3rd Street Saints is elected to become President of the United States. Things go reasonably well until an alien warlord named Zinyak attacks the white house and abducts his entire cabinet. Now stuck

Saints Row IV: Re-Elected After saving the world from a terrorist attack the leader of the 3rd Street Saints is elected to become President of the United States. Things go reasonably well until an alien warlord named Zinyak attacks the white house and abducts his entire cabinet. Now stuck inside a reality bending simulation, the President and the Saints fight to save themselves, Earth, and the entire galaxy if that all sounds crazy to you, trust us: were just getting started. Saints Row: Gat out of Hell In this standalone expansion epilogue to Saints Row IV, join Johnny Gat and Kinzie Kensington on an Orphean quest to save the Bosss soul from the bowels of Hell. Come for the demon killing, stay for the historical icons, open world shenanigans, talking gun, and full length musical number. Yes, seriously.

…

Expand
Developer:

Volition Inc.

Genre(s):

Action Adventure

,

Open-World

# of players:

2

Cheats:

On GameFAQs

Rating:

M
Saints Row: IV Re-elected on the Switch is a much-welcomed game as it runs amazing in handheld and docked mode, brings a beloved franchise to millions of gamers, and almost feels a bit naughty to have next to my Mario games. With its smooth gunplay, game mechanics that mesh well with the control scheme of the Switch, and ability to cram all of its explosive, expansive, and destructive gameplay into your hand, you cannot pass this game up.

Saints Row IV: Re-Elected's over-the-top antics, larger-than-life characters and superpower-focused gameplay make it one of the most ludicrous ways to waste away a decent number of hours. And in these trying times, perhaps that's what we all need.

Co-op is a fantastic way to experience Saints Row, and luckily the co-op on Switch is just as robust. It is quite easy to do side content alone, and then join a friend to complete other things together. Overall, Saints Row 4 loses out on very little in its Switch port, and comes in an attractive bundle with every DLC unlocked and the ability to take one of the most beloved GTA-like games on the go.

The bullet comedy extravaganza action game from Volition returns on Switch. It's old and a little bit messy, but you're probably going to love it anyway.

Saints Row IV drew me in with its Matrix-like whimsy and dedication to player fun. The Switch port is serviceable, with blemishes easily ignored against the shenanigans on offer.

Saints Row 4 arrives on Nintendo Switch with a better porting than the previous chapter and with the usual series of senseless moments. The fans will be happy; for all the others it remains a mediocre and sufficiently backward title.

The Saints Row series isn't renowned for the outstanding performances of its 3D engine but the Switch version of the game is the final straw, specifically in portable mode: aliasing, tearing and visuals bugs are still there. We can't say the same about the standalone Gat out of Hell. However, the game is still really fun to play.
My french review below:
You can Follow me on Twitter : @NintendoLegacy1
Saints Row IV RE-ELECTED est sans doute le meilleur de la saga. EnMy french review below:
You can Follow me on Twitter : @NintendoLegacy1

Saints Row IV RE-ELECTED est sans doute le meilleur de la saga. En plus d'être un très bon open word bac à sable, le jeu est complètement déjanté et justifie largement son PEGI 18 par un univers complètement débridé. Le jeu vous offrira des dizaines d'heures de jeu grâce à son contenu gargantuesque et ses nombreux modes de jeu. La version Switch bénéficie d'un portage fidèle et solide techniquement, notamment en mode console portable. Grâce à la présence de l' intégralité des DLC et mises à jour disponibles, à l'exception du stand-alone Gate out of Hell, Saints Row IV sur Switch devient la version définitive et ultime du jeu.

…

Expand

Good port of the worst Saints Row game. If you like this one you should be very pleased, it runs very well. Problem is that it's SR4 which is

Good port of the worst Saints Row game. If you like this one you should be very pleased, it runs very well. Problem is that it's SR4 which is essentially a completely different game from the first 3. Gone is the gangster theme, replaced by some sci-fi theme. As a fan of the first three I just couldn't recommend this.

…

Expand