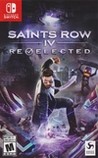 Summary:

Saints Row IV: Re-Elected After saving the world from a terrorist attack the leader of the 3rd Street Saints is elected to become President of the United States. Things go reasonably well until an alien warlord named Zinyak attacks the white house and abducts his entire cabinet. Now stuck

Saints Row IV: Re-Elected After saving the world from a terrorist attack the leader of the 3rd Street Saints is elected to become President of the United States. Things go reasonably well until an alien warlord named Zinyak attacks the white house and abducts his entire cabinet. Now stuck inside a reality bending simulation, the President and the Saints fight to save themselves, Earth, and the entire galaxy if that all sounds crazy to you, trust us: were just getting started. Saints Row: Gat out of Hell In this standalone expansion epilogue to Saints Row IV, join Johnny Gat and Kinzie Kensington on an Orphean quest to save the Bosss soul from the bowels of Hell. Come for the demon killing, stay for the historical icons, open world shenanigans, talking gun, and full length musical number. Yes, seriously.

…

Expand
Developer:

Volition Inc.

Genre(s):

Action Adventure

,

Open-World

# of players:

2

Cheats:

On GameFAQs

Available On:

Stadia

Rating:

M
Aside from a less than stellar control system for combat, there's very little negative to be said about Saints Row IV: Re-Elected. You get a tonne of content that will keep you occupied for a very long time. It's a really good port of the game and does it justice. This is the sort of game that reminds you that even though it might not have the grunt of its competition, the Switch is a very capable system and can produce complex games.

Co-op is a fantastic way to experience Saints Row, and luckily the co-op on Switch is just as robust. It is quite easy to do side content alone, and then join a friend to complete other things together. Overall, Saints Row 4 loses out on very little in its Switch port, and comes in an attractive bundle with every DLC unlocked and the ability to take one of the most beloved GTA-like games on the go.

The biggest take away from this Nintendo Switch port of Saints Row IV is the words "outright fun". The fun is enhanced with a chock full of humour, sometimes a bit lewd, and memorable laugh-out-loud scenarios, encounters and moments. Mix in some RPG elements that include fun "superpowers" and you have a game even fans new to the Saints Row franchise can enjoy!

The bullet comedy extravaganza action game from Volition returns on Switch. It's old and a little bit messy, but you're probably going to love it anyway.

In 2020, Saints Row IV: Re-Elected's combat feels prosaic, its glut of content perfunctory, and its humor antiquated. It's great on Switch but actually playing it feels like looking through a weird interactive museum.

The problem here is that not only does Saints Row IV look kind of bad, it runs abysmally. It takes a lot to get me to feel negatively towards one of my all-time favourite games, but this kind of achieves that dubious goal.
This felt like the main goal for this game was to have fun. I always felt like there was something to do and I never got bored because of all

This felt like the main goal for this game was to have fun. I always felt like there was something to do and I never got bored because of all the different activities.

I ended up 100% this game because it just had a stellar gameplay loop and felt really rewarding.

The plot and humor in this was perfectly suited for me. I really appreciated what this game did with its cheesy B action movie plot. Even with the characters and plot it wanted to make sure you had fun with a constant flow of humor and high camp performances.

The combat was also really well done and gave a good mix of super powers and gunplay.

…

Expand

i always liked saints row, and now i can play on switch :), and i can play in any place because switch is portable too, loved it

I love the game I give a 10 I have all the saint row 1,2,3,4 and gat of hell.Plz make a new saint row.

Overall great game with satisfyingly brutal kills and mostly obscure jokes game wouldn't take too long to complete fully, But thanks to the

Overall great game with satisfyingly brutal kills and mostly obscure jokes game wouldn't take too long to complete fully, But thanks to the finishing only the main missions it only says 50% completed which makes a lot of time for people who actually like this game and want to continue playing.

…

Expand

Funny story is the soul of this game, and the superpower provides even more stimulating experience.

Good port of the worst Saints Row game. If you like this one you should be very pleased, it runs very well. Problem is that it's SR4 which is

Good port of the worst Saints Row game. If you like this one you should be very pleased, it runs very well. Problem is that it's SR4 which is essentially a completely different game from the first 3. Gone is the gangster theme, replaced by some sci-fi theme. As a fan of the first three I just couldn't recommend this.

…

Expand

This review contains spoilers

, click expand to view

.

Les mouvements et sensibilités du jeux est dégueulasse

…

Expand