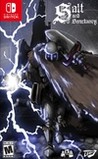 Summary:

A doomed sailor is shipwrecked on an uncharted island. In fog-shrouded valleys, where grinning, mossy corpses cling to rusted arms, shambling figures begin to stir. Beneath crumbling, salt-worn structures, labyrinthine passageways lead to unspeakable evil, long forgotten by man.

Salt andA doomed sailor is shipwrecked on an uncharted island. In fog-shrouded valleys, where grinning, mossy corpses cling to rusted arms, shambling figures begin to stir. Beneath crumbling, salt-worn structures, labyrinthine passageways lead to unspeakable evil, long forgotten by man.

Salt and Sanctuary seamlessly combines fast, brutal, and complex 2D combat with richly developed RPG mechanics. Discover, craft, and upgrade over 600 weapons, armor pieces, spells, and items as you explore a cursed realm of forgotten cities, blood-soaked dungeons, desecrated monuments, and the fallen lords they once celebrated.

From Ska Studios, the award-winning indie studio behind a long list of stylistic, visceral, and brutally executed action titles that includes The Dishwasher: Vampire Smile, The Dishwasher: Dead Samurai, and Charlie Murder, comes Salt and Sanctuary, the studios most ambitious title to date.

…

Expand
Developer:

Ska Studios

Genre(s):

Action

,

Platformer

,

2D

# of players:

No Online Multiplayer

Cheats:

On GameFAQs

Rating:

M
Please enter your birth date to watch this video:
You are not allowed to view this material at this time.
Salt And Sanctuary - Official Nintendo Switch Release Trailer
Salt and Sanctuary is as difficult as its inspiration would suggest. You will die, often and in spectacularly embarrassing ways, but you'll learn and adapt. You'll level up and then you'll overcome its challenges and you will probably love doing so. Because Salt & Sanctuary is a game that deserves to be played.

For those who are fans of the popular Souls series, you'll be right at home and likely be just as enamored, but the game is also worth checking out if you're eager for a substantial action title to take with you on the go.

Salt and Sanctuary is the result of a perfect combination of the metroidvania and "souls" elements in order to create a unique, hard and satisfying 2D adventure that knows how to reward players' skill. The Nintendo Switch version is indeed a great one.

If you want a 2D Dark Souls it's hard to imagine FromSoftware doing much better than this, even if it has too few original ideas of its own.

I can recognize that Salt and Sanctuary is a well-constructed game and that there's a lot of depth and challenge here for those that crave such things from their entertainment. It just isn't for me and I don't think it ever will be, as I'm not the target gamer here. From that perspective, I can't give this game any less than 4 stars. It delivers on everything a fan of the Souls series would crave, and does so with style. If that's your thing, dive right in there and go conquer some brutally tough fights.

An excellent Souls-like with slight design flaws, fits the Switch like the salt to the pepper shaker.

Salt and Sanctuary does an admirable job of hitting all the right beats that it needs to provide a challenging and fun action adventure that will no doubt provide a solid bang for your buck, but it doesn't do a whole lot to stand on its own two legs; this is a game that can only thrive on the scraps generated by the overwhelming popularity of a much better game series. We'd give this one a recommendation to any Dark Souls fans - this is a decent way of capturing that game's spirit - but those who've never been interested won't find much new here to entice them.
Great game with pretty much endless replayability.

It's a metroidvania and a souls-like wrapped into one, and it does both elements extremely well.

With over 50hrs+ with NG+ this game is absolutely awesome! I would give this an overall 9 and considered this as The Best 2D Action Dark

With over 50hrs+ with NG+ this game is absolutely awesome! I would give this an overall 9 and considered this as The Best 2D Action Dark Souls game there is.. The only caveat is that I haven't played Hollow Knight or Dead Cells. Ignore anything 0-5 they are just trolls.

This game 2D action game has something unique - gritty, tough, and interesting story, characters and item elements - "SALT". I would recommend any Switch users who enjoy Dark Souls games to try this game. There is frankly some small drawbacks that I didn't like about the game, but let's start out with the positives.

1) Gameplay - just addicting and fun -
2) Character, story, and Salt Items - interesting and different
3) Lots of Boss fights! Be prepared - they don't have a fog to warn you. You could just randomly drop into a boss fight without noticing it.
4) Plenty of Weapons, Armor, and items to build character.
5) Unique special abilities to allow you to do different things and go back and get certain items
6) Music - I really enjoyed the melodies, sound effects, and song.. Great Music overall. I wished it had more of it!

Negatives/issues -
*One of the Bosses - The Witch seemed almost as a cheat with spamming "homing" missiles that kil you with one shot. Most bosses are fairly easy and the only boss that I felt was completely unfair was the Witch with her homing spamming missiles.

*Way too many items in the beginning and doesn't let you really progress slowly to figure out what you can enjoy. You don't know what weapon, item, armor is good which one to upgrade? A bit overwhelming and would have started it slower.

*Skill Tree is just overwhelming in the beginning and way too much going on to start. They should have revamped the Skill Tree.

*Buggy, glitch issues like randomly falling off things and other small frame problems in boss fights..

Overall- the game is absolutely addicting and fun! Be prepared to lose Salt, Coins, and health! Great job and looking forward to the next one!

…

Expand

Huge Dark Souls fan, impatiently waiting for literally any news about the switch release. In the meantime, 2D Dark Souls will have to suffice.

Huge Dark Souls fan, impatiently waiting for literally any news about the switch release. In the meantime, 2D Dark Souls will have to suffice. I want to say I'm maybe a third of the way through the game and I've quite enjoyed myself. Pro-tip: parry is god

…

Expand

This review contains spoilers

, click expand to view

. First off I would like to say that I liked this game. I'm a huge fan of the Souls-borne-franchise and was glad to see that it translated so well into a 2D-Metroidvania-game. The combat system has nearly everything I wanted out of that experience: Parrying, shield-blocking and roll-dodging are all bound to a stamina-system and attacks can't be canceled so you have to be careful in what you do. It is just fun to fight against a boss, fail a couple of times while learning his attack patterns and destroying him in the end. Not only the bosses but the normal enemies are fun in combat too and have a lot of variety in their design.
The RPG-like progression system is based on salt (souls or blood echoes respectively) that you can use for leveling while individual parameters like strength are boosted in a complex character tree. That's something I'm glad to see here. What I dislike is that you lose your salt much quicker in this game because of unfair level design so that you have to grind sometimes.
What do I mean by unfair level design? First off: traps. This game has a lot of traps which can instantly kill you. Imagine you have only a few HP left, hacking through all the enemies with ease but get killed by a battering ram that was hidden under leafs. Now imagine that happening to you all the time. Or ambushes by enemies who spawn out of nowhere. Deja vu? Yeah, Dark Souls does this too but Dark Souls is also a 3-dimensional world where you can see traps beforehand when you're a good observer. In Salt and Sanctuary not so much.
Which gets me to my main problem with this game: Not quite understanding what Dark Souls was all about. Dark Souls is a hard game but not because it is unfair, it is hard because you have to understand what you do, not R1-Spam your way through the game. You have to observe your surroundings and be more patient the next time around. You need to be strategic to progress.. This game on the other hand just wants to punish you. Think Bed of Chaos was unfair? Try Tree of Men, an infamous boss that pushes every obstacle down your throat it can:

flame thrower (x),
death pits on all sides (x),
fall damage (x),
180 degree fire burst (x),
breakable plattforms (x),
multiple enemies with their own health bar and attacks (x),
A deadly, really hard to avoid strike (x).

So that's what I call bad, unfair design. So unfair in fact that It seems that every boss in this game is some form of a sadistic copy of its original even though the bosses aren't all that hard in the first place (and also fun to fight btw). They definitely have attack patterns and phases but sometimes the RNG is just so awful that you can't dodge (like with two magical attacks one after the other in the case of Murdiella Mal).
Also this games needs a map because walking around in a Metroidvania without one is just too confusing.
Anyway I still recommend Salt & Sanctuary for any Dark-Souls-fan if you can stand some of the more ******** moments.

…

Expand

A 2D Dark Souls.

Dark souls fans may love it or hate it, because while it is another dark souls like game, so much so that fans of theA 2D Dark Souls.

Dark souls fans may love it or hate it, because while it is another dark souls like game, so much so that fans of the series could go in blind and know what to do, but the game also just falls short. It's nothing special but it can scratch that itch.

The platforming is good enough, it feels a little awkward, but there's nothing wrong with it.
The combat, such as attacking and rolling also feel awkward, but again, gets the job done.

Some issues I find with the game, however, isn't so much the graphics, but the filter and color pallets. It makes it hard to see sometimes, and it becomes even worse when enemies blend too well into the background.

All in all the game is really a hit or miss, and for me it's just an okay game.

…

Expand

[Edited: I fixed a typo in this review, and that edit reset its votes. I didn't realize that would happen. My apologies to the raters. It

[Edited: I fixed a typo in this review, and that edit reset its votes. I didn't realize that would happen. My apologies to the raters. It won't happen again]

Salt and Sanctuary is a Dark Souls-inspired 2D metroidvania, and one of the worst gaming experiences I ever had. I don't even know why I finished this game. Maybe it was the misguided idea that I payed for it, so I should beat it. Maybe it was a sense of resentment so deep, that it could only be amended by the cathartic "Eat this!" of beating the final boss. In any case, I felt relieved when I reached the credits and knew that I'll never play this game again.

Mind you, Salt and Sanctuary isn't an extremely though game. It's actually on the easy side compared to the similarly inspired Hollow Knight, that I enjoyed immensely. Instead of being hard, however, Salt and Sanctuary choses to be insanely frustrating. It's marred by a number of regretful design decisions that add up to a laundry list of how *not* to design a game. Here are a selected few:

- S&S involves a huge amount of stats, skills, weapons, and items. In theory, that should allow you to tackle the game in many different styles. In practice, some combinations just don't work, and lure you into a dead end. After ~7 hours, I had to abandon my first playthrough, because I'd chosen a setup that made it impossible to pass a mandatory room. Short of getting info from the Internet, I had no way of knowing that beforehand. I just had to bite the bullet and start from scratch with a different setup–that made the "unpassable" room ridiculously easy. I heard other players who got into same exact situation, where the game punishes you for trusting its systems.
- Like in many games, falling from a height does zero damage until a certain height–above that, you get incremental damage. In S&S, however, that damage scales so fast, that you go from "not even a scratch" to "ah, ah, you're dead" across a tiny range. Should you jump down from that platform? Do you feel lucky?
- Most of your character's attack/defense/heal animations cannot be interrupted, and some last for *seconds*. I died hundreds of time while waiting for my input to register. The game has an encumbrance system that makes your character more responsive if you go around naked. I ended up fighting all the late bosses in my underwear, without any kind of armor, shield, or large weapon, just to shave some lag off the horribly unresponsive controls. Some people call that kind of high-latency control "deliberate". I call it "crap".
- The game's idea of a challenge involves littering the map with traps that are made invisible by the muddy graphics and extreme darkness of some areas. In some cases, those traps are placed on purpose to drop you from a height and instakill you. Ah, ah, you're dead again. Ah.
- Some levels demand precise platforming, and then make that impossible with confusing graphics that smear the edges of platforms. So you fell and died *again* while aligning a hard jump? Back to the spawn point for you.
- There is a very common scenario where you get hitstunned by a small enemy, and then slowly die through a series of uninterruptible hitstuns. You can only watch in impotent pain as your full health bar slowly gets sipped to zero. Just watch and suffer. I mean, you got hit once, you deserve to die.
- Some bosses, and *even regular enemies*, one-hit kill you. Sometimes. When they want to.
- One late-game boss is the worst designed boss I ever fought in a game. (Yes, I'm talking about *that* boss). One of its techniques has been called the "decide to win" attack: it flies off screen, where you cannot follow her or track her tells, and one-shot kills you from there. Many players pass it by trying dozens of times, until they get a lucky fight where it doesn't use those cheap attacks.

I could go on. And on.

The sad part is that I wanted to like this game. It's clearly a labour of love. I respect the tiny indie team that developed it, and I liked their earlier work. I also love the hand-drawn graphics, even though it's often hard to parse. Some of the boss fights are good, and some are even very good. Because of all those factors, I don't feel like giving Salt and Sanctuary anything less than 3. If I had to judge on how pleasant it was as a gaming experience, however, it'd probably be a 1. Negative.

To make things worse, I saw people posting for hints on this game's Reddit and getting abused by pedantic "git gud" types. If there's anything more annoying than hitstuns it's these guys. That comically stuffy attitude is not the game's fault, but it does make the game harder to recommend. Enemies one-hit kills you? "Git gud, learn not to get close". You keep dying by falling off a platform? "Git gud, don't drop off platforms". You die? "Git gud, don't die".

I have better advice for you: git gud, don't play Salt and Sanctuary.

…

Expand

From the first moments it becomes obvious that the developers just tried to make their own DS-like game and they were not really worried about

From the first moments it becomes obvious that the developers just tried to make their own DS-like game and they were not really worried about quality or how good gameplay mechanics work in the game. The gamedesign of the game is just terrible. It's obvious that 2D space is just too limited for this genre. Surprisingly, the devs did not even try to workaround the issues caused by 2D. The graphics is a nightmare, it seems that the devs tried to develop their own style but it looks more like drawings of a 12-year-old kid. The sound design of the game is at the same level as the graphics. The storytelling and the script both sound more like a joke. It's a great pity that Nintendo doesn't want to provide refunds.

…

Expand