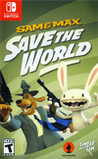 Summary:

Sam is a six-foot canine detective with a love of justice. Max is a hyperkinetic rabbity-thing with a taste for mayhem.

Together, they're the Freelance Police. And they're about to save the world. In 2006, the comic book crime-fighting duo Sam & Max starred in the first full-fledgedSam is a six-foot canine detective with a love of justice. Max is a hyperkinetic rabbity-thing with a taste for mayhem.

Together, they're the Freelance Police. And they're about to save the world.

In 2006, the comic book crime-fighting duo Sam & Max starred in the first full-fledged episodic game from Telltale, the studio that went on to make The Walking Dead and Batman: The Enemy Within.

Now everyone's favorite dog and rabbity-thing are back in Sam & Max Save the World Remastered, a new version of their first season of episodic games that has been lovingly updated by a small group of the original developers with the blessing of Sam & Max creator Steve Purcell.

It's just another day at the office for the self-proclaimed Freelance Police when the Commissioner calls in with a disturbing report: former child stars are running amok in the street! What starts as an open-and-shut case of idiotic vandalism balloons into an all-out conspiracy as Sam and Max encounter one miscreant after another who have been mysteriously hypnotized. (You can tell from the "spinny thing" they do with their eyes.)

Who's the source of this malfeasance, and what is their dastardly plan? Cracking this case will require Sam's nose for detective work, Max's lack of conscience, an assortment of inventory items, and a little help from neighbors Sybil Pandemik, Bosco, and Jimmy Two-Teeth. From Sam & Max's street to the White House lawn, inside the internet, and all the way to the moon, this baffling mystery gets weirder and funnier as it unfolds.

Return to the adventure game that was once called "gaming's first sitcom" and is today known as "the remaster you didn't know you were waiting for." With enhanced graphics, Joy-Con™ and touch screen support, an original jazz score with five new tracks, and the same brain-tickling puzzles and offbeat humor that won it IGN's Best Adventure GOTY award back in the day, Sam & Max Save the World Remastered is a modern classic that will be right at home in your Nintendo Switch™ library.

…

Expand
Developer:

Skunkape Games

Genre(s):

Adventure

,

Point-and-Click

# of players:

No Online Multiplayer

Cheats:

On GameFAQs

Rating:

T
While Sam & Max Save the World remastered makes a few concessions for its console release and the touch screen support is lacking, it's still a gorgeous and hilarious game that is well worth playing in any form.

Vintage adventure gamers rejoice! Skunkape Games under the tutelage of some former Telltale Games developers has created a faithful Nintendo Switch version of this classic adventure game duo! This is Sam & Max as we remembered and it plays oh so well in undocked mode making it THE point-n-click adventure game for on-the-go! The visuals are satisfying, the music and voice-overs are crisp and the controls are impeccable. And hopefully, the Season Two and Season Three teases on Skunkape Games' website become reality for the Nintendo Switch and other systems!

Sam & Max Save the World is notable for starting Telltale's reign over episodic games that lasted for nearly a decade. Upon a revisit, it's easy to understand why. The writing oozes in charm and wit, and solving some of the trickier puzzles requires quite a bit of detective-work. While a few quality-of-life upgrades introduced in later Telltale Games would have been appreciated, the visual enhancements are still welcome. Hopefully, Skunkape Games remasters the other two seasons of Sam & Max, as well, because this is a case that deserves to be revisited for years to come.

Nintendo Force Magazine

May 13, 2022

Save the World's streamlined verb-free take on point-and-click design remains enjoyable to this day and makes the entire game's narrative easy to sit back and enjoy without getting stumped for hours. Remakes rarely highlight the strengths of a game this well! [Issue #58 – March/April 2022, p. 22]

Sam and Max return on Nintendo Switch and PC, with a well done remaster.

Sam & Max Save the World is a well put together re-release that gives the original game a much needed HD makeover – but is perhaps only worth a look for fans of the genre.

Overall, if you enjoy classic point-and-click adventure games then you just can't go wrong here. The game even has a sequence where you are reduced to a truly classic adventure game. It can get pretty wild at times. If you're like me and find point-and-click adventures rather frustrating, there is still a lot of enjoyment to be had. The focus on humor and some clever scenarios can really go a long way into making a genre more tolerable.
Great game that makes incels and far right/nazi people getting mad over SJW.dear incels, the world doesn't revolve around you

A good remaster. For fans of the old games, there is nothing too new content-wise, but it is an absolutely successful attempt at making the

A good remaster. For fans of the old games, there is nothing too new content-wise, but it is an absolutely successful attempt at making the game feel modern.

The aspect ratio, updated models and lighting do a lot to make the game look and feel really nice. The quality of the speech audio is now crystal clear (as Skunkape got hold of the original, pre-compressed audio files). There are also a few new music tracks which fit the game perfectly.

If you're a fan of the original versions, this is a great way to replay them in their prettiest ever form (but don't expect a vastly different experience). Everything runs smoothly - they've definitely squashed some of the bugs from the old version of the Telltale engine.

If you haven't played the Telltale Sam & Max games, this is a good place to start. As the updates bring it inline with more modern offerings, hopefully this will introduce the franchise to a new generation of gamers.

This remaster does exactly what it set out to. Looking forward to to the next one!

…

Expand

Unfortunately the developers decided to censor jokes.
Yes, jokes.

Absurd political pandering.

ruined by censorship. Devs made this to pander to SJWs, not for Sam and Max fans.

This review contains spoilers

, click expand to view

.

Why play a censored version? For widescreen? Utterly pointless, inferior version.

…

Expand

what was a good game has been ruined by woke ideology, censorship and voice actors change. stay away from this embarassment.