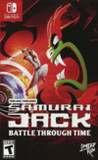 Summary:

Voiced by the original voice-actors, Samurai Jack: Battle Through Time is an action platform game that spans across time and space, where your actions will determine a new legend. An Untold Adventure That Ties Into the Epic Series Finale
Team up with trusted allies from the show to face offVoiced by the original voice-actors, Samurai Jack: Battle Through Time is an action platform game that spans across time and space, where your actions will determine a new legend. An Untold Adventure That Ties Into the Epic Series Finale
Team up with trusted allies from the show to face off against familiar enemies.

Explore Worlds from the Award Winning Series
Visit classic worlds and moments from your favorite episodes. Travel to a dark future to free mankind. Dive into the past to face off against diabolical monsters. Seek your fate as you travel across space and time.

Create Your Own Legend
Equip and master over a dozen different weapons in combat. Increase your power even more by training and unlocking new skills to support your playstyle.

…

Expand
Developer:

Soleil

Genre(s):

Action Adventure

,

General

# of players:

No Online Multiplayer

Cheats:

On GameFAQs

Rating:

T
Please enter your birth date to watch this video:
You are not allowed to view this material at this time.
Samurai Jack: Battle Through Time - Gameplay Reveal Trailer
Samurai Jack: Battle Through Time is an incredible action platformer with stunning animation and action that more than lives up to the reputation of the series.

Samurai Jack: Battle Through Time is a fun romp through some of the episode settings in the series. Although many old characters make appearances, there isn't a whole lot of interaction or story development in-game. This might Battle Through Time a bit harder to get into for players who weren't avid fans of the game. However, if you like old-style action RPG games, this will probably be right up your ally.

Samurai Jack: Battle Through Time is a competent, if linear and somewhat unbalanced, action adventure. You can tell that the game studio was made up of true fans who poured their love for the show into this game. But the scope and grandeur of the Samurai Jack IP are sadly limited by this game's low-budget restrictions. It's fun for what it is, but it left me hungry for more.

It takes a game that could've been a truly exhilarating action game, to one that just ends up feeling brainless. And while I'll be the first to say there's nothing wrong with a bit of brainless fun, it feels strange that a game based on a show that started for kids, and ended for adults wouldn't have a bit more depth.

Samurai Jack: Battle Through Time is a great-playing game that falls just a bit short of being a well-crafted overall experience. The filler-filled stages and wave-based enemy rooms bog down the experience and get in the way of the fun. It's a shame too as the core gameplay greatly exceeds the norm for licensed fare and delivers well-crafted swordplay, gunplay and melee combat all in one package. Beating up enemies is satisfying, but tackling waves of them in a weirdly laid-out labyrinth chips away at things. The graphical design is sharp and nicely matches the show, but is hurt by low-quality texture work from time to time. The sound design is top-shelf and not only fits the show, but makes you appreciate playing with a nice audio setup to better-discern enemy locations. Fans of the show will enjoy the game, while those just looking for a well-crafted action game may be disappointed.

It may feel like it's a few years too late, but Samurai Jack: Battle Through Time is a worthwhile experience that properly celebrates a beloved IP while being a darned good action game in its own right. A striking art style, well-executed combat mechanics, and a challenging level of difficulty make this one an easy recommendation, but with the caveat that it's a little light on original ideas and that performance can often dip to sub-par levels. It may not be perfect, but Samurai Jack: Battle Through Time acts as a great companion piece to the legendary cartoon; don't dismiss this as just another tie-in.

Samurai Jack: Battle Through Time is a weak adaptation of the series, but the action mechanics just aren't all there either; which drags down even further.
Eu amei o jogo, achei o combate desafiador e profundo, com muitas habilidades para se desbloquear. Obviamente é um jogo de menor escala, porém

Eu amei o jogo, achei o combate desafiador e profundo, com muitas habilidades para se desbloquear. Obviamente é um jogo de menor escala, porém muito divertido e gostoso de jogar. Amei os controles, a movimentação e os feedbacks sonoros e visuais dos golpes. Vale muito a pena!

…

Expand

Not the most complex game ever made, but i find it generally fun with quite a few good elements.
The story is nothing special, it is a bit ofNot the most complex game ever made, but i find it generally fun with quite a few good elements.
The story is nothing special, it is a bit of an expansion on the show's final season.
The graphics visibly try to mimic the look of the show, which can look bad at some points, but the gameplay is fast enough so that it is not very noticeable. The gameplay in itself is entertaining if you like character action games, although it doesn't have that level of complexity.

…

Expand

It's dumb fun playing this game. Story, mechanics and graphics aren't all that special but it is still fun if you're a samurai jack fan. I

It's dumb fun playing this game. Story, mechanics and graphics aren't all that special but it is still fun if you're a samurai jack fan. I think this game has a pretty steep launching price considering the quality of the game but if steam does a sale than I would definitely recommend playing. It's just dumb fun.

…

Expand

Samurai jack: Battle through time is an interesting, albeit flawed little gem that gives the fans of Samurai Jack something new to chew on

Samurai jack: Battle through time is an interesting, albeit flawed little gem that gives the fans of Samurai Jack something new to chew on since the end of Season 5 of the titular cartoon series. The graphics work surprisingly well with the shows original textured hand painted style, and the presentation overall will send any fan of the show back through time, to the days of Saturday morning cartoons. However the praise ends there, as the game itself is extremely simple for a spectacle fighter, somewhat stiff on the controls especially compared to other spectacle fighters like Beyoneta and Devil May cry. The level design, while pretty, can sometimes choke up the frame rate a bit, cutscenes contain plenty of noticeable texture pop-ins, and animations are very canned and repetitive. What little gameplay there is, is inoffensive and sometimes even satisfying at times, but the extremely short story mode and 40 dollar price tag may not make this game worth it to anyone who isn't a fan.

To anyone who is a fan, its not bad, and theres plenty of fan service and the game is easy to get into while being challenging enough to not be boring.

…

Expand

As much this game is deserved to be a best game is not probably. This is one off if not THE WORST Samurai Jack game ever made, probably it

As much this game is deserved to be a best game is not probably. This is one off if not THE WORST Samurai Jack game ever made, probably it looks awful and piece of super garbage game ever.

…

Expand