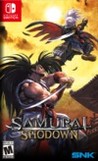 Summary:

SAMURAI SHODOWN has enjoyed worldwide success as a blade-wielding fighting game series since its first release in 1993. 11 years have passed since the last series installment, and it is now time for SAMURAI SHODOWN to return in a brand-new game featuring high-end visuals and gameplay!

SAMURAI SHODOWN has enjoyed worldwide success as a blade-wielding fighting game series since its first release in 1993. 11 years have passed since the last series installment, and it is now time for SAMURAI SHODOWN to return in a brand-new game featuring high-end visuals and gameplay! Faithfully reproducing the game mechanics and atmosphere that contributed to the success of the series, SAMURAI SHODOWN includes a revolutionary feature that learns from players game actions and patterns in order to create CPU-controlled "ghost" characters. With a story set one year before the very first installment, a diverse cast of returning and new characters cross paths in order to fulfill their destinies!

* SAMURAI SHODOWN is faithful to the series' roots by delivering the same tense and exhilarating battles that it has always been known for.

* Using the power of UNREAL® ENGINE 4 the series is able to achieve a level of detail and graphical quality like never before.

* Using revolutionary Deep Learning AI, the game will learn from player tactics and create Ghost characters which players around the globe can share and fight against.

…

Expand
Developer:

SNK Corporation, Safari Games

Genre(s):

Action

,

Fighting

,

2D

# of players:

Up to 10

Cheats:

On GameFAQs

Available On:

Stadia

Rating:

M
Please enter your birth date to watch this video:
You are not allowed to view this material at this time.
Samurai Shodown - Exclusive Darli Dagger Gameplay Reveal Trailer
A fantastic port that is a great addition to the Switch library.

Archaic story mode and load times aside, Samurai Shodown succeeds as a fundamentals driven 2D fighting game.

While Samurai Shodown has taken a very slight visual hit as part of its protracted journey to Switch, the most important thing is that the core 60FPS gameplay remains intact. The downgrade is most noticeable when playing in handheld mode, but it's still incredibly enjoyable and compelling, especially if you appreciate fighting games that exercise your mind as well as your fingers. The single-player portion of the game is perhaps a little too lacking by 2020 standards and some of the ideas don't work as well as they should (Dojo mode, we're looking at you) but with its appealing cast of fighters, decent multiplayer options and a host of new gameplay ideas to keep things feeling fresh, Samurai Shodown is nonetheless a confident and assured update of a classic fighting game series – and bodes well for SNK's future attempts to resurrect its enviable stable of titles for the modern era.

Samurai Shodown is very much true to its gaming lineage and works a lot better on the Switch than you would expect. So if you like quick paced fighting games with lots of vicious bladed weaponry and a surprising amount of tactics, then this is definitely worth a look.

An old school fighting game with a really compelling combat system. The Switch port is rather an artistic than technological feat, sporting loads of bugs and other shortcomings, though. [05/2020, p.80]

Despite the DLC gripes and the heavy downgrade in visuals for this Switch port, Samurai Shodown really stands out from the crowd, and it's great to see the revival of a popular series return in such a good way on the gameplay front. It takes weapons-based combat and creates a smart system out of it, putting players on edge, and provides moments of pure bliss when bare knuckle comebacks are made. The strong Japanese style only adds to the appeal. It really could have done with a more fleshed out story mode, though.

Despites a table multiplayer mode, the graphics of this Switch version nare neither convincing neither on TV nor on portable mode. If you have a PS4 or a Xbox, you know what to do.
Tiene muy buenas mecánicas pero la historia es muy floja y quizá se pudo ver algo mejor el juego

I'd never played a Samurai Shodown game before, and after this game i'm a big fan, of everything this game. The story is a little weak but the

I'd never played a Samurai Shodown game before, and after this game i'm a big fan, of everything this game. The story is a little weak but the final boss was actually very good. I love the Asian aesthetic of the game and the characters are just awesome and the gameplay very fluid. Very recommended

…

Expand

My french review below:
You can Follow me on Twitter : @NintendoLegacy1
Depuis quelques années déjà, SNK revient sur le devant de la scèneMy french review below:
You can Follow me on Twitter : @NintendoLegacy1

Depuis quelques années déjà, SNK revient sur le devant de la scène des jeux de Versus Fighting. Samurai Shodown est l'exemple parfait d'un reboot réussi. Sous la forme d'un prequel à la saga, le jeu garde tous les points forts de la série, quitte à paraître un peu trop classique et à ne prendre aucunes prises de risques. Les fans de la série sont déjà en terrain conquis, mais les joueurs plus occasionnelles qui découvriront le jeu sur Switch auront entre les mains l'un des meilleurs jeux de combat de la console hybride de Nintendo. Faussement simple au premier abord, le gameplay du jeu est très tactique et lorsque vous ferez votre premier combat en ligne vous comprendrez vite que le mode entraînement et les tutoriaux ne sont pas là par hasard…En solo, le mode histoire est survolé car il ne s'agit que d'un mode Arcade avec une très légère narration. C'est surtout en multijoueur que Samurai Shodown vous occupera des dizaines d'heures, et grâce également au suivi régulier du jeu, notamment par l'ajout de nouveaux combattants en DLC. Graphiquement, Samurai Shodown n'est sans doute pas le plus beau titre de la Switch mais le portage est solide et le jeu est fluide, c'est sans doute le plus important. Samurai Shodown se place sur le podium des meilleurs jeux de Versus Fighting sur Switch au côté de Street Fighter Anniversary Collection et Mortal Kombat 11.

…

Expand

Great job for snk & safari games! Solid port and gameplay like ps4 / xone versions. After the technical disaster of ''snk heroines''comes a

Great job for snk & safari games! Solid port and gameplay like ps4 / xone versions. After the technical disaster of ''snk heroines''comes a modern and wonderful beat em up, maybe the best, on nintendo switch. Design and moveset of charatcher is splendid..with only +10€ the deluxe edition have all dlc of season 1 with Basara (fantastic), Rimururu, Shzumaru, Wan fu (great) and Kazumi Kazama. The handheld mode is a little miracle!!! Not 9 or 10 because the framerate which is not stable at rock 60 fps (need a little patch) and loading times is too long . Now we want also king of fighter XIV on switch !

…

Expand