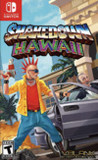 Summary:

Vblank's open world action heads to the tropics, in Shakedown: Hawaii. From the boardroom to the streets, Shakedown parodies big business and the white collar crimes that go alongside. Build your empire, monopolize the markets, and collaterally re-zone the island's destructible sandbox.
Please enter your birth date to watch this video:
You are not allowed to view this material at this time.
Shakedown: Hawaii - Nintendo Switch Trailer
Shakedown Hawaii one-ups Retro City Rampage in almost every way, and is most certainly a must-play on the Nintendo Switch.

Shakedown: Hawaii is one-part GTA and one-part capitalism simulator. Yet this combination provides an interesting power trip that also manages to act as a somewhat successful critique of the woes of contemporary business practices.

Not every part of Shakedown Hawaii gets the same amount of love, but as satire and classic GTA game, it is very convincing. The extreme high tempo and the big number of jokes make this game great from start to end.

Regardless of how "intense" it is (or isn't) Shakedown: Hawaii is still a fun, beautiful game, and I enjoyed my overall experience with it.

Nintendo Force Magazine

Feb 27, 2020

Overall, there's enough charm here in Shakedown: Hawaii to wring out a number of hours of enjoyment. [Issue #40 – July/August 2019, p. 28]

A worthy successor to the Retro City Rampage, this is a 16-bit pack full of action and explosions that destroy even the fourth wall and jump right into your heart. If you loved GTA and the 16-bit era, you will love this game.

VBlank Entertainment's second GTA parody isn't the close-to-perfect sequel we expected, but it's still a decent game. Despite all of its numerous shortcomings, there's still some fun to be had when you're not toiling through menus, but it's hard not be disappointed when you consider VBlank's previous work; hopefully, like Retro City Rampage, we'll see a better DX version in the future. As it stands, Shakedown: Hawaii is full of potential, but it's overshadowed by monotony.
A very worthy successor to Retro City Rampage. Nearly every feature from the previous title returns and has seen improvements. The graphical

A very worthy successor to Retro City Rampage. Nearly every feature from the previous title returns and has seen improvements. The graphical styling, as well as many new additions to the open world make for a much more compelling experience long-term, while maintaining the immediate enjoyable nature of the original.
The story (which follows three characters) is also much improved. Without going into detail, it's much more of a social commentary on capitalism and 'gaming culture' while still hitting the same beats in terms of humor. If you enjoyed Retro City Rampage, you can't go wrong with this.

…

Expand

One of the best indie games I've ever played. Retro City Rampage was my childhood game so of course I needed to try out Shakedown Hawaii! So

One of the best indie games I've ever played. Retro City Rampage was my childhood game so of course I needed to try out Shakedown Hawaii! So much vibes from Vice City and 90s Miami. I love the "economic sim" in this game, it's really addictive! Overall it's a great game!

…

Expand

A captivating, smart, and fun game with plenty of hours of entertainment value. Everyone that plays this game will enjoy the many pop culture

A captivating, smart, and fun game with plenty of hours of entertainment value. Everyone that plays this game will enjoy the many pop culture references weaved cleverly in the game. Vblank hit it out of the park with this one! I give this game my highest recommendation. This game won't disappoint you!

…

Expand

This review contains spoilers

, click expand to view

. Mir gefiel dieser Teil deutlich besser als der Vorgänger City Rampage. Ist zu lange her um zu sagen woran das liegt. Vielleicht hat das Spiel einfach einen falschen Tag bei mir erwischt. Jedenfalls stimmt hier einfach das Wesentliche. Es macht Spass und gute Laune. In letzter Zeit find ich Gewaltspiele nicht mehr so toll aber dieses Spiel macht das richtig. Es nimmt sich einfach nicht so ernst, dadurch zieht der Zynismus einen auch nicht runter sondern wirkt sogar witzig.

Was mir nicht so gut gefällt ist, dass man das Geld, das man von der Firma in die eigenen Taschen abzweigt, zu langsam erhöht werden kann. Und scheinbar kann man das nur für den Ceo machen. Alle Upgrades für jeden Charakter zu kaufen ist für mich so zu grindig. Die Karte hat so gut wie keine Symbole und somit ist es sehr umständlich etwas zu finden, wie zum Beispiel den Tierarzt. Etwas schade ist, dass man zu schnell zu viel Geld hat um alle Gebäude mit allen Upgrades zu kaufen. Und die Upgrades für die über 400 Gebäude zu kaufen dauert viiiel zu lange. Das letzte Gebäude zu kaufen war irgendwie leicht erniedrigend. Jedes Gebäude zu kaufen sollte ein Hurra auslösen und nicht so eine Szene vor dem Kauf.

Trotzdem macht es einfach richtig Laune die ganze Insel zu kaufen. Durch die gute Musik wird die Atmosphäre noch besser. Den Graphikstil find ich spitze und sehr charmant. Vieles lässt sich zerstören. Der Schwiefigkeitsgrad ist sehr angenehm nur ein paar Ladekabel waren etwas schwer zu finden. Eines ist IN einer Yacht drinne. Die ganz links unten. Hab das Spiel jetzt zu 100 prozent durch. Habe dafür fast 30 Stunden gebraucht. Geht aber natürlich deutlich schneller, gerade wenn man nur die Story durchspielen will. Ich finde das Spiel hat genau die richtige Länge. Die Dialoge und die Story an sich fand ich ganz witzig. Hab oft geschmunzelt.

…

Expand

I was actually surprised I like this game because I thought it was a bit overrated, it is not.I had a great time playing this game, Although I

I was actually surprised I like this game because I thought it was a bit overrated, it is not.I had a great time playing this game, Although I thought that the story was a bit lacking.

…

Expand

W grze wcielamy się w podstarzałego dyrektora firmy, która nie radzi sobie w nowych czasach. Jego interesy jak wypożyczalnia kaset video,

W grze wcielamy się w podstarzałego dyrektora firmy, która nie radzi sobie w nowych czasach. Jego interesy jak wypożyczalnia kaset video, sklepy stacjonarne czy sieć taksówkarska zostają wypierane przez nowoczesne modele biznesowe. Korporacje strumieniujące filmy, zakupy online czy przewozy pasażerskie zamawiane z aplikacji na telefonie zabijają klasyczne przedsiębiorstwa, więc dyrektor zaczyna kombinować i uczy się zarządzać w nowych czasach.

W grze Shakedown: Hawaii to jest właśnie główną osią fabularną. Zaczynamy robić przekręty, napadać na konkurencje, wykupywać dzielnice i budować swoje imperium. Podczas tego wszystkiego w wielu mini scenkach i ponad stu kilkuminutowych misjach zobaczymy jak działa obecny marketing. Jak wpaja się konsumentom coś czego nie potrzebują, ogranicza datę przydatności aby sprzedawać więcej i przebrandowuje produkty gdy nie radzą sobie na rynku. Takie działania: zmiana opakowania, znalezienie rynku zbytu w innej grupie docelowej są po prostu ciekawe i podane w humorystyczny sposób, więc chciałem zobaczyć co będzie dalej. Twórcy naśmiewają się z konsumpcjonizmu i parodiują duże korporacje.

Rozgrywka to standard w tego typu grach: napady, zabijanie, niszczenie konkurencji, gdzieś pojechać, coś wykonać, wrócić… po prostu otoczka fabularna fajnie to scala. Powiększanie imperium to na początku zastraszanie małych biznesów i oferowanie "ochrony" za haracz. Jeśli właściciel się nie zgodzi to trzeba mu pokazać przeciw czemu będzie płacił i demolujemy wtedy lokal. Innymi sposobami wywierania nacisku argumentem siły są też: zastraszanie klientów, napadanie dostawców… jest tego bardzo dużo, na różne sposoby i z humorem. W zakładzie fryzjerskim demolka nie zrobiła wrażenia na pani stylistce fryzur, ale już opitolenie jej bujnej czupryny nożyczkami i "zmiana stylówy na siłę" szybko sprawiła, że zmieniła zdanie. Właśnie takie momenty są fajne w Shakedown: Hawaii.
Jeśli już zastraszymy odpowiednią ilość lokali w okolicy to dzielnica traci na wartości. Wtedy za mniejsze pieniądze można wykupić je na własność, a tym samym zaczynamy więcej zarabiać za usługi, które ów przybytki oferują. Z biegiem czasu wraz z postępującą linią fabularną okazuje się, że należy sprzedawać karty lojalnościowe, rozdawać kupony zniżkowe, czy wynająć/wykupić telemarketerów, którzy będą oferować klientom i wciskać więcej produktów. Te zagrywki są mnożnikiem przychodów, więc należy w trybie zarządzania dokupować je z osobna dla każdego budynku.

W grze poza głównym bohaterem (dyrektorem), jest też dwóch innych. Jego przygłupi, nie pracujący, grający w gry video syn Scooter oraz facet od brudnej roboty, mieszający się w wojny gangów. Scenki przerywnikowe ukazują często jak dyrektor dzwoni do jednego z nich i zleca zadanie, po czym gra przenosi nas w inne miejsce, do odpowiedniej misji.
Rozwój gry i dochody są dobrze zbalansowane. Na początku brakuje nam kasy, budynki są drogie i trzeba czekać aż skończy się dzień. Gdy już dostaniemy wypłatę na konto z obrotów… można zacząć kupować nowe lokale. Tryb fabularny starczy na około 7-10 godzin.
Poza wypełnianiem misji można oczywiście atakować przechodniów, uciekać przed policją lub szukać zasilaczy do telefonu rozsianych na całej mapie i w budynkach. To ostatnie jest dla zbieraczy i eksploracji mapy. W różnych miejscach znajdują się też ikonki czaszki, które są różnego rodzaju wyzwaniami z bronią na czas.
W Shakedown: Hawaii grałem w 98% przenośnie. Dużo czasu spędziłem na krótkich sesjach 15-30 minutowych. Chyba dosłownie kilka razy siedziałem przy tytule dłużej i może raz przy telewizorze. Po sprawdzeniu gry przenośnie przypasowało mi to idealnie. Głównie dzięki krótkim zadaniom i temu, że gra uruchamia się bardzo szybko.
Shakedown: Hawaii prezentuje się bardzo dobrze w 16-bitowej stylistyce. Mapa po której się poruszamy jest obszerna i zróżnicowana. Wszystko jest przemyślane i działa płynnie. Nie uświadczyłem tu nigdy żadnych spadków animacji, nawet robiąc dużą rozpierduchę na ulicy.
Jeśli chodzi o udźwiękowienie to prezentuje się ono dobrze. Muzyka jest fajna, można ją zmieniać podczas jazdy samochodami, a wydobywające się pociski z różnych broni brzmią inaczej, tak samo zresztą jak silniki pojazdów. Nie ma do czego się przyczepić, nie ma też za bardzo co chwalić. Dopełnia obraz i gameplay tworząc dobrą grę w całości.
Shakedown: Hawaii to dobra gra w stylu klasycznych GTA. Oprawa audio-video jest fajna, a głównym czynnikiem wpływającym na odbiór gry jest pomysł na fabułę pełną humoru i groteski. Tytuł polecam, bo w swojej kategorii gier przenośnych sprawdza się idealnie.
----------
Grywalność 8/10
Grafika 9/10
Dźwięk 8/10
----------
Ogółem 8.3/10
pełna recenzja na goomba.pl

…

Expand

Honestly, this one is a bit of a dud for me and I'm surprised. It seems like a pretty big game, but it all feels shallow to an extreme

Honestly, this one is a bit of a dud for me and I'm surprised. It seems like a pretty big game, but it all feels shallow to an extreme extent. Essentially you have a mediocre twin stick shooter piled onto a GTA clone. There are lots of new features from RCR, such as the entire economic side. Sadly, a few hours in, you'll have literal hundreds of millions of dollars and money won't matter anymore, yet your billionaire will continue to murder hapless rubes to get another 150 dollars out of a convenience store.

Where the game is really let down is in the writing, which is extremely hack. The main character is the out of touch old guy who kills people. His playable son is the poser teenager who acts like a jerk at all times. Neither is interesting. Nor are the low hanging fruit jokes about video rentals, streaming, food labels or any other joke that has been done by a standup in the last 20 years with more success.

For a game with so many cut scenes, you would think they'd be worth while, but they are not.

This isn't to say there isn't fun to be had. Its still a GTA clone and that is amusing. But I expected a lot more. And I got a lot more, its just that the more isn't terribly good.

…

Expand