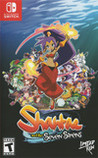 Summary:

New locations, abilities, and friends await in Shantae's biggest adventure yet!

Shantae and the Seven Sirens sends the belly-dancing, hair-whipping, half-genie hero to a tropical island where Shantae and her friends encounter other Half-Genie allies, but they soon learn there's trouble inNew locations, abilities, and friends await in Shantae's biggest adventure yet!

Shantae and the Seven Sirens sends the belly-dancing, hair-whipping, half-genie hero to a tropical island where Shantae and her friends encounter other Half-Genie allies, but they soon learn there's trouble in paradise. As Shantae gets caught up in the island's sinister secrets, she'll use all-new dance abilities and instant-transformation Fusion Magic to explore the nonlinear, interconnected world where she'll visit multiple towns, overcome treacherous labyrinths, and battle dastardly bosses. The game also features a new collectible card system that grants players the freedom to augment Shantae's powers to suit their own style of play.

Key Features:

* Explore an interconnected world using new Fusion Magic creature transformations, including a newt and other aquatic forms!
* 4K-resolution hand-painted visuals (on 4K devices only)!
* All-new characters and returning favorites like Rottytops, Sky, Bolo, and the nefarious Risky Boots!
* Collect and power up with monster cards!
* Enjoy minigames, acquire magic and items, and uncover secrets!
* Gorgeously animated TV-style cutscenes!

…

Expand
Developer:

WayForward

Genre(s):

Action

,

Platformer

,

2D

# of players:

No Online Multiplayer

Cheats:

On GameFAQs

Rating:

T
Shantae and the Seven Sirens represents the very best this charming series of 2D platformers has to offer, offering fun exploration and cool abilities in spades.

Shantae and the Seven Sirens experiments with the metroidvania genre within the series. Some traditional elements of the franchise have been streamlined to reach a new audience, but the experience is still entertaining and one of the best installments in the Shantae series.

Shantae and the Seven Sirens is a cute game with funny dialogue and clever puzzles that are interspersed with great mini-games that draw you into the story world at every turn.

Shantae and the Seven Sirens is a good game for those who want some fun time in a Metroidvania game. The game style returns to the series origins while bringing several quality of life improvements that make the gameplay smoothier. Besides being too easy and having loading screens that show up too often, the game experience is still really enjoyable, and everyone who likes either Shantae's games or Metroidvania games should definitely spend a few hors with Shantae in this tropical paradise.

All in all, Shantae and the Seven Sirens is a well-made and enjoyable addition to the franchise. The gameplay is stronger than ever, and it retains pretty much everything the series was known for, both good and bad. The only thing that makes it difficult to recommend is the low difficulty level, but if you don't mind an easy time, then it will do the job nicely. Wayforward has shown increasing confidence and capabilities with each passing Shantae game, and Seven Sirens gives me a lot of hope for its next one.

Shantae has been weaving her magic for nearly 20 years and still feels distinctive amidst the sea of other platformers. Her latest romp might not feel quite as fresh as Half-Genie Hero, but it's still a worthwhile, highly entertaining adventure.

None of this is to say Shantae and the Seven Sirens is a bad game. In fact, it's a decent game for the younger audience, newcomers, and anyone that isn't expecting Shantae to evolve. Strictly from the perspective of someone that has played many games in the series and is eager for something different, though, this disappoints on many fronts. Uninspiring and rarely ever surprising, with little to make the player feel like they've earned anything, what is left is a generic Shantae game that is like any other before it, crying out for change and originality.
Shantae and the Seven Sirens is a blast, maybe a bit easy, but a very fun time nonetheless.

This game is really cool just like the 3ds era buy I can play it in big screen now it's really fun

Great humor as always, the gameplay is kind of a nice mix between the pirates curse and HGH style.

The characters and even the enemies are cute. I feel like the "waifu" style of the characters distract from how good the gameplay really is.

The characters and even the enemies are cute. I feel like the "waifu" style of the characters distract from how good the gameplay really is. There's some extra collectibles and backtracking, but there's not too much and you don't ever feel like it's a daunting task. The music is good, and where there is spoken dialog it's good, i just wish there was more spoken dialog.

Graphics: 8.5
Gameplay: 10
Audio: 8
Story: 7

…

Expand

For the first time in the series, we don't actually start in Scuttle Town, but instead, Shantae and her friends have been whisked away to a

For the first time in the series, we don't actually start in Scuttle Town, but instead, Shantae and her friends have been whisked away to a vacation on Paradise Island for a Half-Genie Festival. Yeah, turns out Shantae isn't the only half magic lady in the world, and I have now discovered a whole new set of waifus.

Of course, as soon as you land things go completely **** up (and not in the good kind) and all of the other Half Genies vanish, leaving Shantae all alone. Which leads to her exploring the island and solving it's mysteries.

Gameplay wise, the movement and controls is what we can expect from the Shantae series, with it pretty much unchanged from HGH. But this is where I voice my concerns. Four years ago, when I covered her latest title in "The Shantae Retrospective" I voiced my concern about how Shantae's gameplay is slowly becoming stale.

But to be fair, it isn't like Seven Sirens is a complete clone of Half-Genie Hero, if anything it's more of an amalgamation of the entire series. We have separate towns to explore, a feature that hasn't been seen since the original on GBC and we see the return of aspects like the Squidsmith from Pirates Curse.

One of the biggest new additions is the introduction of animated cut scenes, handled by the studio behind Kill La Kill, TRIGGER. These are seen throughout the game to introduce boss battles and of course, the opening cinematic featuring music from Christina Vee, whose grunts, groans and screams voicing Shantae are just adorable.

One of the bigger changes is, while you still have dancing, they aren't for transforming like in the previous titles. Instead, once you rescue each of the other half-genies they will fuse their magic with you, allowing you new abilities like revealing hidden platforms or bringing back life.

The animal transformations, however, are now used as passive moves like a dodge/dash move or a drill when you are up against the soft ground, but the new moves seemingly only have a few moments that are required. The reveal spell can actually show hidden gem containers, but really offer no hint where they are, so unless you are going to do it on every screen, it's not something I'd go back for.

One of the biggest flaws of the Shantae series as a whole is how easy it is to break the difficulty in half. With the hair and pike ball upgrades in the past, bosses became an absolute cakewalk. Here it is so easy to grind gems and food, there wasn't a time where I finished a dungeER, I MEAN "Labyrinth" without max gems, from there you just get the Hair Cream and Shampoo upgrades and you become a whipping machine. I did honestly feel after beating a few of the bosses thinking "was it supposed to be that easy".

Unlike previous games that had you traversing all across the world, Seven Sirens adopts a much more Metroidvania style to its predecessors, unfortunately, the map layout leaves much to be desired, with other titles in the genre at least detailing certain landmarks, or giving people the ability to put markers where they want, in comparison Seven Sirens map is fairly bare-bones.

There are also periods where you have no idea what to do or where to go next, you could be travelling all across a dungeon trying to find that one switch you missed. For example, throughout the game, you come across these broken windmills that need to be FIXED, you need PARTS to fix them. So when you receive literal "nuts and bolts" you rush to the nearest windmill to fix em, right? WRONG! You need to go to a very specific windmill that isn't made clear and fix THAT one and ONLY that one.

This is not me knocking the game, I had a lot of fun playing through Shantae's latest journey. But I knew I was going to enjoy this, because I did 4 years before. Again, this is what terrifies me, Shantae is coming back again and again with the same basic concept, and I know this girl, I know this STUDIO has so much more potential.

Imagine teaming up with Skye, Bolo, Rotty and hell, even Risky in a squad-based RPG like Paper Mario.

Shantae has always had stellar music, maybe even a rhythm game like Cadence of Hyrule.

Orrrr, maybe it's time to finally take that leap into 3D.

Shantae and the Seven Sirens is still an adorable, enjoyable adventure and anyone who was a fan of her previous titles will surely enjoy this.

…

Expand

It looks and plays like a fun platformer. I just wanted to get that out of the way: I enjoyed it, despite the high price for what it is. It's

It looks and plays like a fun platformer. I just wanted to get that out of the way: I enjoyed it, despite the high price for what it is. It's very accessible (although honestly the awkward and padded fetch quests were occasionally poorly signposted, but talking to characters in town usually meant they'd direct you.)

It's just very odd and mediocre. Its bloated array of obsolete upgrades is overdesigned and underutilised, and they fail to disguise the fact that almost all of them are just ways to cross barriers. The map has a surface bit, and some underground bits that are colour coded, that's all of its identity.

I'm sure it won't disappoint younger players or anyone looking just for a more simple platformer, but it's not even the best Shantae game by a long way - and in terms of being a "metroidvania" it is right at the bottom of the barrel.

…

Expand

This game is not good. the challenge is almost nonexsistant because you become a walking death machine with the amount of money and gems you

This game is not good. the challenge is almost nonexsistant because you become a walking death machine with the amount of money and gems you get, the gameplay drags with a very vertical map. there are barely any unique extra collectibles making finding them a chore, the game over relias on the seer dance to find collectibles, making this a very Stop-Go, way of movement. the armor and mancave segments is nothing more than just eye-candy filler that impacts nothing to the story or gameplay, the sirens are such forgettable characters. this is just the worst Shantae game, and I hope Wayforward learns from this. but since this is a pretty unpopular opinion, I'll be pretty skeptical for the next shantae game. sure, this game works, shantae controls fine, but just because a game works doesn't mean it's good. just play Pirates Curse or Half Genie Hero instead.

…

Expand