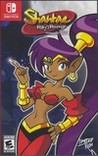 Summary:

The sequel to the critically acclaimed Shantae is here! Fans asked, and WayForward has answered with a powder keg of high-octane, hair-whipping, hip-shaking action available only on the Nintendo DSiWare service. Shantae: Risky's Revenge sets the bar even higher with thousands of frames of

The sequel to the critically acclaimed Shantae is here! Fans asked, and WayForward has answered with a powder keg of high-octane, hair-whipping, hip-shaking action available only on the Nintendo DSiWare service. Shantae: Risky's Revenge sets the bar even higher with thousands of frames of animation, huge multi-sprite bosses and a quest so big it's bursting at the seams. Guide "half-genie" Shantae through haunted wastelands, burning deserts, enchanted forests, dripping caverns and deadly labyrinths. Discover magical attacks, brew zombie coffee, save golden babies and master the art of belly dancing to transform Shantae into more powerful creatures. Use your powers to foil the lady pirate Risky Boots and save Sequin Land from certain doom. With its infectious characters, flirtatious humor and deliciously outlandish action, Shantae: Risky's Revenge offers up all the hair-whipping, belly-dancing action you can handle.

…

Expand
Developer:

WayForward

Genre(s):

Action

,

Platformer

,

2D

# of players:

No Online Multiplayer

Cheats:

On GameFAQs

Rating:

E10+
Shantae Risky's Revenge is a fun, challenging adventure. Filled with difficult boss battles, tons of tricky puzzles, and all kinds of magic spells to learn. While it may be a little outdated, Risky's Revenge will always be fun to play.

Shantae: Risky's Revenge - Director's Cut is a great metroidvania-style platformer that stands out for its great art design, fun characters, quirky sense of humor and for being entertaining from start to finish. It's a highly recommended title.

Risky's Revenge is very much the Australopithecus of the Shantae series—something of a transitional form between the GBC game and Pirate's Curse. It's fun to play if you're a fan of the series, but I'll say that the next three games easily eclipse it.

Shantae: Risky's Ravenge - Director's Cut is a testament to Shantae's quality and longevity as a series. This enhanced port of the sequel to the original game features several improvements over the original that fans are certain to appreciate, as well as elements that will be welcomed by fans of Metroidvania games. Recommended for both audiences as fun and wholesome proposal, now on the Nintendo Switch.

Shantae: Risky's Revenge – Director's Cut still holds up reasonably well, offering up a mid-length Metroidvania experience with plenty of charming dialogue, secrets to uncover, and enemies to furiously whip with long purple hair. That being said, it's also beginning to show its age, with a weird map system and more simplistic gameplay keeping it somewhat held back in the past. It's still an easy recommendation if you're a fan of Shantae or are looking for a cheap entry into the franchise, but we'd also recommend that you first look into one of the other entries on Switch to see which is most right for you.

Part culmination of old-school classics, part a simplistic form of them all, Shantae: Risky's Revenge is not exactly the best title in WayForward's, otherwise charming, line of platformers. If a fan of Shantae do check it out, but you won't miss much by skipping it, and simply trying any other instalment - 2002 original included.
Shantae: Risky's Revenge is a perfect sequel, trimming a lot of the fat from the original to make a more enjoyable, fast-paced, streamlined

Shantae: Risky's Revenge is a perfect sequel, trimming a lot of the fat from the original to make a more enjoyable, fast-paced, streamlined adventure. Soundtrack is incredible, and labyrinth/overworld design is brilliant. The level of detail in the sprite art and animations is astounding, and environments really pop. Shantae controls like a dream. Platforming is tight and responsive, making exploration a real treat. The only real drawback of the game is the uninspired UI elements that lack the personality of the first game, but every other bit of the game is teeming with it. One of the best Metroidvanias I have played in a while, one of the few where as soon as I was finished, I hopped right back in ready for more.

…

Expand