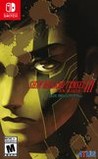 Summary:

Reawaken your inner demon in a modernized version of the acclaimed ATLUS classic, Shin Megami Tensei III Nocturne HD Remaster. What begins as a normal day in Tokyo turns out to be everything but, when the Conception – an ethereal apocalypse – is invoked. The remains of the world are

Reawaken your inner demon in a modernized version of the acclaimed ATLUS classic, Shin Megami Tensei III Nocturne HD Remaster. What begins as a normal day in Tokyo turns out to be everything but, when the Conception – an ethereal apocalypse – is invoked. The remains of the world are swallowed by chaos, as a demonic revolution descends into a broken city. Caught between a battle of Gods and demons, the choices you make can bring life, rebirth, or death, and determine who triumphs. This genre-defining, infamously punishing RPG is back and now includes:
Remastered 3D models and backgrounds
Additional difficulty settings for players of all skill levels
Suspend save -- save your progress whenever you need!
Voiced audio -- choose between Japanese and English VO


…

Expand
Developer:

Atlus

Genre(s):

Role-Playing

,

Japanese-Style

# of players:

No Online Multiplayer

Cheats:

On GameFAQs

Rating:

M
Please enter your birth date to watch this video:
You are not allowed to view this material at this time.
Shin Megami Tensei III Nocturne HD Remaster – The World's Rebirth Trailer
Shin Megami Tensei III: Nocturne was one of the first games I ever reviewed as a game critic, back on the PlayStation 2. I was mesmerised by it then, because I found it to be a deeply challenging, but also deeply rewarding JRPG, and its dark, genuinely adult theme wasn't so common for JRPGs back then. 18-odd years later, my interest in games has shifted slightly, and I'd like to think my capabilities and depth as a critic has matured. However, this game continues to compel me. It is thought-provoking, deeply creative, and a genuinely serious JRPG. Oddly enough, one of the qualities that drew me to the original has drawn me back to the remaster: we still don't get so many of those.

Shin Megami Tensei III Nocturne HD Remaster is a perfect way to live the tale of the Demifiend for the first time, with improved graphics, a dark story with an excellent translation and the chance to play anywhere you like while you meet Raidou or Dante.

Shin Megami Tensei III: Nocturne HD Remaster is the welcome return of a PS2 classic. With the addition of voiced dialogue, characters feel better portrayed than in the original. While the high encounter rate and few save points feel inconvenient in 2020, the highly strategic turn-based battles are still as tense as ever.

Shin Megami Tensei III Nocturne HD Remaster is a re-release that really does the bare minimum to justify the arrival of such an important title on high-resolution screens. Atlus has decided not to invest further time to improve and modernize the experience, forcing us to recommend the game only to those who do not own it in its original incarnation.

When you set aside the little performance issues and the lack of some quality-of-life additions, Shin Megami Tensei III Nocturne HD Remaster is still an excellent dungeon crawler with tons of demons to experiment with and several different endings for hardcore players to find. The game feels like it's dragging on sometimes by so heavily emphasizing gameplay over story, but when the gameplay is this solid and with the world renewed in HD, it's not much of a complaint.

Shin Megami Tensei is back on modern hardware and modern players will have their fair share of problems with it. I'd recommend this only to very patient, challenge-hungry JRPG veterans.

Completionist fans of the series might enjoy playing Shin Megami Tensei III Nocturne HD Remaster, but it's an often frustrating and tedious experience due to clunky and repetitive gameplay.
Um dos melhores rpgs já feitos, seria melhor um remake e não remaster pois ficou com cara de datado, por ter um apego ao jogo essa é a minha nota!

The following paragraph is a post I made for Reddit, so it isn't necessarily a review, but more so a list of things that might be a deciding

The following paragraph is a post I made for Reddit, so it isn't necessarily a review, but more so a list of things that might be a deciding factor for whether you buy this HD Remaster. in summary it covers topics such as SMT 3 HD vs the original PS2 release, the Dante as paid DLC controversy being not that big of a deal, the uncompressed OST mod for the Switch and PS4 versions, and the Base $50 version vs the Deluxe $70 version . Without further ado, here is the post I made on Reddit:

Since SMT 3 HD is a lot more expensive than the ps2 version, getting SMT 3 HD over SMT 3 PS2 really comes down to how much worth you value voice acting (that can be set to English, Japanese, or turned off), a suspend save feature, merciful (easy-mode) difficulty, and the optional manual skill inheritance. If you don't know what manual skill inheritance means, it is a quality of life feature exclusive to this HD Remaster that allows you to manually choose which skills a demon that resulted from fusion gets from the demons used as fusion materials. In the PS2 release of SMT 3 the skills were determined randomly with no input from the player. Another thing that may influence your decision to buy the HD Remaster is that they updated the localization for SMT 3 HD to be more accurate and readable in certain places; however, in very specific dialogue lines it adds questionable modern slang. Though, I need to stress that this questionable modern slang is very few and far between, and it may not be that big of a deal to you. Also, something worth noting is the PC and Switch versions of SMT 3 HD have a uncompressed soundtrack mod that is currently in development. You can find this uncompressed soundtrack mod here: https://gamebanana.com/wips/56149 (If the link doesn't work just go to https://gamebanana.com/games/10084 and search for the mod titled "HD Audio for HD Ears").

Graphically speaking, not much has changed beside a few textures being more HD'er and lighting changes. One interesting thing that doesn't get enough attention is that if you were to play on PCSX2 with a 16:9 patch, the UI elements get stretched (so things like circles become ovals), whereas with SMT 3 HD they redid the UI for the 16:9 aspect ratio.

If you decide to buy SMT 3 HD, don't buy the $70 deluxe version. The deluxe version is a complete rip-off. It adds 2 grind dungeons that are completely pointless since SMT 3 isn't even that much of a grindy game, and even if you do want to grind, you can just download the free easy-mode DLC and change to that since difficulty can be changed at any point. The deluxe version also adds 2 tracks from SMT 1, SMT 2, SMT 4, and SMT 4 Apocalypse, respectively. This is seriously not worth it if your playing SMT 3 for the first time. On top of that, it is only 2 tracks at a time. The only semi-worth it paid DLC that comes with the deluxe edition is the Dante from the Devil May Cry series DLC, but that doesn't even matter that much because he is replaced by Raidou from Devil Summoner (the protagonist from another game from the MegaTen franchise). Raidou and Dante move-set wise are identical; the only difference that they have is the cutscenes, which doesn't even matter since you can just look up online. It's also worth noting that you can't use both Raidou and Dante on the same save file, without making a NEW GAME. Also, you can just buy the Dante DLC separately if you really want him.

One more thing, I need to talk about in regards to SMT 3 HD is the fact that the PC version, and only the PC version, allows you to play the original 2003 (previously Japan-exclusive) version of SMT 3 HD. You can view the changes made here. Note that the Maniax version was the version that was released outside of Japan, so basically everything added by the Maniax re-release, the vanilla version doesn't have. Maniax Chronicle was a late 2008 re-release that has all the inclusions of Maniax, but replaced Dante with Raidou. If you are playing on PC and you want all the inclusions that the Maniax Chronicles version has, (which is basically everything Maniax added, but with Raidou instead of Dante) you have to download the free Chronicles DLC, and choose NEW GAME: CHRONICLE when starting the game for the first time. If you don't do this you lose out on all of the Maniax additions and Raidou. Alternatively, you can buy the $10 Dante DLC, which adds the same Maniax additions, but with Dante instead of Raidou. Note that you don't have to do this if you buy the PS4 or Switch version. The Switch and PS4 version automatically has the free Chronicles DLC, and all you have to do is choose NEW GAME.

Overall, I think SMT 3 HD is the better version, but it really isn't super worth it if you already played the PS2 version. Again, it comes down to how much you value voice acting and manual skill inheritance relative to the price you are paying for the HD Remaster.

…

Expand

Well, Nocturne is one of the best RPGs of all time, and deserves a 10, but because the remaster changed Pyro Jack's name to "jack-o-lantern" I

Well, Nocturne is one of the best RPGs of all time, and deserves a 10, but because the remaster changed Pyro Jack's name to "jack-o-lantern" I am giving it a 9. Other than that, the remaster is going to be as good of a experience as the original.

…

Expand

Never played the PS2 version so I won't talk about it as a port rather it's own game.

The game is one of the best ever made, it hasNever played the PS2 version so I won't talk about it as a port rather it's own game.

The game is one of the best ever made, it has excellent combat and themes throughout the narrative. Really fun dungeon crawling and amazing bosses and demon designs,

However the framerate for switch isn't the best so be aware when you buy it :)

…

Expand

Un jeu compliqué à apprécier en raison de la complexité totalement absurde et démoralisante des donjons , même avec la soluce c'est un

Un jeu compliqué à apprécier en raison de la complexité totalement absurde et démoralisante des donjons , même avec la soluce c'est un calvaire ...

…

Expand

70 dollars for the version with dante... I know it's a cult classic but this is a ps2 game. I know they added voice acting, easy mode,

70 dollars for the version with dante... I know it's a cult classic but this is a ps2 game. I know they added voice acting, easy mode, improved lighting and textures and widescreen support but come on.... 70 dollars for a ps2 game?! Day 1 dlc is pretty bad in general but this is one of the worst examples I've ever seen.

…

Expand