Publisher:

Atlus

Release Date:

Nov 12, 2021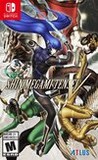 Summary:

The ambitions of god and human clash amidst the horror of a dying world. Neither human nor demon, the newly-forged Nahobino and his friends must decide what is worth saving... and prepare to sacrifice everything in its name. In a world without its Creator, which path will you choose?
Developer:

Atlus

Genre(s):

Role-Playing

,

General

# of players:

No Online Multiplayer

Cheats:

On GameFAQs

Rating:

M
Please enter your birth date to watch this video:
You are not allowed to view this material at this time.
Shin Megami Tensei V — Bethel Trailer
Shin Megami Tensei V wants you to become a God, and throws everything it's got at you to test your mettle. At times rebellious and stubborn, Atlus' artisanal approach to RPG craft makes up for any shortcomings. Those possessed of a dedication to weather its sand-blasted, ruined world will uncover a treasure that'll lodge in their minds like a revelation. This is hardcore role-playing at its most efficient, dressed up in a bleak, nihilistic story and given life by a compendium of demons that make Pokemon look amateurish. God only knows how a follow-up could top this.

With its breathtaking battles, and the disorienting architecture of its Beyond, it enters the Olympus of the best titles for the Nintendo Switch.

SMTV brought everything I expected from a new chapter in the series of one of the first RPG games made, always renewing and innovating. We have an adventure that will make you stay for more than 40 hours hoping it doesn't end. It's really a great must-have for SMT fans and highly recommended for any RPG fan.

The story can feel a bit too grandiose for it's own good, but the great combat, wonderful graphics and absolutely amazing monster collecting elements of the game are more than enough to solidify it as one of the best JRPG games on the Switch to date.

LEVEL (Czech Republic)

Feb 18, 2022

Comparing with an adored Persona cannot be avoided, but it is still a quite different experience for a different audience. Great fights, growing demons, excelent graphics and atmosphere. This JRPG succeeded.

If you have enough patience to survive this apocalypse, you'll find a deep story and very challenging gameplay based heavily on strategy. Fans of the series won't find much innovation, but they also won't be disappointed.

Shin Megami Tensei 5's combat is great, punishing and rewarding in equal measure without ever tipping the scales too far in one direction. Mixing and matching your deck of demons makes for great fun as well, and spurs you to look to all corners of the ruined world for allies of all shapes and sizes. It's everything outside of the battling and grungy soundtrack where Shin Megami Tensei 5 badly misses the mark, with one-note characters that you're never given the chance to better know, and a paper-thin plot that feels dragged out over dozens of hours. Shin Megami Tensei 5 is a good RPG battler, but it's not good at much else.

Just buy the game. Its a fantastic and very challenging JRPG. One of best games on Nintendo Switch.
Gameplay: 10/10 Graphic: 10/10
Just buy the game. Its a fantastic and very challenging JRPG. One of best games on Nintendo Switch.

Gameplay: 10/10
Graphic: 10/10
Music: 10/10
Story: 9/10
Characters: 8/10
Optimization: GOOD
Difficulty: HARD

…

Expand

Amazing gameplay and soundtrack just like other Atlus titles. Exploration is super fun which is the nice direction of SMT series. New demon

Amazing gameplay and soundtrack just like other Atlus titles. Exploration is super fun which is the nice direction of SMT series. New demon designs are great .But I hope there will be more dungeon like tradition SMT game. Easily one of my favourite JRPG.

…

Expand

RPG tradicional como pocos hay con un gran nivel de dificultad, ver a los demonios en un mundo semi abierto es increíble

This game had a User Score of 9.0 when there was 200 reviews and suddenly more than 80 zero out 10 reviews came in and the game wen down to

This game had a User Score of 9.0 when there was 200 reviews and suddenly more than 80 zero out 10 reviews came in and the game wen down to 7.1. Some people are really angry this game is on the switch and getting praise, this is yet another metabombing which is just sad. Dont trust the user score, this game is outstanding and one of the best rpgs of the generation. 9.5/10.

…

Expand

Genuinely a fantastically crafted video game. Anyone trying to boil this game down into one or two specific things they dislike is overlooking

Genuinely a fantastically crafted video game. Anyone trying to boil this game down into one or two specific things they dislike is overlooking so much more that the game has to offer.
If you're here for a story like Persona 5 with characters you grow strongly attached to throughout dozens of hours, that's just not what this is. While SMT never really skimped on character development in the past, it's clear they had a larger focus on the gameplay and taking this game in a new direction for the franchise. Gameplay wise, it blows every previous game out of the water in terms of playability and enjoyment. Combat is more refined than ever, and exploration is a blast.
Naturally there are issues. The framerate and visuals aren't perfect, and I've had a couple issues with the camera. And even though I dismissed the complaints about the story, I can still understand the feeling of missing a strong, compelling story to drive you forward. Based on what I was looking for when I picked up this game, it's a 9/10 and probably my favorite game this year.

…

Expand

Great creature collector and jrpg mix with lots of content. Loading times are fast, graphics are okay and music is awesome.

People need to learn not be a fanboy, value their money and time and get a little smarter so that game developers improve themselves and make

People need to learn not be a fanboy, value their money and time and get a little smarter so that game developers improve themselves and make their games better in terms of everything!

…

Expand