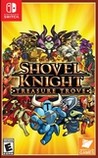 Summary:

Shovel Knight: Treasure Trove is the full and complete edition of Shovel Knight, a sweeping classic action adventure game series with awesome gameplay, memorable characters, and an 8-bit retro aesthetic! Become Shovel Knight, wielder of the Shovel Blade, as he runs, jumps, and battles in a

Shovel Knight: Treasure Trove is the full and complete edition of Shovel Knight, a sweeping classic action adventure game series with awesome gameplay, memorable characters, and an 8-bit retro aesthetic! Become Shovel Knight, wielder of the Shovel Blade, as he runs, jumps, and battles in a quest for his lost beloved. Take down the nefarious knights of the Order of No Quarter and their menacing leader, The Enchantress.

But that's not everything! Shovel Knight: Treasure Trove also features three additional campaigns that are games all unto themselves! Take control of Plague Knight, Specter Knight, and King Knight on adventures of their own! Together, they form a grand and sweeping saga!

With a fully cooperative campaign, a full-featured challenge mode, a 4 player battle mode, and body swap mode, you'll be digging for a long time. With Shovel Knight: Treasure Trove, you get it all. Uphold the virtues of Shovelry, earn relics and riches, and discover the true meaning of shovel justice!

…

Expand
Developer:

Yacht Club Games

Genre(s):

Action

,

Platformer

,

2D

# of players:

No Online Multiplayer

Cheats:

On GameFAQs

Rating:

E
Please enter your birth date to watch this video:
You are not allowed to view this material at this time.
Shovel Knight: Specter of Torment - Nintendo Switch
Treasure Trove is packed to the brim with content and the different ways you can play through these games is wonderfully broad. Whether its co-op or solo, handheld or docked – it's up to you. I don't care. Just go play Shovel Knight.

If you haven't played Shovel Knight, Treasure Trove is an absolute must buy… and if you have, you already know that it's a must buy.

Shovel Knight is one of the best indie games in the last few years, and this is the best edition so far. It also works great with the Switch concept, so if you have the new Nintendo console and you haven't played Shovel Knight yet, you shouldn't miss it.

While the original game was a fabulous romp, the Treasure Trove collection is more than worthy of investing some time into. Anyone who already has the original will obtain the upgraded package for free, but if bought separately, each of the three released campaigns should keep you entertained with great platforming that's full of charm. With more stuff coming in the next year, the Shovel Knight: Treasure Trove is worth its weight in gold.

Imagine in the glorious old times of NES that we'd have the chance of playing with a game that mix the jumping style of Ducktales, the cities from Zelda II, the map and secrets in the levels of Mario Bros. 3 and 8 enemies like in Mega Man, the magic weapons of Ninja Gaiden and Castlevania, and all the epic from the Sword & Sorcery Genre. All of them into the most complete Yacht Club Games creation.

Shovel Knight: Treasure Trove is practically a must-own for anyone who has just picked up a Nintendo Switch. The expected excellent platforming fun, enjoyable storytelling, and impressive art and sound of all three campaigns not only comes all packed together in one title, but also includes better accessibility than ever before on a platform the title feels made for.

Sadly, I found later levels lost a lot of the game's early steam, as too much of the old "pixel perfect" platforming starts to creep in.
What more do you want a game that is the son of megaman, mario 3 and many more, with coperative game, all DLC with game mode very different

What more do you want a game that is the son of megaman, mario 3 and many more, with coperative game, all DLC with game mode very different than the normal and the best you can take with you to wherever you want.

…

Expand

Every campaign is incredibly solid and unique mechanics to each campaign and really reflects the characters. There's a ton more to do even

Every campaign is incredibly solid and unique mechanics to each campaign and really reflects the characters. There's a ton more to do even after just beating the campaigns from challenge mode, to countless "feats", and even New Game+. There's just always more to do in this game than can keep me coming back. And being portable really helps. I can't wait for King of Cards. I don't know what else you want in a game.
Also the music is nearly flawless

…

Expand

What a legendary experience this game is. All 4 DLC bring so much to the table, and really mix it up every-time.

If you like retro platformers then this is simply a must-buy. Combining the best traits from games like Mario, Castlevania and MegaMan. There

If you like retro platformers then this is simply a must-buy. Combining the best traits from games like Mario, Castlevania and MegaMan. There is a lot of content within the game as you are able to play as 3 different characters. I loved every minute of the campaigns, but i didn't care for the extra tasks once i beaten the game with all 3 characters. The game is reasonably priced and if you like 2D-platformers you won't be disappointed. Only real problem with this game is the multiplayer aspect, i played it with my brother for a few hours, but eventually we gave up because we kept running in to each other and blocking each others way which got really frustrating in the end. It feels more like a competition than being able to help each other out. Even though we had good intentions. 9/10

…

Expand

When I first looked at the game I thought it was going to be a boring indie title with no story and bad gameplay. Boy was I wrong. This game

When I first looked at the game I thought it was going to be a boring indie title with no story and bad gameplay. Boy was I wrong. This game was a brilliant platformer that took inspiration to the NES platformers and made it into a HD masterpiece with a brilliant story to back it up. And plus there was a unique way to attack with a jump attack that was useful and a normal attack that was really well done. Overall this was a indie game that I had the most fun with ever. and I'm so glad that I finished it and I am trying to get every item in the game so that there's a reason for me to play this beautiful game longer and I don't have to put my switch down ever.

…

Expand

The game was really good but there's 2 things that really took a step back for me. The knock back of an attack was really intense, almost 1/4

The game was really good but there's 2 things that really took a step back for me. The knock back of an attack was really intense, almost 1/4 of the screen. Just not needed to be that strong. The other is that there are NO music note hints. I like exploration games and I loved the music notes, but i need to know how many are left in each level or something. Extremely minimal hints. I just have no idea where I'm missing them and I don't want to turn to google.

…

Expand

ik jbakes25 already said this but he is absolutely right, this game is RIPPIN OFF every other game. oh and by the way april fools jake you're

ik jbakes25 already said this but he is absolutely right, this game is RIPPIN OFF every other game. oh and by the way april fools jake you're freaking wrong! 0/10

…

Expand