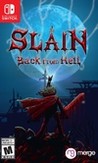 Summary:

Slain: Back from Hell. A heavy metal inspired arcade combat with puzzle elements and gore galore. Stunning visuals and true old school gameplay accompanied by the most metal soundtrack you've ever heard.
Slain: Back from Hell is not a game that everyone will enjoy. It's difficult and requires a lot of patience to see it through to the end. It's also not a very long game. My first playthrough clocked in at around seven hours, though better players could certainly finish it more quickly. There's also nothing new to do once you've slain Vroll. But if you have a thing for the difficult platformers of yore, Slain: Back from Hell is a satisfying blend of what made those games great.

Despite the very pleasing sound and visuals, Slain is just too unforgiving to be as fun as it should be. I'm glad I've finished it, because those damned flying enemies swooping down on me are giving me nightmares.

Like the inside of Ozzy Osborne's head, Slain is simultaneously gorgeous, intense, chaotic and deeply, deeply frustrating. The presentation is excellent, with every part of the game exhibiting stunning 2D animation that really brings its hellish underworld to life. Where it all falls apart is the gameplay; Slain is simply no fun to play thanks to its painful difficulty level which chokes the tantalizing potential of its combat system. While it has been compared to the Castlevania series – and its combo mechanics call to mind the underrated Mirror of Fate – Slain isn't really worthy to be mentioned in the same breath as Konami's legendary gothic franchise.

Visuals-wise, Slain: Back from Hell for Nintendo Switch is one of the most '80s Metal videogames in existence. Unfortunately, the actual gameplay just doesn't cut it, as the controls often feel unresponsive and the level of challenge unfair. Want to play a Heavy Metal-powered Castlevania? Just play a Castlevania title with Iron Maiden on the headphones.

I hope to never return to this game and I wouldn't want anyone to waste their time and money on the endeavor. Whether that is harsh or not, Slain on the Switch is not the version you should buy. If you want to have any hope of enjoying the game, get any of the other versions available (all of which run at 60 FPS and offer customizable controls).
This publication does not provide a score for their reviews.

This publication has not posted a final review score yet.

These unscored reviews do not factor into the Metascore calculation.
Slain: Back from Hell is not worth buying in its current state on the Switch. Get it on PS4 or PC if you have to because it just isn't fun playing a game that slows down and can't maintain a locked frame rate. If these issues are addressed in upcoming patches, it will be worth it.
Slain is a game that goes straight to the point: kill or be killed.
though is not super dinamic, and the moves are simple, the art is awesomeSlain is a game that goes straight to the point: kill or be killed.
though is not super dinamic, and the moves are simple, the art is awesome and it a good platform game, to have fun while you wait for Castlevania.

…

Expand

Awesome 2D platformer with a bad**s metal soundtrack. Very difficult but also fun. Not for everybody. But if you like lots of pixelated blood,

Awesome 2D platformer with a bad**s metal soundtrack. Very difficult but also fun. Not for everybody. But if you like lots of pixelated blood, gore, and metal, give this a try.

…

Expand

I thought this game looked awesome, but I never got it based on the reviews on this site. It happened to be on sale in a bundle with Valfaris

I thought this game looked awesome, but I never got it based on the reviews on this site. It happened to be on sale in a bundle with Valfaris so I pulled the trigger. Figured I'd start with the "crappy" game first, and I was really surprised at how much I enjoyed Slain. I died a lot, but I learned what to do and could play right through now. I did not find any issues with parrying like other reviews have mentioned. Very satisfied with the game and would recommend it to anyone looking for a challenge. I was able to beat it playing a couple hours each night and I'm not a great gamer by any means.

…

Expand

Nach dem Patch definitiv mit den anderen Versionen gleichzusetzen. Grafik und Sound sind eine Wonne, das Spiel ist tatsächlich gut.

this game is pretty fun. Valfaris is better but the game can be fun. It can get hard too and some people say that slain rarley has

this game is pretty fun. Valfaris is better but the game can be fun. It can get hard too and some people say that slain rarley has check points. The combat is fun but alittle complicated and not as good as it's successor. I wish I knew I could parry sooner as it only showed me how to parry once but that's my fault. Lastly I loved the music to the game. It makes me feel edgy and badass.

…

Expand

The music and art style are cool if a bit repetitive. The combat is hard and the controls suck so it's pretty much a recipe for frustration.

The music and art style are cool if a bit repetitive. The combat is hard and the controls suck so it's pretty much a recipe for frustration. But it least it's short so I was able to power through to the end. There is some good here, but headbanging to celebrate victory is the best part of the game. I got it on sale in a double pack with Valfaris so here's hoping they improved on the gameplay for that.

…

Expand

Easily the worst designed and awful controlling game I've ever had the misfortune of playing. The art looks cool, but everything about the

Easily the worst designed and awful controlling game I've ever had the misfortune of playing. The art looks cool, but everything about the gameplay is broken and truly abysmal.

…

Expand