Publisher:

Level 5

Release Date:

Feb 14, 2020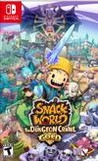 Summary:

Become a heroic adventurer in this roguelike RPG, crawling through dungeons in your search for rare treasure, on a mission to seek revenge against the villainous Sultan Vinegar that violated your village! You can even tag along in teams of up to four to take down tenacious tyrants.
There's just so much that Snack World does right for a dungeon crawler that even without having any sort of serious story it manages to be one of the best in the genre with the sheer fun variety it offers. Anyone looking for a brand new adventuring title should give Snack World: The Dungeon Crawl – Gold their time as it's surprisingly fantastic.

Snack World: Dungeon Explorers is a game made with undoubted craft, full of humor and ready to pinch the strings of the collector hidden in each of us. The simple but not trivial action and the large number of secondary missions are, however, tormented by a rhythm that tends to weary in the long run and a lively, but technically only discreet, technical component. Remaining in the culinary sphere, Snake World won't be a chef's bite to eat, but if you're hungry you can tastefully fulfill it.

Snack World: The Dungeon Crawl - Gold is a new port to the Switch that combines amazing RPG elements with a challenging dungeon crawl experience.

What Snackworld: The Dungeon Crawl - Gold lacks in gameplay depth, it makes up for with it's great sense of humour and vibrant style.

Charming loot and monster hunt with a high grind factor and unfortunately without any splitscreen option.

Snack World works as a tasty, but not entirely satisfying, appetizer, with too much filler and some strange balancing choices.

There is no shortcut to boss doors, nor an opportunity to save outside them--you must traverse the preceding dungeon in its entirety again, which begins to disrupt and destroy the decent dungeon-crawling. As a result, despite the fact Snack World is initially most exciting when you're exploring the depths of its dungeons, that excitement is soon painfully wrenched into tedium. This phenomenon seems to permeate Snack World in its entirety: although it's exciting and captivating early on, each of its constituents become tedious before long, and all of its strengths are weathered away by repetition and a sense of feeling incomplete.
I'm giving this game a 10 for 1 simple reason...it's an awesome dungeon crawler with lots of gear etc. Idk wtf Snack World is, but I assume

I'm giving this game a 10 for 1 simple reason...it's an awesome dungeon crawler with lots of gear etc. Idk wtf Snack World is, but I assume it's a show or something because there seems to be certain inside jokes I'm no part of littered throughout the dialog etc. It's an amazing isometric RPG with outstanding mechanics all round. From the movement to the battles and everything in between. It's a surprisingly DEEP n rich game world and this definitely surprised me as I wasn't expecting much but wanted a fun and well made crawler (run around maps fighting n looting etc.) it's outstanding and I'm a 38 y/o hardcore gamer with a taste for old school simplicity and difficulty

…

Expand

Very fun in small burst. Nothing about it is fantadtic, nothing is terrible. O.k. I lied, the camera is terrible some of the time. If you

Very fun in small burst. Nothing about it is fantadtic, nothing is terrible. O.k. I lied, the camera is terrible some of the time. If you want a super entertaining grindfest of an action rpg dungeon crawler with instanced zones and a mediocre hub world with a large dose of pre-teen level humor, this is a safe bet. Be warned, the game is NOT kid safe unless your kids are allowed to rub feces on themselves, say @$$ and Goddamit that is. The game is actually a 7/10 but since metacritic allows people to just do review bombs, this might negate some of the idiots.

…

Expand

Honestly had to make an account just to review this game because of the lack of attention its getting. Go out today and buy this game!

The game is fun. Very relaxing. I think the person who invented the words or decided on them was mega high, but the game is a lot of fun. It's

The game is fun. Very relaxing. I think the person who invented the words or decided on them was mega high, but the game is a lot of fun. It's not high speed or stressful and it's kind of like a monster hunter with good load times and much lighter in terms of materials. I'd really recommend it to anyone who wants a game with a lot of playability and relax.

…

Expand

Cool Game with a lot of funny dialoges. Its a bit grindy, but quests aren't that long. Gameplay is a mix of Monster Hunter (the way quests

Cool Game with a lot of funny dialoges. Its a bit grindy, but quests aren't that long. Gameplay is a mix of Monster Hunter (the way quests work and bit looting) and Diablo.

…

Expand

The game is not bad but ... it was not what I expected. I expected something more like Fantasy Life but simpler. I bought it thinking that

The game is not bad but ... it was not what I expected. I expected something more like Fantasy Life but simpler. I bought it thinking that being Level 5 the developer could still be fun but I was wrong.

They have translated and dubbed it into many languages, it has extra content, many hours of gameplay, graphically beautiful ... but it can't keep me playing for a long time.

I notice that they have put in a lot of effort and love but sometimes that is not enough. But as I said at the beginning it is not a bad game, is normal.

-------------------------------------------------------------------------------------------------------------------------------

El juego no está mal pero... no es lo que esperaba. Esperaba algo más como Fantasy Life pero más simple. Me lo compré pensando que al ser Level 5 la desarrolladora podría ser divertido pero aun así me equivocaba.

Lo han traducido y doblado a muchos idiomas, tiene contenido extra, muchas horas de juego, graficamente es bonito... pero no consigue mantenerme jugando durante mucho tiempo.

Noto que han puesto mucho esfuerzo y cariño pero a veces eso no es suficiente. Pero como dige al principio no es un mal juego, normalito.

…

Expand

ok i really dont know how to start this review since all this anger bottled up for months now. so i only made an account to tell you how ****

ok i really dont know how to start this review since all this anger bottled up for months now. so i only made an account to tell you how **** and utterly trash this game is, the developers of this game made this game because they knew people would buy a game they think is a successor to fantasy life. Bro this game aint even 5% of a fantasy life i loved fantasy life and played it soooo much on my 3ds its one iof the best games ever and then of course you think the developers of Fantasy Life on the next game on the far superior console will enhance everything fantasy life did, but nah bro these developers made a **** game thats one of the worst games ever made to just make quick cash of people that loved fantasy life. dude i tried to love this game i played it so much even tho i hated every minute of it just to get to the part where i could experience fun, but this game has no fun in it. Its all just a stupid grind without any purpose and everyone that writes a good review about this game just trys to justify their 50€ spend like i did but there aint no justifiyng a scam **** game that no one wanted. i will never buy a game of Level 5 again. These developers showed they dont care about you the player just about your money

…

Expand