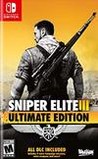 Summary:

This ULTIMATE EDITION contains the thrilling main game as well as 9 additional DLC packs, including the biggest environments yet in SAVE CHURCHILL Parts 1, 2 and 3 and 6 WEAPONS PACKS CAMOUFLAGE, SNIPER, EASTERN FRONT, HUNTER, AXIS and PATRIOT. Includes free updates to main game 6 new

This ULTIMATE EDITION contains the thrilling main game as well as 9 additional DLC packs, including the biggest environments yet in SAVE CHURCHILL Parts 1, 2 and 3 and 6 WEAPONS PACKS CAMOUFLAGE, SNIPER, EASTERN FRONT, HUNTER, AXIS and PATRIOT. Includes free updates to main game 6 new MULTIPLAYER MAPS, CAPTURE THE FLAG mode, TWILIGHT STRIKE Co-Op Mission, and SHOOTING RANGE.

…

Expand
Developer:

Rebellion

Genre(s):

Action

,

Shooter

,

Third-Person

,

Tactical

# of players:

Up to 12

Cheats:

On GameFAQs

Rating:

M
I had fun with the game. At times the controls proved to be difficult with the handheld mode, so I switched to having the Switch docked and used the controller on the TV instead. The aiming function takes a little bit of time to get adjusted to after having played other shooters before this one.

Sniper Elite III: Ultimate Edition is a third-person stealth shooter that takes you through the Africa campaign during WWII. Featuring gore-laden sniper shot cutscenes and comprehensive gameplay, you can really see why this one is a cult classic.

Distilled down to a very, very strong portable title, Rebellion brings its A-game with Sniper Elite 3 on the Switch. It's not just that it's one of its best creations to date, but also the fact that it comes with so little sacrifice, and the series unique and visceral gameplay. It seems that the multiplayer is getting a lot of praise as well from those who could play it so. With that in mind there is no reason not to pick up this port, especially if you've not had the chance to play through it before.

Sniper Elite 3 Ultimate Edition is a nice port of Sniper Elite 3 with all the DLC included. The gameplay is tactical and requires patience, which may not be for everyone. Some tasks and situations can be frustrating, but you can still have a good time.

While the stealthy, ranged formula is still intact, those far more open maps allow for greater player agency and more systemic moments as you unleash hell from up close and afar. Improved stealth, an unoriginal yet satisfying XP system for cheap rewards and some ridiculously fun multiplayer modes make this a real series highlight that runs like a dream on Ninty's hardware, but dumb AI, a rather boring storyline and a rather worrying focus on gratuitous gore all conspire to sully the experience somewhat. Having said that, there are few things in modern video gaming that are as perversely satisfying as popping a Nazi's testicles from halfway across a battlefield, so break out your M1 Garand and get reducing the Reich's virtual headcount, because this game is well worth a look, despite its shortcomings.

Sliper Elite 3 has aged quite well. This is a good version of the original game, with loads of content but also with all its shortcomings.

It certainly gets things right and its performance, whether on the Switch screen or on a television screen, is very good. On the other hand, the enemy's AI displays some incomprehensible mistakes and the visual discrepancies on the maps make the experience less enjoyable than it could be, at the same time that the action moments in the game's semi-open world structure fall below par. A decent effort, nevertheless, and a game that can provide for some good hours of fun.
So much fun sniper elite 3 on switch is. The story could be a little more inspired but the gameplay is just simply so fun that it more than

So much fun sniper elite 3 on switch is. The story could be a little more inspired but the gameplay is just simply so fun that it more than makes up for it. Incredibly realistic bullet physics that make sniping fun, with a brutal x-ray cam that rips through bones, organs, and muscles in a realistic manner being your reward for a successful shot.
You aren't just limited to sniping your enemies either, you can stealth or go in guns a-blazing. You will be surveying each area with your binoculars and carefully choosing the best method for dispatching your enemies.
All the weapons feel very different and good. You can customize your loadout extensively even modding your sniper rifle, with different scopes, reticles, stocks, triggers, and barrels, which again all feel very different.
The maps are laid out like little mini open worlds, if you have ever played hitman you will know what I mean, with optional quests and collectibles.
The game is very optimized for the switch and performs amazingly, which is a feat because it has to manage all units across the entire map, and the game looks great on the switch and the framerate is good, and never drops below 30 fps even in heavy combat. The motion controls are also very well integrated and are almost as good as keyboard and mouse(definitely better than any other controllers without motion controls)
Stealth mechanics are also very good and fun with higher-level enemies spotting you quicker, you throwing a rock to distract enemies, enemies spotting you slower in the dark, or if you're in foliage.
Very good and fun stealth.
There is also a fun co-op mode to play with a friend who has a switch and a copy of the game, which makes the game even more fun, with you and your friend tag-teaming enemies. There is a competitive online sniper battle mode which is fun but I wish there was matchmaking and you didn't have to join or make a server. Plus there is a wave mode with you alone or you and a friend seeing how long you can survive with waves of enemies in increasing difficulties.
Definitely worth a buy on the switch, (I would buy this even if I couldn't play on the go.) It will crave an itch for a stealth game, a sniper game, or a world war 2 game wonderfully. Definitely one of the best stealth games on the switch.

…

Expand

This is a great game, but there are a number of questions to it.
Questions for the game as an independent unit
1. Why such a strangeThis is a great game, but there are a number of questions to it.
Questions for the game as an independent unit
1. Why such a strange mechanics? I shoot a fascist and he flies off somersaulting.
2. Why sometimes when I see the enemy in the sight and shoot him - in fact, I shoot for cover in front of me?
The rest is a dynamic shooter with excellent graphics and interesting gameplay.
However, the game has questions as to the representative of the "sniper elite" series.
1. Why are there so few survival cards? In 2 and 4 parts there are much more of them (in the second there are 5 of them, in 4 I don't remember how many, but also not a few). Here, in the third part, there are only two and they are limited to 15 waves.

…

Expand

Good game. Better than the previous entry. The open world setting is a breath of fresh air. Though not perfect but still good enough if you're

Good game. Better than the previous entry. The open world setting is a breath of fresh air. Though not perfect but still good enough if you're a fan of sniper elite.

…

Expand

Gameplay: 5
Story: 5
Graphics: 6 Audio: 6 Fun Factor: 2 The game is simply not realistic. The enemies shrug off bullets without emotion. It'sGameplay: 5
Story: 5
Graphics: 6
Audio: 6
Fun Factor: 2

The game is simply not realistic. The enemies shrug off bullets without emotion. It's a shooting range simulator at best.

…

Expand