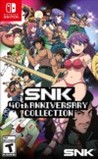 Summary:

2018 marks the 40th anniversary of legendary studio SNK. To celebrate this extraordinary milestone, a variety of classic arcade games from SNK's golden age are coming back together in one anthology on Nintendo Switch™. SNK 40th ANNIVERSARY COLLECTION is packed full of retro games and a

2018 marks the 40th anniversary of legendary studio SNK. To celebrate this extraordinary milestone, a variety of classic arcade games from SNK's golden age are coming back together in one anthology on Nintendo Switch™. SNK 40th ANNIVERSARY COLLECTION is packed full of retro games and a treasure trove of features. Ikari Warriors...nuff said.

…

Expand
Developer:

SNK

Genre(s):

Miscellaneous

,

Compilation

# of players:

No Online Multiplayer

Cheats:

On GameFAQs

Rating:

T
Please enter your birth date to watch this video:
You are not allowed to view this material at this time.
SNK 40th Anniversary Collection - Announcement Trailer
SNK 40th Anniversary Collection is not full of flawless gems that everyone will love, and it suffers a bit in terms of variety. Strictly viewed for what it is, however, which is part retro videogame anthology, part history lesson, it is one of the finest one in the market, making this the definite product for those who want to try the titles on offer.

While I personally already own much of SNK's NES catalog on cartridges, having portable versions of several arcade classics that I can take anywhere on my Nintendo Switch along with their 8-bit counterparts is definitely a bonus. While most of them are gems in their own right, the actual arcade cabinets can be rare and hard to come by in the wild, especially since most titles like the Ikari Warriors series had a proprietary joystick that twisted as opposed to a twin-stick shooter setup.

This is how you make a retro-collection: full of extras and interesting tidbits.

The 40th Anniversary Collection gives you a lot to play and many ways to tailor the experience to your whims, including settings that come in handy while playing vertically oriented games. From a technical and experiential standpoint, it's an all-around great collection.

It doesn't take a genius to see that the SNK 40th Anniversary Collection isn't for everyone. Many of the games here really haven't aged quite as well as others developed for the same generation. If rummaging through the nostalgia of gaming history does appeal to you though, then this mid-range priced time capsule could very well be worth your investment.

The quality of reproduction is quite faithful to the starting counterparts, and the work of historical preservation is top notch, thanks also to the full-bodied museum full of curiosities.

SNK 40th Anniversary Collection is an interesting package, but even with the upcoming titles to be added, I have to question its value. Luckily, this is not a full price package, but even then many gamers will doubt the value proposition, quite rightly. I'm not saying don't buy the SNK 40th Anniversary Collection, but whether you'll keep playing the game after a few multiplayer sessions with friends is questionable indeed.
So excited about all the work put into the museum and the emulation here. SNK 40th ANNIVERSARY COLLECTION has top notch quality, and features

So excited about all the work put into the museum and the emulation here. SNK 40th ANNIVERSARY COLLECTION has top notch quality, and features a treasure trove of SNK classics from the 80s.

…

Expand

Amazing collection of some of gaming's earliest gems!
The museum mode is INCREDIBLE!!!!!!!!!!!!!!!!!!!!!!!!!!!!!!!!!!
ATHENA IS STILL THEAmazing collection of some of gaming's earliest gems!
The museum mode is INCREDIBLE!!!!!!!!!!!!!!!!!!!!!!!!!!!!!!!!!!
ATHENA IS STILL THE BEST WAIFU OUT THERE

…

Expand