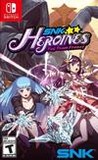 Summary:

Play online or with friends as SNK's iconic heroines in the brand-new 2 vs 2 fighting game, SNK HEROINES Tag Team Frenzy. Activate Special Moves with a single button, and make use of special items to change the tide of battle! However, the fight isn't over the moment you've chipped enough

Play online or with friends as SNK's iconic heroines in the brand-new 2 vs 2 fighting game, SNK HEROINES Tag Team Frenzy. Activate Special Moves with a single button, and make use of special items to change the tide of battle! However, the fight isn't over the moment you've chipped enough health away. Once your opponent is on the ropes, utilize your Dream Finish technique to win the match. Spectate on other battles online, and wage on who you think will win using in-game points. Use your winnings to buy voice clips and accessories in an all-new costume system, and customize your favorite heroine to your heart's content.

…

Expand
Developer:

SNK Corporation

Genre(s):

Action

,

Fighting

,

2D

# of players:

Up to 8

Cheats:

On GameFAQs

Rating:

T
Please enter your birth date to watch this video:
You are not allowed to view this material at this time.
SNK Heroines - 4 Minutes Of Scantily Clad Gameplay
Call it "casual" if you want, but this is the ideal fighting game for me... and who knows. It might well be the start of the new king of fanservicey fighters, what with Dead or Alive 6's stated intention to ease back on that side of things. And Athena really does look stunning in her bikini. I've been waiting many King of Fighters games for that.

It's almost heartbreaking how much fun SNK Heroines is, because all of that fun is wrapped up in a fetishistic presentation that didn't need to be there in the first place. By putting out a cool, casual-friendly fighting game that happened to only have a roster of female characters, SNK could have reached a wider audience of people and rekindled some of the magic they made 18 years ago with Gals' Fighters. Instead, though, SNK put Mai Shiranui in a cowprint bikini and gave Terry Bogard breasts, alienating a massive amount of people in the process.

Bad North feels a lot like a mobile title in terms of its limited scope, tight focus, and simple controls, and that makes it a fantastic fit for the Switch in portable mode.

While SNK Heroines: Tag Team Frenzy is accessible to anyone who may want to play it, its limited roster and bogus 3D models don't do the heroines justice.

SNK Heroines is the Japanese company's bet starring its famous girls with an all new battle system that will satisfy all of its players and that also focuses on the customization of the characters. This is, indeed, a fan service type of game.

We expected more from a game that ended up being too focused on 'fan service'. The roster is great, but the gameplay isn't deep or complex enough.

SNK Heroines: Tag Team Frenzy might rightly draw ire for its overt, unnecessary sexualisation of fighting games' femme fatales, but its problems extend further than social problems. It's anaemic in content and the fighting itself lacks any real depth.
SNK Heroines is a game fully aware of what it is, and has fun with it. This isn't a turn of ideology so much as focusing on one aspect of

SNK Heroines is a game fully aware of what it is, and has fun with it. This isn't a turn of ideology so much as focusing on one aspect of fighting games.

Fighting games have always had a sex symbol character in their roster, SNK's Mai has at times been more known than SNK or King of Fighters itself. SF had Chun Li, Darkstalkers has Morrigan, Ivy in Soul Calibur etc. Those showing alarm or giving negative reviews due to the fan-service nature of the game have been asleep the last 30 years.

Let's review the game based on what it set out to do, an accessible, wacky fighter throwing logic and convention out the window all for the purpose of a fun experience with tons of eye candy and personality.

The fighter is very accessible, specials are a direction and a button and your "super" finishers are simply a button. Normals are limited, there is no crouching, and you can use items. To rate the accessibility you have to balance it in terms of depth and enjoyment however. There is that to be had as well, I do think other games have accomplished this better, but it is complex enough to not be boring and simple enough to be accessible. I miss no special inputs and the move set is limited, but there's a relaxing feel to the game that serious games like Guilty Gear won't be able to achieve due to the amount of focus they demand.

Is it wacky? You bet, there's gerbils that explode in glitter and stars on every attack, or carrots and corn on the cob or other crazy particle effects that are nothing other than wacky. When you dash toward an opponent and stop, you hear the sound of wheels screeching. It's about as wacky as you can get without being too disruptive. So mission accomplished there.

Is it a fun experience? In my view yes, you get to actually appreciate the characters and animation since you aren't spending so much time reading blockstrings and finding a gap, it's a very laid back game that's just meant to be fun and nothing else. The over the topness and how self aware it is of that are part of the fun and achieve their goal with a bit of polish.

The eye candy and customizations are zany and fun, though at least out of the box, the number of customizations you can purchase with in game currency (earned not real $) equip seem more limited than I expected, more could be unlocked though or be patched in. The roster is rather small also vs what I expected but more are in the works. At least we see Shermie again.

Now, I rate this game about an 8, it did what it set out to do, and did it well and with some polish. You can tell though it wasn't the #1 priority project for the company though, but it did well enough given its attention. It's not King of Fighters with 50 playable characters for example. But you do get 3 costumes, all customizable for every character which is more than most fighting games ever give you in terms of costumes, most fighters are lucky to have two costumes for a character.

I think the game deserves somewhere in the range of 6-8 depending on how you view certain aspects. However some reviews seem to give it a way worse rating simply because of the fanservice.

We can all agree that in real life objectifying women as objects or treating them as prizes is wrong. However, those hating on the game simply because it has fanservice, and saying fanservice disrespects women are also wrong, just in an annoying and less serious way. If you can't separate fantasy from reality, you're not better than those blaming real world violence on video games. People being terrible to women isn't because of a video game. If this is exploitative then so are magazine covers, super hero outfits, romance novels featuring scantly clad men on the cover and full of sex scenes, and most media really. I think what really bothers people is sex itself it's just a very uncomfortable thing to far too many people. Appearance is something that has value in itself, that's why there's drawn art, why some women are models for a living, why a lot of things. Valuing a person based only on their appearance is wrong, but saying it's disrespectful to women to enjoy fanservice (the appearance of fictional characters) is wrong, to a lesser degree. In short, people that say this aren't consistent in their views and are wrong.

I think the game is a good effort by SNK to make a niche wacky accessible fighter. Hopefully it sells well and lays the ground for more games in the future from them, as they have successfully used one of SNK's biggest assets in this game, their rich and diverse cast of characters.

…

Expand

SNK Heroines is an interesting fighting game to say the least. With a fighting cast made up of only female characters, along with suggestive

SNK Heroines is an interesting fighting game to say the least. With a fighting cast made up of only female characters, along with suggestive outfits to boot (and a surprising T rating?), it still stands up as it own fighting game, and it does a decent job.

The main attraction of this game aside from the fighters is using two characters to fight despite sharing one health bar, and the ability to switch between the characters quickly with a press of a button. This is a genuinely cool feature, as it lets us create combos by switching mid-attack, allowing for unique combo strings with specific characters. Some other fighting mechanics such as air dodging, air grabbing, air dashing, items and special/ super attacks being mapped to buttons as opposed to input commands adds extra depth, and the latter makes learning attacks and picking up the game much easier compared to other fighting games.

The customization feature is also cool, letting you mix and match different accessories, clothing, etc. I like being able to customize my characters around specific themes in games, and this option caters to that. There are some limitations such as color options, though it doesn't hinder the experience. The viewer option allows you to have characters make poses for a camera, fit with different facial expressions and camera angles that can then be saved, despite about 99% of the poses being sexual, but it's there for those that are into that kind of thing. The different clothing options are bought with in game currency, and this currency can't be bought with real money which is a huge plus.

There are a couple downsides I've noticed in the game, however. A couple characters (by a couple I mean Sylvie) do not make the transition to 3-D well, as the models look somewhat bizarre and standout in my opinion. The bigger downfall in my experience is the A.I. More specifically, when they are at Level 4 or 5. At these levels, the A.I. gets set to a "perfect mode," similar to level 9 A.I. in Super Smash Bros. 4. The A.I gains perfect reaction to all your moves, being able to see them the frame they are active; this means that they always know when to shield, roll, break out of grab, etc. This makes doing anything but guaranteed combos on them not worth it, as they'll counter it. If that wasn't bad, the A.I. seems to know at least one powerful combo with each character (being over 10 hit strings) and they will abuse the hell out of said combo. This makes fighting them not fun as they do the same combos over and over with little to no variety, and since they have perfect reaction they will always get the full combo. There are some other small bugs, such as getting out prioritized by a weak aerial when I use a heavy aerial, and missing a grab at hugging distance, but those aren't big deal breakers.

Overall, SNK Heroines is a good game. It's fan service to all SNK fans, and the game is fun when playing with friends [haven't tested online yet], especially with items on. The fighting mechanics gives the game more depth, while still being open to new players. The customization and fighting is great. Even though the game has some noteworthy cons, I believe they can be fixed with patches. If you are looking for a fighting game to play with friends,or just want a game full of sexy women in it, this is for you.

…

Expand

An interesting fighting game with a unique take on finishing matches. Is that enough to make it compelling? Not particularly. Do the ladies

An interesting fighting game with a unique take on finishing matches. Is that enough to make it compelling? Not particularly. Do the ladies make up for it? I'm going to say yes. Story mode is fun, online works OK as far as I can tell, but so far it's the survival mode which has kept pulling me back in. If you're a sucker for gorgeous anime ladies, or an avid fighting game fan, it's worth a look. If those things aren't your cup of tea, this isn't going to do anything to change that.

…

Expand