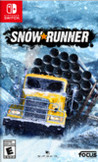 Summary:

SnowRunner puts you in the driver's seat of powerful vehicles as you conquer extreme open environments with the most advanced terrain simulation ever. Drive 40 vehicles from brands such as Ford, Chevrolet, and Freightliner as you leave your mark on an untamed open world.
Overcome mud,SnowRunner puts you in the driver's seat of powerful vehicles as you conquer extreme open environments with the most advanced terrain simulation ever. Drive 40 vehicles from brands such as Ford, Chevrolet, and Freightliner as you leave your mark on an untamed open world.
Overcome mud, torrential waters, snow, and frozen lakes while taking on perilous contracts and missions. Expand and customize your fleet with many upgrades and accessories including an exhaust snorkel for heavy waters or chain tires to battle the snow.

…

Expand
Developer:

Saber Interactive

Genre(s):

Simulation

,

Racing

,

Arcade

,

Vehicle

,

Automobile

,

Civilian

# of players:

Up to 4

Cheats:

On GameFAQs

Rating:

E
An excellent and very welcome port of an already great and addictive game that stands out among other games in the genre.

SnowRunner on Switch is now the most authentic driving simulator that the hybrid has to offer. It's a feature-for-feature port of an already renowned game and is made all the better thanks to Switch-exclusive portable functionality. While there are some technical limitations, Saber Interactive has managed to cram SnowRunner's foliage-dense open-world maps onto the hybrid with preservation of detail that was unexpected. It's one of the best-looking games on Switch and the largest in terms of sheer content. Anyone who's a fan of driving games is in for a treat.

SnowRunner will appeal to fans of truck simulators and running cargo. It is a series that has found a niche as an all-terrain simulator and serves it well. Hauling cargo through the snow-covered wilderness requires patience and will cause frustration, but it's all part of the experience and makes a successful run all the sweeter. Unfortunately, some issues are keeping it from being great. Still, SnowRunner is a solid experience on the Switch, especially when the last year has kept many of us from being outside, tearing up the landscape in massive vehicles.

The off-road simulation draws you in with its quite unique charme, but the visuals on Switch are suffering a bit.

SnowRunner is an interesting truck driving game where the environment is your opponent. As long as you can put up with its audio and visual issues and understand that it's an extremely slow-paced game, the rewards for sticking with it are worthwhile.

Snowrunner on the Nintendo Switch is still an enjoyable and challenging game, despite a bunch of flaws due to technical limitations.

Annoyances aside, SnowRunner is a great non-18-wheeler truck driving simulator. Its steep learning curve takes patience and determination to overcome. It's clear that this game is aimed at a very specific clientele. If you like a good challenge and overlanding is your kind of thing, Snow Runners is for you. If you like to romp through the countryside at full tilt with little consequence to your vehicle, stick to Forza Horizon.
THEY FIXED THE SAVEGAME ISSUE!! Hopefully for good. Very weird game. Love it and hate it at the same time. Spend 150 hours+ hours in it since

THEY FIXED THE SAVEGAME ISSUE!! Hopefully for good. Very weird game. Love it and hate it at the same time. Spend 150 hours+ hours in it since its release and still have days I play it like a madman. Then I stop playing for a few weeks, realise I miss it and come back to it to fall in love again.

…

Expand

An amazing port of a great game. 30FPS is legitimately impressive for a game that strains the Xbox One X

Realistic all-terrain driving games are an odd breed that has emerged in popularity in more recent years, and to date hasn't been represented

Realistic all-terrain driving games are an odd breed that has emerged in popularity in more recent years, and to date hasn't been represented too well on the Switch. They can be hard to get used to at first as your enemy isn't another driver or often even the clock, instead the focus is on simply overcoming the elements and a variety of horrible driving conditions to break through and deliver your loads. There's no doubt that the controls in SnowRunner aren't perfect, for instance trying to figure out how to turn on the headlights was an odd challenge until finally the game prompted me on how to use them after I'd been struggling in the dark for quite some time. I wouldn't say this is a mainstream sort of experience by any means, but recognizing that it's a legitimate form of play in the genre a chunk of the public appreciates, it would be a shame to dismiss this pretty challenging and engaging driving title that will reward people who stick with its often slow pacing.

https://www.nindiespotlight.com/2021/05/mini-reviews-may-24th-edition-nintendo.html

…

Expand

5 out of 10

Tiny text Overpriced for switch The normal game I would give a 7 out of 10. They have done a good job of simulating something5 out of 10

Tiny text
Overpriced for switch
The normal game I would give a 7 out of 10. They have done a good job of simulating something so annoying about driving in the snow, so kudos for that.
Bottomline, if you live in a place where your car gets stuck in the snow (or mud), DO NOT buy this, it will give you PTSD.

…

Expand

This review contains spoilers

, click expand to view

. Great game, but IT IS A TICKING TIME BOMB.

After about 100-200 hours of game time, the game will inevitably start to crash every 5-10 minutes, rendering the game unplayable. There are no reliable workarounds. The developers know about this issue and said that they are working on a patch. It's been almost a year since this problem has been brought to their attention and they're still working on a patch. Basically since this isn't a mainstream game like Cyberpunk or Call of Duty, there isn't much backlash, so they don't feel the need to fix it. Stay away.

…

Expand

Unplayable. I have had hours of progress reset and trucks + upgrades deleted. This has been happening over and over again, I feel like

Unplayable. I have had hours of progress reset and trucks + upgrades deleted. This has been happening over and over again, I feel like Prometheus at this point. Graphics pop in at the last second and all of a sudden you're crashing into objects or getting stuck/ flipped over on boulders. Logging tasks/ contracts are unbearable when compared to Mudrunner. No medium log body add on for trucks, and having to deliver a stupid amount of logs to complete the objective makes logging feel like a painful unnecessary long and expensive feat. A frustrating experience overall.

…

Expand

This game is great, I would even say it is one of my favorite games ever, except the Switch version makes it impossible to play said fantastic

This game is great, I would even say it is one of my favorite games ever, except the Switch version makes it impossible to play said fantastic game. I got premium trucks through DLC, got trucks through progress, and everything just dissipated because I can't load my saves. It really sucks that this essential part of the game is just ignored by the devs. At this state, one of my favorite games is simply unplayable.

…

Expand