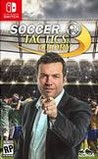 Summary:

It's an original combination of turn-based strategy and RPG. Create a football team, play matches, earn XP, train skills, learn new classes, upgrade facilities, buy and sell footballers, grow youth, make hard choices. It's a deep strategy which respects your time.
My experience with Soccer, Tactics and Glory, is overall a positive one. Gamers looking for a fast-paced gameplay may want to look elsewhere. If you are looking for a mix of soccer fun with turn-based RPG elements, look no further. I was surprised at how well the two mixed together.

At its core, this is a clever take on football with a genuinely entertaining turn-based system, and if you aren't careful you could spend countless hours working your way up the leagues. That said, its short matches always leave you wanting more (and not in a good way), and the completely random player names make it feel like you're paying a premium price for a clearly low budget title. It's the Sheffield United of football management games; ugly to watch and completely lacking in any flair, but effective enough to get results.

The issue is that the title doesn't seem to have a clear picture of what it wants to be. The turn-based battles are too random and short-lived to be exciting, and the management portion is severely underdeveloped. With some more development to work out the kinks and perhaps a price drop, ST&G would be a more well-rounded and decent foray into the world of soccer video games.
Sometimes it's fun. But, almost all the time, for an unexplained reason, the IA is sooooo luck on the dice rolls. It's frustrating how the IA

Sometimes it's fun. But, almost all the time, for an unexplained reason, the IA is sooooo luck on the dice rolls. It's frustrating how the IA take the best results almost in every dice rolls...

…

Expand