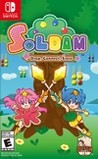 Summary:

The game has been refreshed with updated graphics and gameplay, but retains its arcade charm with its catchy music and unique style that have been fan favorites for many years. Players rotate and drop the Soldam fruits to match colors. Keep connecting the same colored Soldam to form an

The game has been refreshed with updated graphics and gameplay, but retains its arcade charm with its catchy music and unique style that have been fan favorites for many years. Players rotate and drop the Soldam fruits to match colors. Keep connecting the same colored Soldam to form an entire row and erase. Use flanking methods to change the colors of previously dropped Soldam to your advantage. Strategize your next move and maximize that score. [Nintendo]

…

Expand
Developer:

City Connection

Genre(s):

Puzzle

,

Matching

Cheats:

On GameFAQs

Rating:

E
Soldam is a lovely little blast from puzzle gaming's past. It comfortably earns its place among top-tier Switch puzzlers like Puyo Puyo Tetris and Magical Drop II, but it's also different enough to those two that it doesn't feel redundant to have all three on the same system. Even better, Soldam's various modes — the quick-paced endless survival, the slow and deliberate Challenge stages, and the streamlined battle mode — play so differently from one another that it almost feels like a puzzle game collection in its own right. Add in the online play and thoughtful quality of life improvements in this localized version, and Soldam on Switch is a complete puzzle package.

Soldam undoubtedly becomes an ideal offer for casual gamers who are used to play on smart devices, but lacks the option of sharing the results in our social networks.

Soldam is a fun concept, but out of the box there's some issues that hopefully will be addressed in the future. The online is barely playable, and there's a major accessibility failure present. Still, it's fun for a quick round or two if you're looking for a break from the hardcore Puyo Puyo Tetris marathon.
Very interesting for casual players; Many Plumies to collect; I bought to increase my switch library games;