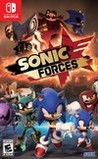 Summary:

In Eggman's greatest victory to date, the evil doctor has conquered much of the world with a mysterious new power. A resistance comprised of Sonic's friends is formed to fight back, and in the midst of the chaos and destruction, an unlikely hero will rise up to help Modern and Classic Sonic

In Eggman's greatest victory to date, the evil doctor has conquered much of the world with a mysterious new power. A resistance comprised of Sonic's friends is formed to fight back, and in the midst of the chaos and destruction, an unlikely hero will rise up to help Modern and Classic Sonic take back the world. Even these three heroes may have their work cut out for them, as Dr. Eggman has a new ally of his own...

…

Expand
Developer:

Sonic Team

Genre(s):

Action

,

Action Adventure

,

General

,

Platformer

,

3D

# of players:

No Online Multiplayer

Cheats:

On GameFAQs

Rating:

E10+
Please enter your birth date to watch this video:
You are not allowed to view this material at this time.
Sonic Forces Nintendo Switch Japanese Demo Gameplay
Nintendo Force Magazine

Jan 7, 2018

It's not a bad game, but after four or so years, it just feels like it ought to be better. [Issue #31 – January/February 2018, p. 35E]

Sonic Forces isn't a particularly bad game, it's just a game that never seems to find it's true potential. An overly complicated story and some design flaws stop Sonic Forces just shy of greatness, leaving a decent enough experience to enjoy.

It's not a great game, but it's solid. It looks nice, plays smooth, and the gameplay variety is solid. It's an average 3D Sonic game at a budget price, and that's not really a bad thing.

Sonic Forces is a disappointing rehash of everything that has been done wrong with the Sonic franchise in the past. There were some good ideas here, but none of them were executed in a way that was fun or enjoyable.

It's mostly just exceedingly average. Levels are short enough where I never once felt like they were a chore to complete, and there's enough variation in there in terms of setpieces where you can really start to see the framework of an expansive, epic Sonic. Hopping around Eggman's base in space while navigating moving platforms gives me flashbacks to the great pair of Sonic Adventure games -- a simpler time.

Sonic Forces ultimately fails to advance the mechanics of previously successful 3D Sonic games, or present them in their best light. A mediocre platformer at best, Sonic Forces manages to do nothing more than reinforce long held stereotypes against Sega's beloved blue blur.

Sonic Forces may have created some hype but unfortunately, it mostly falls flat on its face as it quickly becomes obvious that this game is an exercise in disappointment. While the action runs smoothly whether on a television screen or on handheld mode, the game's short and unimaginative levels, the absence of gameplay mechanics that had become a staple of 3D Sonic games, the unreliable controls and the mediocre soundtrack all add up to a very flawed game from which a lot more was expected.
this game is pretty fun just like colours and generations
although im more of a mario fan but i can sense the biased ratings on the gamethis game is pretty fun just like colours and generations
although im more of a mario fan but i can sense the biased ratings on the game

the story is great , graphics are great , gameplay is great and well the music is the best part

…

Expand

This review contains spoilers

, click expand to view

. Sonic forces has its positives and negatives, but in my experience the pros are more than the cons. The negatives of the game are either plot related or gameplay related such as infinites origin and level design, infinites story could have be handled better since it seems weak for his origin is being beaten by shadow. A second con, which is minor is classic sonic which is mostly the fact the story says he is from another dimension insted of saying from the past. Now for gameplay, the levels are bland and short, they had potential, but that potential was never brought. I liked most of them and the bad thing was that they were short to the point I couldnt get immerrsed to the game.

Ok, positives now. The custom character seems like a perfect edition to the sonic world, being part of the resistance felt very great. Second is the inclusion of classic sonic, sure we had sonic mania but the tie in to sonic forces is pretty creative. Third is the fact that Eggman actually won, from time to time he lost, but now he actually won for once. Last is the music, sonic games are well known for their music and this is no exception. While there is more going into detail I feel like this is fine enough.

…

Expand

Great game if you are a fan I really recommend it if you're a Sonic fan like me but my only gripe with the game is that it has short levels

Great game if you are a fan I really recommend it if you're a Sonic fan like me but my only gripe with the game is that it has short levels but other than that it's great

AND THERE'S ALSO SHADOW PLAYABLE HOLY ****

…

Expand

This game is an interesting case. I personally did enjoy my time spent with Sonic Forces. But that didn't blind me to the flaws. The level

This game is an interesting case. I personally did enjoy my time spent with Sonic Forces. But that didn't blind me to the flaws. The level design for both the modern Sonic and avatar stages is quite good, and the controls are probably the tightest they have ever been in a 3D Sonic game. The story might be a little dark at times, but for the majority of the game, it works well. And for once in a Sonic game, the bosses are actually a highlight. I loved every single boss fight there was to play through. But despite all of these great things, the game still had problems. For one, the worlds feel very uninspired when you compare them to the awesome worlds of games like Sonic Colors. And it feels like there's a lot of lost potential in the game. I won't spoil anything, but near the end of the game there is this one stage that introduces the prospect of this really cool idea (people who played the game will most likely know what I'm talking about). But about ten seconds into this stage, they instantly ditch the idea and throw you back out into the normal gameplay. That was super disappointing. But the biggest disappointment of all was classic Sonic. The gameplay for classic Sonic was superb in Generations, and Sonic Mania was an excellent way to revive that form of gameplay in it's own title. But Forces provides the most sluggish 2D Sonic stages I have ever played. The stages often feel pointless, and mostly like an afterthought. These stages honestly range anywhere from mediocre to the worst stages in the game. It's not even like classic Sonic has that big of an effect on the game. Sonic Team could have left him out and solely focused on modern Sonic and the avatar, and I think the game would have turned out much better. But despite these flaws, there is still an enjoyable game in here. If you are a Sonic fan, then this is definitely worth your time. If you're not a fan of the series, you still might find some enjoyment in here.

…

Expand

This review contains spoilers

, click expand to view

.

Sonic Forces is not an amazing but not bad ether, The game is fun before you beat the game you could download the DLC but it only has 3 games. The story is like Generations but now a little dark you can play as Modern Sonic, Classic, and your OC. The music is great it mixes Dubstep music and electronic and if you play as Classic Sonic you get some Genesis like music. The controls are not so great you could see your self fall off ALOT in the Modern and Avatar stages. In all Forces is a good game but not a Sonic generations but as the Mario Fandom says Mario odyssey is better then Forces.

…

Expand

It has all the problems of the PS4 version, plus worse graphics. Go buy Sonic Mania. It's way better than this nonsense.

A very disappointing game. It's not the worst game SEGA's made, but for the time spent on the game, there should've been more polish, because

A very disappointing game. It's not the worst game SEGA's made, but for the time spent on the game, there should've been more polish, because the game felt rushed. 30 levels, each 2 minutes long. The game can be beaten in 3 hours on a first playthrough, and that's only due to the insane difficulty spikes and Classic Sonic's whack controls. It's not amazing.

…

Expand