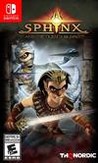 Summary:

Ancient Egyptian mythology comes to life in the Sphinx and the Cursed Mummy. You play the role of Sphinx, a headstrong demigod who travels the world via portals to foil the evil plans of Set. Equipped with a magical sword and a blowpipe, you'll need all your wits, agility, and special powers

Ancient Egyptian mythology comes to life in the Sphinx and the Cursed Mummy. You play the role of Sphinx, a headstrong demigod who travels the world via portals to foil the evil plans of Set. Equipped with a magical sword and a blowpipe, you'll need all your wits, agility, and special powers to overcome powerful enemies. When being inconspicuous is the only solution, control Sphinx's reluctant hero friend, The Mummy. By finding the stolen magical crowns of Egypt, Sphinx can stop Set and save the world.

…

Expand
Developer:

Eurocom

Genre(s):

Action Adventure

,

General

# of players:

No Online Multiplayer

Cheats:

On GameFAQs

Rating:

E10+
Sphinx and the Cursed Mummy is a must play classic that acts as a great example on how to make a timeless title. Despite having a few quirks that remind us of its age, this Egyptian escapade is just as enjoyable as it was back in 2003, if not even more so on the Switch. Not only does it manage to nail the essence of a good adventure title, but it provides us with entertaining abilities and puzzles that are truly a fun experience. Perhaps THQ Nordic will give this game the chance at a sequel, where it could potentially become the series it was always meant to be.

Sphinx and the Cursed Mummy is a fun, unpretentious and humorous game that features both combat and puzzle-solving in an Ancient Egypt setting. Thanks to its environment, soundtrack and enjoyable gameplay, the game provides an experience that can be appreciated by all looking for a good time.

While its platforming mechanics are still a tad unpredictable at times – and the huge gaps between save points still rankle – Sphinx and the Cursed Mummy's quality nonetheless shines through. Weaving melee combat, environmental puzzles and plenty of platforms with a fun and interesting take on Egyptian mythology, it's an action-platformer that really holds up well, despite the years on its clock. Its camera might still be a bit rubbish, but with a new lick of HD paint, this is a hidden gem that deserves a little time in the limelight.

While it may not be of the same quality as the greats of its era, this is a solid and enjoyable title. The puzzle sections are by far the highlight, but the exploration and Zelda-style progression are all good enough to keep the players coming back. Many, many players who have fond memories of the generation missed out on this one, and its resurrection here gives them a chance to experience something new yet nostalgic. Instead of a new game trying to capture the feel of an era, this is a lost relic, a chance to experience a "new" action-platformer from the past.

Who knows, maybe Sphinx and the Cursed Mummy would have been more attractive in this day and age if it exuded more…Pharoahmones.

Sphinx and the Cursed Mummy is a nice throwback to the golden age of 3D action-platformers. Just don't expect all of that genres ticks to have been fully ironed out.

It's a 16-year old game that didn't age well and that doesn't carry much nostalgic value.
The puzzles are outstanding, the characters are charming, and the boss fights are challenging. I loved this game.

If you are eager for a classic 3D zelda like game (that BOTW didn't give) on the switch this game and Okami are the closest you will get for

If you are eager for a classic 3D zelda like game (that BOTW didn't give) on the switch this game and Okami are the closest you will get for now. Untill Nintendo hopefully re-release the older 3D zelda games or my beloved "starfox adventures" (yes I truly love that game) on the switch.

It's quite a short game. You wll probably finish it around 10-15 hours depending on how many side quests you complete. So it has about the same lenght as star fox adventures. If you are looking for the longer/better game then I can first advise to play Okami with t's 40-50 hours and is on the switch.

This game s heavily focused on solvng puzzles. You play as two different characters. On more acton and one only puzzles (no combat). So yeah more puzzles in general. Some of them really brainbreakers. But that's just a plus to me.

The 4 beefs i have with this game are:
-too few save points that could lead to some frustration if you die or have to suddenly quit playing.
-combat can be quite anoying without a lock on feature to help. Imagine playing a 3D zelda without lock on. You can get by by just mashing the attack button. But you will have to rotate the camera constantly. And the camera handling isn't that great...
-Environments feel a little lacking in the engrosing department.
-Side-quests are nice, there is even capture all the enemies like some kind of pokémon collecting game. But all these sidequests don't give much reward beyond more 'heart pieces' that you don't really ever need.

If you can overlook these flaws then you will have a nice game to play through. Don't follow all the hate.

…

Expand

Sphinx and the Cursed Mummy is a diamond in the rough. It is very enjoyable in some aspects, but has not aged well in others. Remastering the

Sphinx and the Cursed Mummy is a diamond in the rough. It is very enjoyable in some aspects, but has not aged well in others. Remastering the game further to correct some issues with the game would have went a far way into making this a better experience.

…

Expand