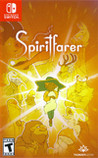 Summary:

A cozy management game about dying.

What will you leave behind? Play as Stella, ferrymaster to the deceased, a Spiritfarer. Build a boat to explore the world, then befriend and care for spirits before finally releasing them into the afterlife. A unique, endlessly varied adventure! Farm,A cozy management game about dying.

What will you leave behind?
Play as Stella, ferrymaster to the deceased, a Spiritfarer. Build a boat to explore the world, then befriend and care for spirits before finally releasing them into the afterlife.

A unique, endlessly varied adventure!
Farm, mine, fish, harvest, cook, and craft your way across mystical seas. Unwind for hours into cozy and relaxing gameplay. Join the adventure as Daffodil the cat, in two-player cooperative play.

Learn how to say goodbye.
Experience moving, emotional stories filled with unforgettable moments. Spend relaxing quality time with your spirit passengers, create lasting memories, and, ultimately, learn how to say goodbye to your cherished friends. What will you leave behind?

…

Expand
Developer:

Thunder Lotus Games

Genre(s):

Action Adventure

,

Sandbox

# of players:

No Online Multiplayer

Cheats:

On GameFAQs

Available On:

Stadia

Rating:

T
Please enter your birth date to watch this video:
You are not allowed to view this material at this time.
Spiritfarer Reveal Trailer | Microsoft Press Conference E3 2019
Perhaps the best thing of all is how Spiritfarer builds, grows, and ends. Not only are the souls you helping growing and accepting and your boat building, but Stella herself is developing. The story creeps up around you while life is happening, which is incredibly apt. There are highs and lows, as these moments will constantly hit you and make you chuckle or perhaps cry.

Overall, I really enjoyed this game and all the time I spent devouring it. I came into Spiritfarer very excited, and it did not disappoint. It even surprised me with how much I loved it. Spiritfarer has everything relevant to my interests: the afterlife, crafting, crystals, making friends, getting up in other people's business, fixing (?) problems, and a cat best friend. If you are looking for a beautiful game with some more serious, and sometimes mystical, subject matter, I highly suggest giving Spiritfarer a try.

After everything I've mentioned so far, it's not a surprise that I thoroughly enjoyed Spiritfarer. What initially looked like an eerie combination revealed itself to be a thoughtful, relaxing, and enjoyable journey that deals with loss and caring in heartwarming ways. It's not a flawless masterpiece or a crowd-pleaser, but it knows what it's good at and executes it to an incredibly satisfying degree. If you vaguely enjoy titles like Animal Crossing, Harvest Moon or Stardew Valley, be sure to pick up Spiritfarer.

Nintendo Force Magazine

May 13, 2022

If you haven't heard anything about Spiritfarer and you enjoy amazing narratives filled with varying emotions coupled with light platforming and farming/crafting simulation, then drop everything and go buy this game! [Issue #58 – March/April 2022, p. 20]

If you want a unique videogame experience and aren't afraid of showing your emotions, Spiritfarer is a title that you should try at least once in your lifetime.

While the game is definitely hopeful and joyful overall, parting is such sweet sorrow, and you'll have to do it time and time again as you play through the story. It's a tough thing to balance, and yet Spiritfarer does so masterfully. It's the kind of game that's going to enrapture people, and already has too. It's never too late to change, and it's also never too late to jump into such a wonderful indie game.

The concept is great: A motivating management game with a very creative approach, great characters and an empathic story. But the major bugs that still (weeks after launch) are present, are unacceptable.
Questo gioco è stata una gran bella storia, ben scritto e ben narrato, maturo, non adatto a tutti, ma tremendamente emozionante.
Come tutteQuesto gioco è stata una gran bella storia, ben scritto e ben narrato, maturo, non adatto a tutti, ma tremendamente emozionante.
Come tutte le belle storie, vorrei che non finissero mai, ma questo viaggio, questo gioco, mi hanno ampiamente ripagato il prezzo del biglietto.

…

Expand

Despite this game being very different than my usual go to games, I had a great time playing. The story is wonderful and the characters are

Despite this game being very different than my usual go to games, I had a great time playing. The story is wonderful and the characters are very well developed. The coop is very well done and absolutely adorable (P2 gets to be the cat). Most of the mechanics are smooth and intuitive even for my partner who doesn't normally play many video games. This was one of the few games I felt like I wanted to 100% it. Highly recommend if you enjoy story based games and tend to enjoy deep, developed characters.

…

Expand

this is a fantastic game Good story and good control
Cool graphic and you can hug NPC!

such a good game, played it for 2-3 hours a day for about 2 weeks straight and loved every second of it. the movement is great, it's like if

such a good game, played it for 2-3 hours a day for about 2 weeks straight and loved every second of it. the movement is great, it's like if animal crossing was 2d, much cooler, and a metroidvania. would recommend it to anyone who enjoys a good cozy (and sad) management game.

…

Expand

通关mark。 画风惊艳和新颖的独立佳作 前期还是很舒服的 人物剧情也很温馨 中期开始各种卡关 UI也感觉有很多反人类的地方 比如坐公交看不见地名 一不小心加入了2P 变成了控制猫 还一度以为遇到了bug 公狮的剧情也很厌恶 不过整体还是挺不错的 虽然离满分还是差了点打磨

通关mark。 画风惊艳和新颖的独立佳作 前期还是很舒服的 人物剧情也很温馨 中期开始各种卡关 UI也感觉有很多反人类的地方 比如坐公交看不见地名 一不小心加入了2P 变成了控制猫 还一度以为遇到了bug 公狮的剧情也很厌恶 不过整体还是挺不错的 虽然离满分还是差了点打磨

sorry, at a point in the game nobody hepls you to get more away in the game, and the npcs are only a short time happy its soooooo annoying

i really dislike this game. the gameplay is boring and very very empty with no good content