Publisher:

Ubisoft

Release Date:

Oct 30, 2018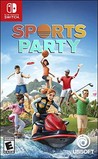 Summary:

In Sports Party, up to four players can challenge each other in six outdoor activities including Basketball, Frisbee®, Golf, Jet Ski, Beach Tennis and Skateboarding. No matter what sport players choose, a beautiful island paradise awaits. Sports Party is fun for the whole family, providing

In Sports Party, up to four players can challenge each other in six outdoor activities including Basketball, Frisbee®, Golf, Jet Ski, Beach Tennis and Skateboarding. No matter what sport players choose, a beautiful island paradise awaits. Sports Party is fun for the whole family, providing everyone with the option of light exercise through its intuitive and natural control scheme. Players are challenged to be the fastest at hitting targets with their Frisbee, to beat their friends on nine different Golf holes, to have fun in a 2v2 Beach Tennis match, and to be the first in a Jet Ski race. Along with gameplay, players customize their avatars to show off their sporty side. From skin color and facial hair to outfits, accessories and shoes, there's something for everyone. New items will be available to unlock as players progress through the game. Taking full advantage of the Nintendo Switch system, up to four players can play at home on their TV, enjoy tabletop mode with a friend or use the handheld mode with classic controls.

…

Expand
Developer:

Ubisoft

Genre(s):

Sports

,

General

# of players:

No Online Multiplayer

Cheats:

On GameFAQs

Rating:

E
Unlike the Wii days, Sports Party stands mostly alone in its genre on Switch. But, there are still alternatives. Personally, I would check out Bandai Namco's Go Vacation before this. If this title really speaks to you though, I would only give it consideration at $20 or less.

If you're looking for a variety of games that the whole family can play together then Sports Party is a solid choice. However, gamers who want any sort of depth should probably avoid this and purchase the included sports' higher quality counterparts instead.

Sports Party is a sports game intended for the local multiplayer, whose life doesn't extend beyond a few hours. It has some technical issues and doesn't offer too much content. However, it may be a good option to spend a good afternoon with friends.

While it's great to see Ubisoft finally giving Nintendo Switch a platform exclusive, it's frustrating that it has to come in the form of a competent yet throwaway party game. Having said that, superior hardware and far more accurate motion controls make this the best Sports Party instalment yet, so if you're looking for a new addition to your local multiplayer setup this Joy-Con-happy collection of simplified sports should tickle your fancy, in-between rounds of Super Mario Party, of course. However, there's an almost crippling lack of depth to each discipline that anyone hoping for more than a casual party experience will be sadly disappointed.

Sports Party brings back a game originally released ten years ago in a formula of simple, arcade-based sports competitions. While varied and with a good degree of character customization, the gameplay lacks depth and does not reach the highest standards this style of games has to offer. Along with a lack of an online component and some technical issues to solve, Sports Party is not the most indicated game for those looking for some simple, sports-based fun.
A nice (slightly) fitness game with beautiful graphics and sounds.
All the games within the box are absolutely playable.
Motion controllersA nice (slightly) fitness game with beautiful graphics and sounds.
All the games within the box are absolutely playable.
Motion controllers are fully supported.
It's funny to play tennis or skating using joy cons.
Playing tennis on the hard level may be considered as an average fitness exercise.
Splitting screen is fully supported.
Not a fun of playing basketball on the motion controller though.
It's not a real sports simulator... it's just a funny party game. Never regret for purchasing it.

…

Expand

Try it. And you should mind the age rating, 'cause this game is kids oriented in first place.

This game sucks...it's completely lacking in depth. The physics are terrible making the golf a complete farce...do not buy this if you are

This game sucks...it's completely lacking in depth. The physics are terrible making the golf a complete farce...do not buy this if you are looking for a physically realistic sport simulation, you will not get it. What you will get it a great soundtrack to a very shallow shell of a sports game really meant for young children. Do not waste your money.

…

Expand

After receiving this game as a tie in with the Switch I was hoping for anything closely resembling Wii Sports. I was bitterly disappointed.

After receiving this game as a tie in with the Switch I was hoping for anything closely resembling Wii Sports. I was bitterly disappointed. The game does not handle well. Controls are blocky. The sports are over simplified and not that fun at all. After 20 mins, we'd tried all of the sports in multiplayer and won't be picking it up again.

It feels like a game where Ubisoft saw a gap in the market, rushed a game out in 3 months with little polish or care for the experience, and sent it out as a holiday cash grab.

You are much better off purchasing a fully polished Mario sports game such as Ace Tennis, or Golf when that inevitably is released than this piece of shameful shovelware.

…

Expand

DeJEN DE BURLARSE DE LOS USUARIOS DE NINTENDO YA NO SON LOS MISMOS CASUALES QUE TENIAN CON WII Y DS LA NUEVA COMUNIDAD QUIERE JUEGOS DE VERDAD

DeJEN DE BURLARSE DE LOS USUARIOS DE NINTENDO YA NO SON LOS MISMOS CASUALES QUE TENIAN CON WII Y DS LA NUEVA COMUNIDAD QUIERE JUEGOS DE VERDAD NO MENOSPRECIAR.

…

Expand