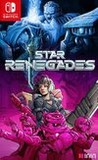 Summary:

From the makers of Halcyon 6: Starbase Commander comes Star Renegades, a challenging tactical rogue-lite RPG set in an endless interplanetary rebellion against The Imperium. Lead a ragtag squad of rebels in their desperate fight against overwhelming odds and an evolving, merciless adversary.
Star Renegades is exceptionally fun to play and a great addition to any Switch library. With endless combinations of battles to fight and a ton of weapons and items to unlock, there is plenty of content here to deliver dozens of hours of fun. While the Switch version does suffer from some downgrades with load times and performance on occasion, the portability of this rogue-lite means it is ideal for playing on the move. Star Renegades has a lot of scope and ideas under the hood and the dynamic enemy promotions is just one that is incredibly impressive. Exceptionally tough, at times frustrating but always rewarding - this visual treat is definitely one to pick up - especially since the game is set to receive regular content updates over the months ahead.

Star Renegades deserves to be in the conversation of the best games of 2020 that you've never heard of. Like a lot of indies, its primary sales pitch is how it fuses ideas from a bunch of popular and well-respected releases, but it succeeds where many others fail in actually making something inventive and compelling with those borrowed ideas. At its best, Star Renegades is a gorgeous, deep, challenging, and thoroughly gripping release that successfully delivers a fun and enjoyable experience. There are some technical issues that hold it back from perfection, but there's little else here that otherwise feels below par. Star Renegades is a title that absolutely belongs in your Switch library; if you're a fan of roguelites, RPGs, or strategy games, you owe it to yourself to give this one a shot.

Star Renegades is a decent effort from Massive Damage Inc overall. Presenting a highly layered combat system with an interesting premise, there's a good strategy RPG game at the core, but it struggles to ever thrill you. Though there is considerable overlap between playthroughs, it offers a good degree of replayability thanks to the roguelite mechanics. If you've been looking for a different kind of strategy game, this might be the one to fill that niche.

Star Renegades doesn't countenance mistakes, while demanding an inordinate amount of commitment from its players due to its mechanically dense system. This can be a challenging game to get into, from learning about its intricate turn-based combat, to making sense of the walls of text, numbers and symbols it throws at you. Those patient enough to familiarise themselves with what this roguelike has to offer, however, may find this to be a tactically satisfying experience.

Star Renegades takes inspirations from different sources to create an extremely engaging turn-based RPG, encapsulated with a beautiful pixel-art style. Unfortunately, constant performance issues take away some of its shine.

If you have access to the Xbox or PC version of Star Renegades, it's absolutely worth picking up. Switch players should avoid this version for now, however. Fortunately, the developers have indicated long-term support for the game, so keep an eye out for updates in the meantime. You'll definitely want to live, die, repeat, but ideally in the game, rather than playing crash, reboot, reload with your Switch console.
After a few updates this game is finally reached its potential. The artwork is awesome the gameplay loop is fun and engaging. The battle

After a few updates this game is finally reached its potential. The artwork is awesome the gameplay loop is fun and engaging. The battle system requires some thought and not just spamming one attack until the bad dies. Don't let the low user rating convince you. This is a solid turn based roguelite.

…

Expand

Devs and Raw Fury patched the game lesser than in two weeks from release date so now it doesnt have critical crashes and fatal errors. Its

Devs and Raw Fury patched the game lesser than in two weeks from release date so now it doesnt have critical crashes and fatal errors. Its perfomance still needs some work to be improved, so we have to wait for more patches in brighter future. But game is playable now and this is are great news! My score is 8 renegades from 10.

…

Expand

EDIT 12/2/20: There was a new patch that was released recently. A lot of the issues were fixed; however, at times there are still crashes and

EDIT 12/2/20: There was a new patch that was released recently. A lot of the issues were fixed; however, at times there are still crashes and text may be hard to see as well as enemy health bars being difficult to read. There are small fps drops here and there but not exactly major. The game is a very stunning game and its fun to boot. I would say if you like a turn base rouge-lite then I say give this game a try. The devs also seems to want to continue on supporting the game.

Original Score 2: I would like to raise the score higher as it is a good game; however, there are many problems in this game ranging from constant slowdowns, to text being too small to be legible in handheld mode, the health bars are too similar in color to the background making it hard to see the enemies health, and lastly the constant crashes. Throughout my 3 hours of gameplay I had two crashes in the beginning. One in the middle of the tutorial and one right after the end of the tutorial. Now the game was fun it was smooth sailing up until I reached planet 3 and fought a mini boss. Now this is where it dips. Round 1 right after choosing my attacks the game crashes. It is a crash that soft locks my game. I go back and try again... it crashes. Try on dock mode? Still crashes. I cannot progress at all in this game I am locked behind this battle unable to leave just to see the same 3 seconds of action along with a popup box telling me the game closed. I would stay away until a patch fixes the problems this game has.

…

Expand

Normally i would give a 75 but the switch version is not polished enough to do so. Handheld/Switch mode was obviously never tested. Look like

Normally i would give a 75 but the switch version is not polished enough to do so. Handheld/Switch mode was obviously never tested. Look like the 1080p resolution gets downsampled to Switch Screen resolution 720p which is total crap. Cant read s**t in handheld mode. Performance issues as soon as comic styled videos are running... lot to do here at the switch version.. not worth those 25 bucks atm

…

Expand

Crashes endlessly; and thanks to Nintendo arrogance you can forget asking for a refund. Only get this if you enjoy throwing away hours

Crashes endlessly; and thanks to Nintendo arrogance you can forget asking for a refund. Only get this if you enjoy throwing away hours replaying the fights because it didn't save. So disappointed; beneath the sloppy port lies a truly great game.

DO NOT BUY.

…

Expand

I have spent about 12 - 15 hours with the game and it is gorgeous, a brilliant turnbased rpg that requires you to think out your actions

I have spent about 12 - 15 hours with the game and it is gorgeous, a brilliant turnbased rpg that requires you to think out your actions carefully in order to come through encounters without taking damage. Unfortunately its incredibly buggy to the point it is unplayable. Constant soft and hard crashes and numerous frame rate drops, I've had 2 runs where it crashes at the end of actioning a turn and once you close and reopen the game it restarts you after the actions so you are stuck in a constant state of it crashing.
Best to avoid getting on the switch if possible and get on a different platform, brilliant game when you are able to play it though.

…

Expand