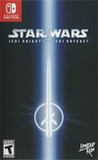 Summary:

In the tradition of Jedi Knight, rebel agent Kyle Katarn returns in thrilling first-person action. Several years have passed since Kyle avenged his father's death and saved the Valley of the Jedi from Jerec and his band of Dark Jedi. When a new and menacing threat to the galaxy emerges, Kyle

In the tradition of Jedi Knight, rebel agent Kyle Katarn returns in thrilling first-person action. Several years have passed since Kyle avenged his father's death and saved the Valley of the Jedi from Jerec and his band of Dark Jedi. When a new and menacing threat to the galaxy emerges, Kyle knows he must reclaim his past in order to save his future. You assume the role of Kyle and employ a unique mix of weapons, Force powers, and your lightsaber in both solo and multiplayer modes.

…

Expand
Genre(s):

Action Adventure

,

Linear

# of players:

No Online Multiplayer

Cheats:

On GameFAQs

Rating:

T
Although the years and seams are noticed in the technical (models, textures ...), it is still a large and lengthy shooter, relatively difficult, with puzzles and more or less open development and with some memorable lightsaber duels.

Nintendo Force Magazine

May 1, 2020

This game may not look like much, but she's got it where it counts, kid. [Issue #46 – May/June 2020, p. 27]

Star Wars Jedi Knight II: Jedi Outcast has the right to a Nintendo Switch version many years after its original release, but age does not affect this Star Wars classic in any negative way. While the initial part of the game is rather cumbersome, after thirty-something minutes the player will get a significant push into the spirit of the saga and the game's plot, light saber duels and soundtrack will make a splendorous job at fully inserting the fans into this work.

For those who are looking to recapture their memories of playing the original game just as it was, the Switch version is a fine means of relishing in that. As a video game releasing in 2019, however, new players should be cautious and, at the very least, aware of what they are getting into. Players who are familiar with the mechanics could complete the campaign in about 12 hours, while several to many more hours will be added for those who are new. If players want to discover what Star Wars games used to be like before the arrival of November's Jedi: Fallen Order, this is a reasonable point of comparison. After all, 2002 seems like a long time ago when it comes to cinematic action-adventure game design. Sunshine, Metroid Prime, and Wind Waker all hold up as game experiences from this era. Jedi Outcast is far, far away from doing so.

At its core, Star Wars Jedi Knight II: Jedi Outcast remains a good title. Get past the shooting, and you're rewarded with a ton of Force powers and lightsaber combat that remains at the top of its field to this day. However, the port job isn't up to snuff, as it lacks some slight auto-aim and lock-on to make the experience more user-friendly for console players, so the opening levels are a real chore to get through even if you can handle the outdated textures and adherence to the old way of doing puzzles. Not only is it recommended to go with the PC release for this title, but it also gives one pause about how the eventual port job of Jedi Academy will turn out.

Star Wars Jedi Knight II: Jedi Outcast has the makings of a great Star Wars game inside it, but an incredibly frustrating front-end makes getting to the enjoyable meat a chore and will likely turn off most modern players.

A flawed port that struggles to overcome mediocrity in its implementation, and that suffers from a lack of multiplayer, leads to a less than stellar experience. Star Wars Jedi Outcast is purely saved by its solid level design, and fan service. There are probably better options if you want a good TV experience, but nothing can beat this port's portable experience, which is in all honestly its saving grace. Recommended for fans looking to take it on holiday, and a near miss for fans looking for a Star Wars title worthy of being played in the big screen.
This was one my first game on PC. In my childhood, I could not walkthrough it. It was very hard and there was too much puzzles I couldn't

This was one my first game on PC. In my childhood, I could not walkthrough it. It was very hard and there was too much puzzles I couldn't solve.
When I saw Switch version of the game, I couldn't stand to buy it - price was very low, and screenshots look so nostalgic.... And you know what? I walkthrough it on one breath.
It's amazing port of amazing PC game of the past. It's run well on the Switch hardware, there's motion control feature... There's many top secrets. But it's a old-school styled game, so there's a very hard difficulty.
Only one thing is disappointing - you can save the game only in five slots... There was no such restriction in PC version, but still, this is a great port of great game. I recommend it if you wanna play old-school shooter.

…

Expand

star wars at its best , fast health , guns , tech , good story , this game has it all story plot and more , Jedi fights that show the meaning

star wars at its best , fast health , guns , tech , good story , this game has it all story plot and more , Jedi fights that show the meaning of Jedi and trials to become a Jedi , its a game that over 20 levels and playtime for a gamer , its a game that is easy as well as for intelligent peoples , first level is a trail in its self for the intelligent where over 20 remain

…

Expand

Amazing classic from the past with fun lightsaber action, we now need force unleashed on the switch!

No sabia que tan insoportable podria llegar a ser un juego hasta que jugue Star Wars Jedi Knight 2.

El inicio es directamente infumable, elNo sabia que tan insoportable podria llegar a ser un juego hasta que jugue Star Wars Jedi Knight 2.

El inicio es directamente infumable, el iniciar sin el sable de luz, con las mecanicas tipo Shooter que si de por si para la PC no estaban bien pulidas, ahora para la Nintendo Switch se volvieron realmente estresantes. Esto combinado con el diseño de niveles, mismo que nunca fue el fuerte de esta saga de videojuegos, obtienes las primeras horas de juego mas frustrantes de tu vida.

No me mal entiendan, Star Wars Jedi Knight 2: Jedi Outcast es un gran juego, tiene una gran historia y ofrece un satisfactorio sistema de combate (Con sable de luz), poderes de la fuerza muy atractivos y personajes bastante caracteristicos como el buen Kyle.

Si bien hay bastante que reprocharle a esta entrega, tambien hay bastante que reconocerle y si en algun momento te ves en la oportunidad de comprarlo dale un intento.

…

Expand

Jedi Outcast 2 is a strange game. Gameplay is fine enough and the story is quite great. Kyle Katarn is a fun character with decent one liners

Jedi Outcast 2 is a strange game. Gameplay is fine enough and the story is quite great. Kyle Katarn is a fun character with decent one liners here and there. The biggest problem with this game as a whole is it's HORRENDOUS level design. They are detailed and recreate several planets and even starships really amazing but sadly enough the way to progress through the levels are quite cryptic and make no sense. They were so many moments where I was just lost and didn't know where to go. On a mission you just has to go a random corner of the map look down and see a random platform. On one level your on a huge room with several doors that take you on several different places but turns out the main way to progress the story is by literally looking up and breaking a random vent that leads you to an elevator system. The game is filled to the brim with the classic "where the hell should I go syndrome". Nothing is ever clear and the Nar Shaada streets level is by far one of the worst levels I have played in any game ever. Snipers at every corner, filled to the brim with tight platforming, barely any checkpoints and beginner traps galore. I really don't recommend it unless your a die hard star Wars (and even still my friend quit playing this game cause he said the levels were just to bad for him to tolerate and never completed the game) Very mediocre honestly. Jedi Academy is better on almost every single front except it's story.

…

Expand

Jedi Outcast has some of the best lightsaber combat in any Star Wars game to this date. Complemented by powerful feeling force and it's

Jedi Outcast has some of the best lightsaber combat in any Star Wars game to this date. Complemented by powerful feeling force and it's emersive world, for what should be an amazing game. It's just to bad that this otherwise great game is held back some truly awful level design.

…

Expand

Wasted money. Gamepad control is bad. The graphics as if it were uglier than the old pc version. The 16: 9 aspect ratio is fake. The save

Wasted money. Gamepad control is bad. The graphics as if it were uglier than the old pc version. The 16: 9 aspect ratio is fake. The save system is a sh(t
Don't buy
This game is crap.

…

Expand