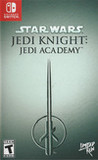 Summary:

As a new student of Luke Skywalker's Jedi Academy, follow an ancient tradition and learn the powers--and dangers--of the Force. Star Wars Jedi Knight: Jedi Academy allows you to immerse yourself in the classic Star Wars universe as you take on the role of a student eager to learn the ways

As a new student of Luke Skywalker's Jedi Academy, follow an ancient tradition and learn the powers--and dangers--of the Force. Star Wars Jedi Knight: Jedi Academy allows you to immerse yourself in the classic Star Wars universe as you take on the role of a student eager to learn the ways of the Force from Master Luke Skywalker. The game features customizable characters, all-new weapons, vehicles, and environments, and multiplayer modes. You'll interact with famous classic Star Wars locations and characters while facing the ultimate choice: Fight for good and freedom on the light side or follow the path of power and evil to the dark side.

…

Expand
Developer:

Aspyr

Genre(s):

Action

,

Shooter

,

First-Person

,

Arcade

# of players:

Up to 16

Cheats:

On GameFAQs

Rating:

T
Please enter your birth date to watch this video:
You are not allowed to view this material at this time.
The Evolution Of Star Wars Games
Nintendo Force Magazine

May 1, 2020

This is where the fun begins. [Issue #46 – May/June 2020, p. 27]

Some aspects of Jedi Academy haven't aged particularly well, although its core remains solid and enjoyable. It reminds us of that time where Star Wars games just wanted to be fun and expand its universe, and as big fans, we've loved going back to that time.

Star Wars Jedi Knight: Jedi Academy might be 17 years old, but its ability to believably set you on the path of a Jedi Master is still successfully maintained. There might be some multiplayer quirks, but the primary solo experience is out and out Star Wars.

I think this game offers quite a bit of nostalgia. And even with all of its faults, I found ways to cheese the system or use the Force in fun ways to get through the missions. However, as fun as it was, I don't know that it's an accessible title for gamers who aren't fully versed on how games in 2003 played or are expecting a current-gen SW gaming experience.

Star Wars Jedi Knight: Jedi Academy is a welcome addition to the Switch's ever-expanding repertoire, and a great adventure set in the Star Wars universe. Its seldom dull thanks to its enjoyable lightsaber combat, even if it's not terrific by modern standards. Fans of Star Wars and those looking for an action game with good variety will enjoy this. Aspyr has done a great job with the port, further cementing their reputation as one of the best developers for bringing fan favourite titles to Nintendo's flagship system.

If you're going to play a simple and funny multiplayer game based on Star Wars franchise, Jedi Knight: Jedi Academy might as well be a fair one. But it's a 2003 game, so don't forget it.

As someone who is a big supporter of ports on the Switch, this game may have me reaching my breaking point with the whole concept. I'm getting tired of publishers using the Switch as a reason to double-dip on games, I'm getting tired of ports that aren't optimized for the system it's on, and I'm just getting tired of old games taking precedence over new ones. Why couldn't we have gotten Star Wars: The Force Unleashed instead?
Excelente juego tiene una gran variedad de estilos combate y armas.El juego te hace sentir como si estuvieras dentro del universo de Star

Excelente juego tiene una gran variedad de estilos combate y armas.El juego te hace sentir como si estuvieras dentro del universo de Star Wars,además tienes la posibilidad de ser parte del lado oscuro, es toda una obra maestra,lo único que hubiera deseado es que sea mucho más largo,ya que el modo historia te engancha muchísimo.

…

Expand

I know this is an X-Box game. But this controls horribly. It's nice gameplay and an interesting story. But the controls are soooo limiting.

I know this is an X-Box game. But this controls horribly. It's nice gameplay and an interesting story. But the controls are soooo limiting. Especially on the speeder levels. Some levels are a dread to play because of the controls, it's worth it for the good levels, but that doesn't change the fact some of the levels just don't feel finished.

…

Expand

Was I expecting something the likes of Jedi: Fallen Order? Not by a long shot. I looked at this port on its own 2003 merits, and while its

Was I expecting something the likes of Jedi: Fallen Order? Not by a long shot. I looked at this port on its own 2003 merits, and while its character customization is nice, the story is fine, and its combat is quite fun once you've learned your way around it, it's glitchy as heck, especially in the speeder bike level, and several levels are near impossible to pass by such poor programming, not by difficulty. Plus, it's menus and HUD aren't really in 16:9 like the screenshots lead you to believe, they're just stretched from 4:3. To me, it's a really mixed bag.

…

Expand

It is a horrible game, very boring. Do yourself a favor and save your money. I couldn't spend more than 3 hours of it and got bored.

The game need MORE then just remaster.
It needs purpose.. the story isn't enough..
On PC we had fun with the MP for sure. That was a fun 4The game need MORE then just remaster.
It needs purpose.. the story isn't enough..
On PC we had fun with the MP for sure.
That was a fun 4 months 10/10
-ALL consoles need to force developers t put proper Mouse+Keyboard options into most games..
Jedi Academy is perfect on a M+K.
Too many force powers and not enough buttons..
Remaster JediKnight 1+2.
Those games alone are good enough imo,,
Academy was always on the short side,,
The story and everything always felt generic..
The lightsaber combat/physics were the games only saving grace.
Still worth checking out once even briefly,,

…

Expand